Badlands National Park Itinerary for One Perfect Day
The "must see" in Badlands National Park in one day
Welcome to Badlands National Park, where rugged terrain and unusual beauty awaits. In this article, I'll guide you through an unforgettable Badlands National Park itinerary, filled with breathtaking vistas, captivating hikes, and more.
Plus I'll cover practical information like how much time it takes to visit the Badlands, where to stay, where to enter the park, how to get around, other things you can do in the Badlands area, and more.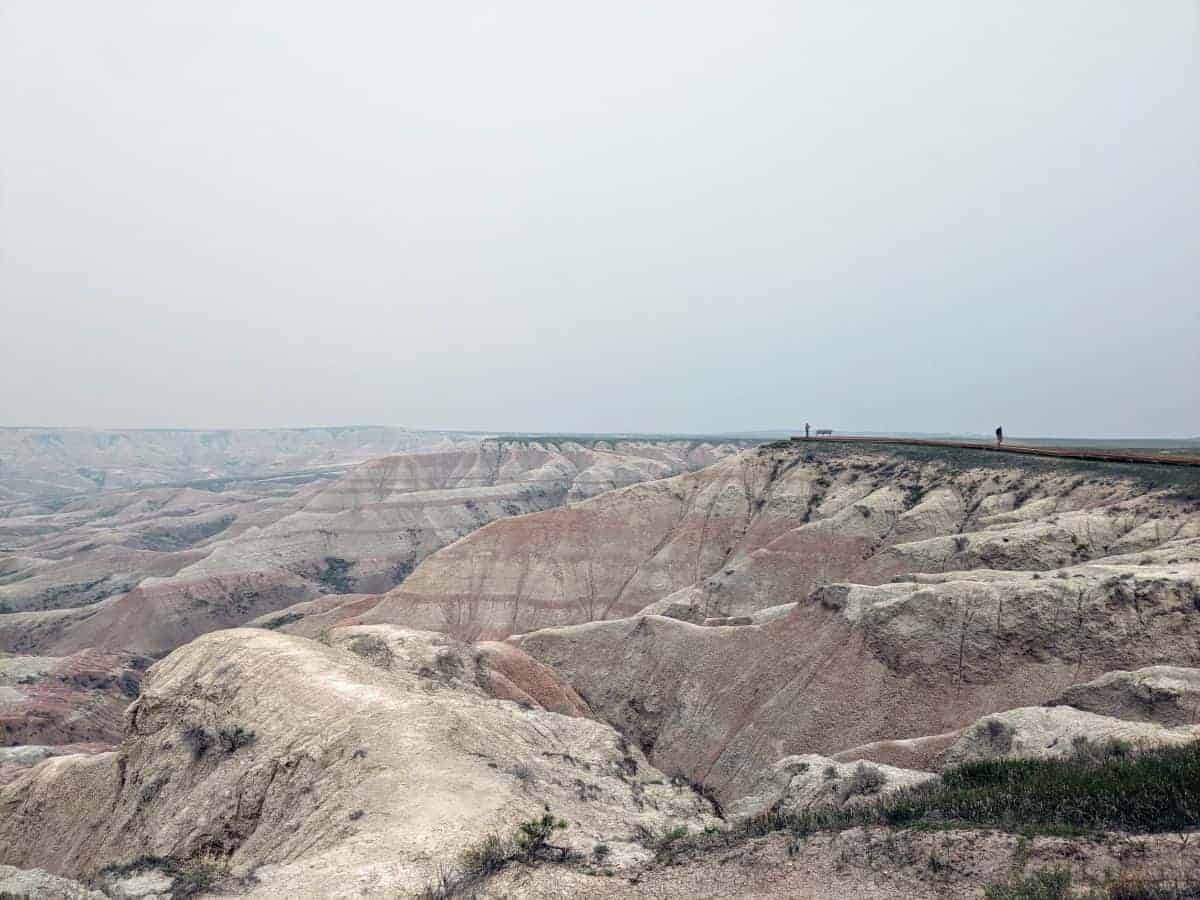 Badlands National Park is actually remarkably easy to visit. Navigating through the park can be as easy as simply following the Badlands Loop Road and stopping wherever strikes your fancy.
But armed with some information before hand, like everything you'll find in this article, you can make a good visit to Badlands National Park into an amazing visit.
I don't want you to just copy my trip. I'll show you how to make the most of your itinerary and make suggestions so that you can make the best choices for you and your trip.
Get ready to immerse yourself in the dramatic landscapes of South Dakota's gem of a national park. So, grab your hiking boots, pack your camera, and join us as we embark on an adventure in the Badlands.
Plan the perfect trip to Badlands National Park with this free printable travel planner.
This post includes affiliate links. If you make a purchase through one of these links, I may earn a small commission at no additional cost to you. As an Amazon Associate, I earn from qualifying purchases. See disclaimer.
Badlands National Park facts
Here are a few interesting facts about Badlands National Park you can keep in your back pocket.
Badlands National Park was established on Nov. 10, 1978. It had been known as Badlands National Monument since 1939.
The first proposal for making South Dakota's badlands into a national park came in 1922. The suggested name then was Wonderland National Park.
The name of the park comes from what the Lakota people called this area, mako sica (literally "bad lands").
The park covers 244,000 acres.
All of the park's official trails start within just a few miles of the Ben Reifel Visitor Center.
According to the National Park Service, the Badlands National Park rock formations erode at the rate of one inch per year. Yikes.
Badlands National Park is home to many species of wildlife including bison, bighorn sheep, prairie dogs, prairie rattlesnakes, and the endangered black-footed ferret.
Although this part of South Dakota got the national park, there are badlands in many places around the United States (e.g., Wyoming, Nebraska, North Dakota) and around the world (e.g., Canada, Argentina, New Zealand).
PRO TIP: If you have flexible travel dates you need to check out Going (formerly Scott's Cheap Flights). You get amazing flight deals sent straight to your inbox with instructions on how to book directly with the airlines. Check out Going here. Going is my favorite way to find great travel deals. 
How much time do I need to spend at Badlands National Park?
Plan to spend at least one full day in Badlands National Park. This is enough time to see all the stops you would like along the Badlands Loop Road plus do a few of the short hikes and make a stop at the Ben Reifel Visitor Center.
If you're so inclined, you might also want to do sunrise or sunset in the park to catch how amazing the light looks against the rock formations.
If you're going to do this though, I recommend that you plan to stay in the town of Wall, South Dakota.
This is what we did, and we were so glad that we only had a drive of a few miles back to our motel late at night rather than going all the way to Rapid City.
You can see more below about where we stayed, and I even included a photo of our room so that you can see what the motel looks like on the inside.
If you are an avid hiker and want to cover all of the park's hikes (Castle Trail is 5 miles point-to-point), plan to add another half day or so to your Badlands itinerary.
Main Badlands National Park entrances
If you are staying in Wall, South Dakota, (remember, there's more on that below), I'll suggest you enter the park through the Pinnacles Entrance Station just a few miles from town and then exit on the far end of the park.
If you are coming from west of the park (Rapid City area), take I-90 exit 110 to get to the park through the Pinnacles Entrance.
If you're coming from east of the park (heading toward Rapid City on I-90), I suggest you enter at the Northeast Entrance Station (exit 131).
Things to do in Badlands National Park in one day
The order in which you do things during your trip to Badlands National Park could largely depend upon which end of the park you enter.
There are a few things I think you should keep in mind:
The Ben Reifel Visitor Center and all of the trailheads are on the east end of the park nearest the Northeast Entrance. If you are planning to visit the park on a hot day, you should plan to hike early in the morning and leave the bulk of the scenic driving for later in your visit.
Roberts Prairie Dog Town is down Sage Creek Rim Road which meets the Badlands Loop Road just inside the Pinnacles Entrance near Wall.
If you plan to visit Minuteman Missile National Historic Site (below) after your day in the Badlands, you could plan to exit the park from the Northeast Entrance and you're just a few miles away. Check their hours to make sure you don't arrive too late.
Enjoy the scenic overlooks along Badlands Loop Road
Badlands Loop Road is the road through the main part of the park. As you drive through Badlands National Park you'll have the opportunity to stop and enjoy several scenic overlooks.
If you wish to stop at all of the overlooks (we definitely did) then by all means do that. Plan on that taking you a few hours though.
Are they all "must see" stops? Not really. Some are a little repetitive. Beautiful, but repetitive.
But we enjoyed seeing them all and deciding for ourselves which overlooks were the "best."
If you're shorter on time or just want to see the highlights, listed below are what I think are the best places to stop on the Badlands scenic loop road.
For full details about the loop road and more photos, see my article on driving through Badlands National Park.
Please note: many of these photos were taken on a morning when smoke from Canadian wildfires had drifted into South Dakota, giving limited visibility.
Pinnacles Overlook
This is one of the most popular stops on the Badlands Loop Road. There's plenty of parking and even some restrooms. It gives you a terrific view of this part of the park.
Pinnacles Overlook is also great for a sunset visit to the park. Keep your eyes peeled for bighorn lambs in the spring.
Yellow Mounds Overlook
You definitely won't want to miss Yellow Mounds Overlook. The mounds truly have to be seen to be believed.
You'll notice worn footpaths around some of the mounds. They serve as a reminder that Badlands is an open hike park, so you can explore around the features of this overlook.
Prairie Wind Overlook
This is a beautiful overlook that I think everyone should take the time to explore. And it's unlike others, because you're getting closer to prairie rather than rock.
Badlands National Park preserves the largest remaining tract of mixed grass prairie in the U.S.
Panorama Point
This is the spot…for a panoramic photo of course. Great, wide views of the badlands here, especially on a clear day. Just take it in and enjoy.
Big Badlands Overlook
Big Badlands provides the broadest view of the eastern part of the Badlands wall. Notice the red stripes in the rock formations.
Visit Ben Reifel Visitor Center
I always recommend that visitors to National Parks take the time to stop in at the Visitor Center. It's a great place to ask park staff any questions you might have.
You can also pick up a map of the park, and sometimes parks have maps specifically of the hiking trails.
Then grab a souvenir in the gift shop and stamp your national park passport.
The main Badlands National Park Visitor Center is named for Ben Reifel, a Lakota Sioux politician. He was the first member of the Lakota to serve in the United States House of Representatives.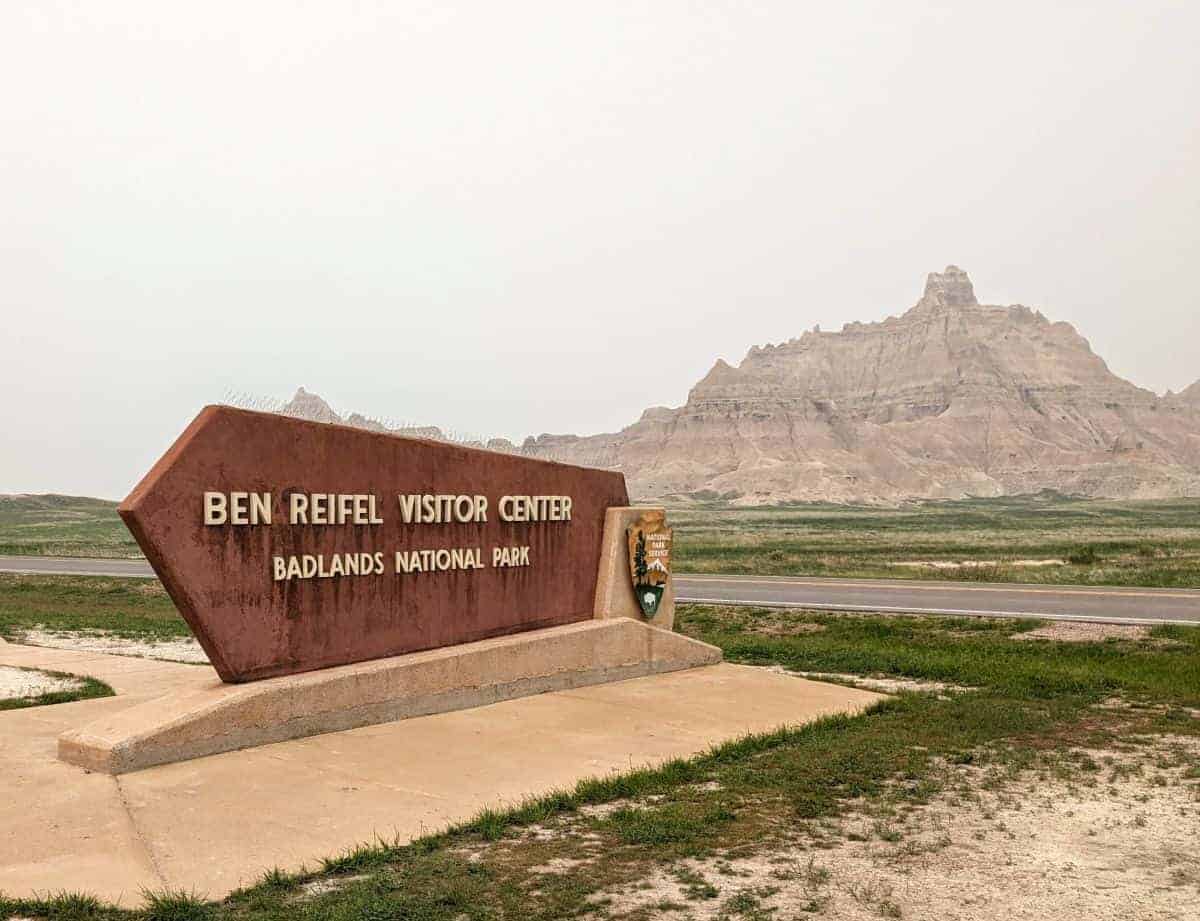 Hike Notch Trail
If you only have time for one hike in Badlands National park, it should be Notch Trail.
Officially classified as moderate to strenuous, this 1.5-ish mile trail leans toward strenuous. The hikes includes a ladder section plus some scrambling.
Even though I'm generally afraid of heights and really am not fan of ladders, I'm so glad that I did this hike. It is challenging, but I never felt truly afraid (though a little nervous) or like I was in danger.
And you'll be rewarded at the end with a nice view as you take a little break before retracing your steps.
For more details about this awesome hike and a lot more photos, see my article all about Notch Trail.
More hikes in Badlands National Park
Including Notch Trail, there are eight official trails in Badlands National Park. Most of them are short and easy to moderate. This list does not include any backcountry hikes.
If you have the time, I highly encourage you to add at least Window Trail and/or Cliff Shelf Nature Trail to your Badlands National Park itinerary.
For more information about these hikes, see my full article all about the Badlands National Park hikes.
Window Trail. 0.25 miles out and back. Easy hike with boardwalk all the way. Ends with a nice view. My favorite of the very easy and short trails.
Cliff Shelf Nature Trail. 0.5 miles roundtrip. Moderate (includes stairs). Surprisingly forest-y.
Door Trail. 0.25 miles – 0.75 miles. Easy to challenging. If you do this after Notch you may have already gotten your fill of climbing over rocks. The boardwalk portion was sufficient for me.
Fossil Exhibit Trail. 0.25 miles roundtrip. Easy. Includes fossil replicas. Maybe take the kids?
Saddle Pass. 0.25 miles out and back. Strenuous.
Medicine Root Loop. 4 miles. Moderate.
Castle Trail. 10 miles roundtrip (or 5 miles point to point). Moderate.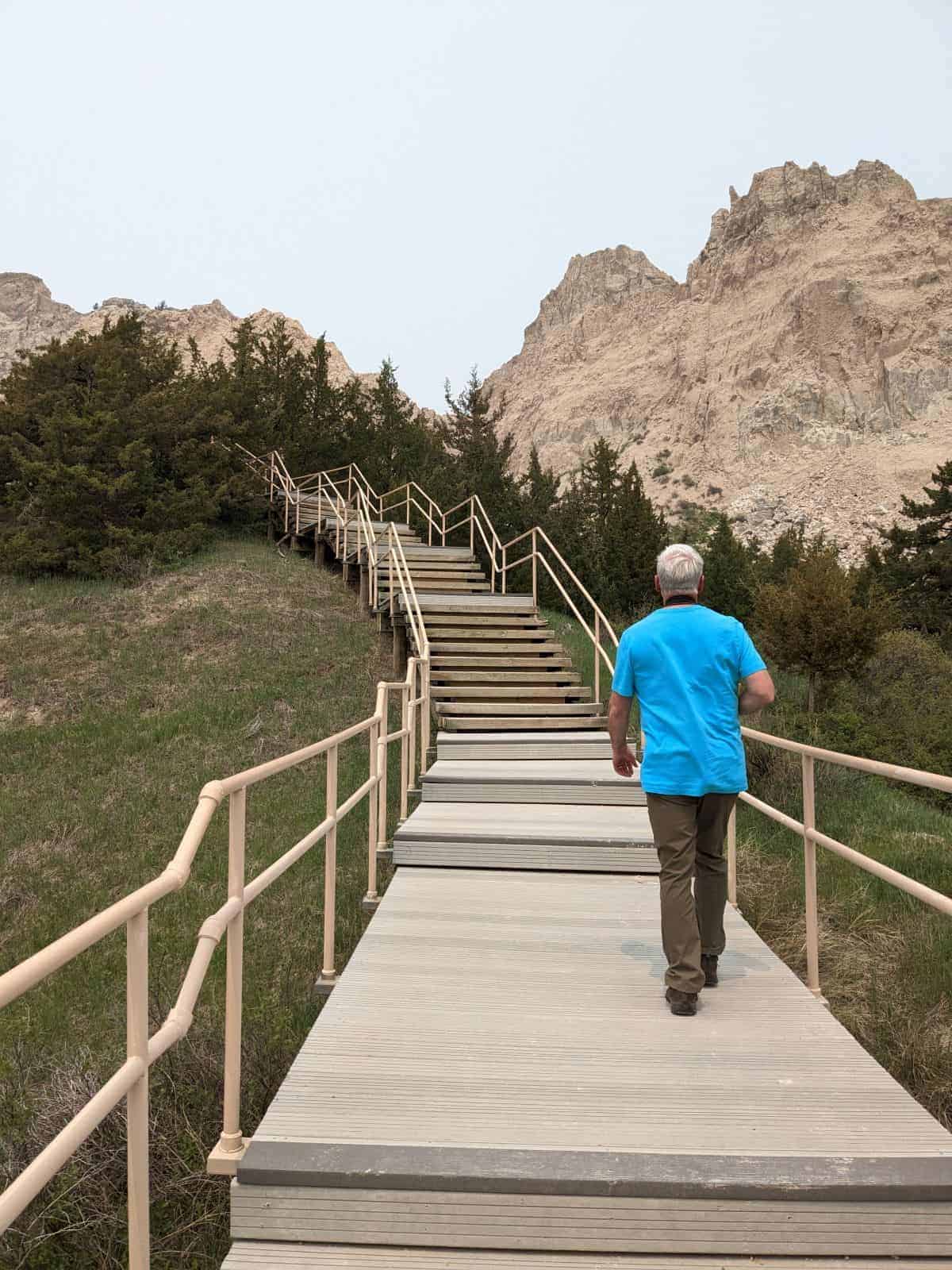 Sage Creek Rim Road and Roberts Prairie Dog Town
I placed this at the end of the list because if you are short on time you might want to consider skipping Sage Creek Rim Road. You'll meet this road shortly after you enter the park at Pinnacles or at the end of your visit to the park if you enter at the Northeast Station.
There are a few scenic overlooks down Sage Creek Rim Road, but the main attraction out there is the Roberts Prairie Dog Town.
If you have young children with you, by all means prioritize this stop. If not, you can pass by without losing any sleep especially if really just need to be done with your day.
Where to eat in Badlands National Park
Picnicking will be your best option during your day in Badlands National Park.
There are a few designated picnic areas:
Ben Reifel Visitor Center
Big Foot Pass Overlook
Conata Picnic Area
White River Visitor Center
If you do picnic in Badlands National Park, please make sure to dispose of all trash in the proper trash cans or pack it out with you. Leaving garbage behind is ew.
There is also a restaurant at Cedar Pass Lodge that serves full meals like burgers and tacos.
How to get around Badlands National Park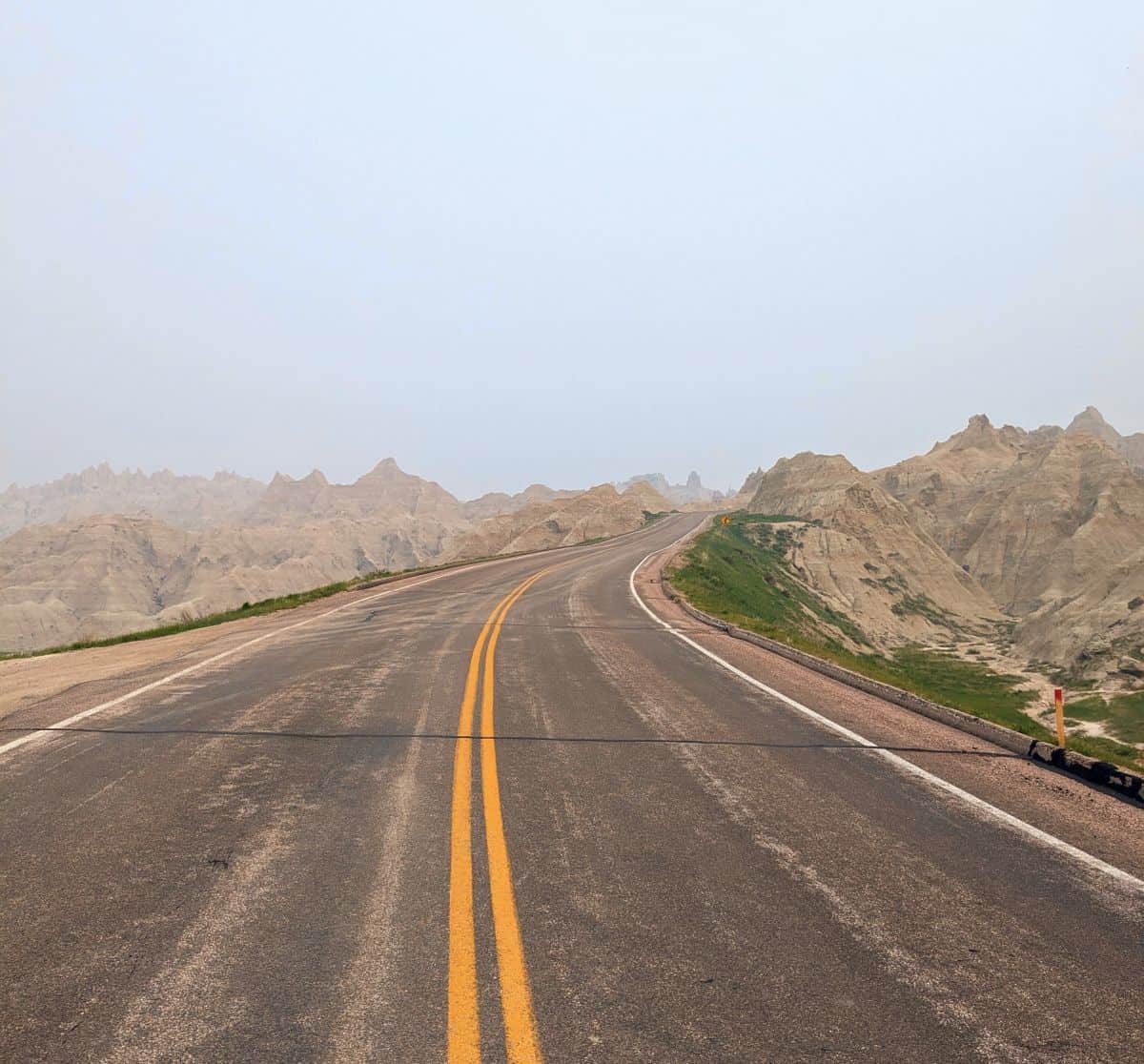 In addition to having in mind your top picks for things to do in Badlands National Park, I also recommend that visitors try GuideAlong while visiting the park.
The Black Hills, Rushmore, Devils Tower & Badlands National Park Tour includes the Badlands Loop Road drive and you'll learn so much about the park and the landscape as you drive and stop to enjoy the overlooks.
Seriously. I think it might blow your mind. Plus it's really easy to use and the tours are very affordable.
It's like having a movie trailer narrator riding in your car with you. I think GuideAlong is a lot more interesting than those standard national park interpretive signs you find at scenic stops. You know…the ones that no one reads.
Hubby and I love using GuideAlong and have spent literally days on end driving through the United States following along with multiple tours. And they're adding new tours all the time.
Other things to do in the Badlands area
If you're looking for other fun things to do while you're on your trip to Badlands National Park, you're in luck. There are plenty of other things to do.
Minuteman Missile National Historic Site
The Minuteman Missile National Historic Site Visitor Center is just 4 miles from the Badlands National Park Northeast Entrance.
In the Visitor Center you can stamp your parks passport, peruse some really great museum exhibits, and there's also a small gift shop.
You can also watch a film about the use of the vast American prairie as missile silo sites. It's a little on the long side, but interesting. It will give you some good background as you explore the site further.
Keep in mind that tours of the Delta-01 Launch Control Facility (down the road from the Visitor Center) are by reservation only, and tours can fill up quickly during peak summer travel season.
The Delta-09 site is open for people to walk around without tours.
Wall Drug
Is it kitschy? Absolutely, But I really can't imagine spending any time in Wall, South Dakota, without stopping in at Wall Drug.
It has everything you could possibly think of from actual drug store items to a restaurant, clothing, ice cream counter, souvenirs, museum exhibits, and more.
And you'll likely see about 12,000 billboards advertising Wall Drug if you're anywhere within a 300-mile radius of Wall. Seriously.
Okay, it may not be 12,000, but it sure seems like it.
Rapid City
Rapid City is the second largest city in South Dakota (after Sioux Falls) and is just about an hour drive from Badlands National Park.
Things to see and do in Rapid City include:
Storybook Island children's park
Chapel in the Hills
Bear Country USA
Mount Rushmore
We've got Washington, Jefferson, Lincoln and Teddy Roosevelt heads carved into a mountain. What more do I need to say?
Walk the Presidential Trail and visit at night too if you can. It's pretty great there at night.
Mount Rushmore is free to visit but you do have to buy a parking pass (which is good for a full year).
Crazy Horse Memorial
Pay a visit to what will be the largest mountain carving in the world at Crazy Horse Memorial. It stands well over 500 feet high, and is more than 10 times larger than the carvings on Mount Rushmore.
Custer State Park
Not far from Mount Rushmore and Crazy Horse, Custer State Park is much beloved by those who visit. It's full of amazing sites, wonderful views, and stunning rolling prairie.
Must-do things at Custer State Park include:
Sylvan Lake
Needles Highway
Wildlife Loop Road
Where to stay at Badlands National Park
If you want to stay in or near Badlands National Park, your options will be a little limited.
Wall, South Dakota
I recommend that you consider staying in Wall, South Dakota for two nights, if you want to enjoy a full day in Badlands National Park with either sunrise or sunset at the park. Plus Wall is only a few miles from the Pinnacles Entrance at the Badlands.
There are not a lot of hotels to choose from in Wall. We enjoyed our stay at the Best Western Plains Motel. We've definitely had better hotel breakfasts, but the staff we interacted with were all terrific.
The rooms all appeared to have been somewhat recently spruced up. Would definitely recommend and would absolutely stay there again.
Rapid City, South Dakota
Staying in Rapid City is also a popular option you should explore if proximity to Badlands National Park is not a top priority for you. Note that you'll have a drive to the park of about an hour each way.
Compared to Wall, Rapid City provides a wider selection of food and hotel options.
Moreover, Rapid City is a popular gateway to the other attractions in the area that we discussed above…like Mount Rushmore and Custer State Park. Rapid city is a popular home base for a South Dakota road trip.
The Residence Inn Rapid City would make a great option for a place to stay. We love how much room you get for the money at Residence Inns.
Staying inside Badlands National Park
There are a few options for staying inside Badlands National Park if that's what you would like to do.
Frontcountry camping at Cedar Pass Campground or Sage Creek Campground
Backcountry camping
Help planning your itinerary for Badlands National Park
Planning a South Dakota road trip?
Badlands National Park Itinerary