Driving Through Badlands National Park (Badlands Loop Road)
The scenic Badlands Loop Road overlooks will leave you awe inspired
Welcome to the wild and breathtaking world of Badlands National Park. If you're a fan of awe-inspiring landscapes and exhilarating road trips, then you're in for a treat. Driving through Badlands National Park is a feast for the eyes.
Buckle up and get ready to embark on a journey along the mesmerizing Badlands Loop Road, where nature's artistry takes center stage.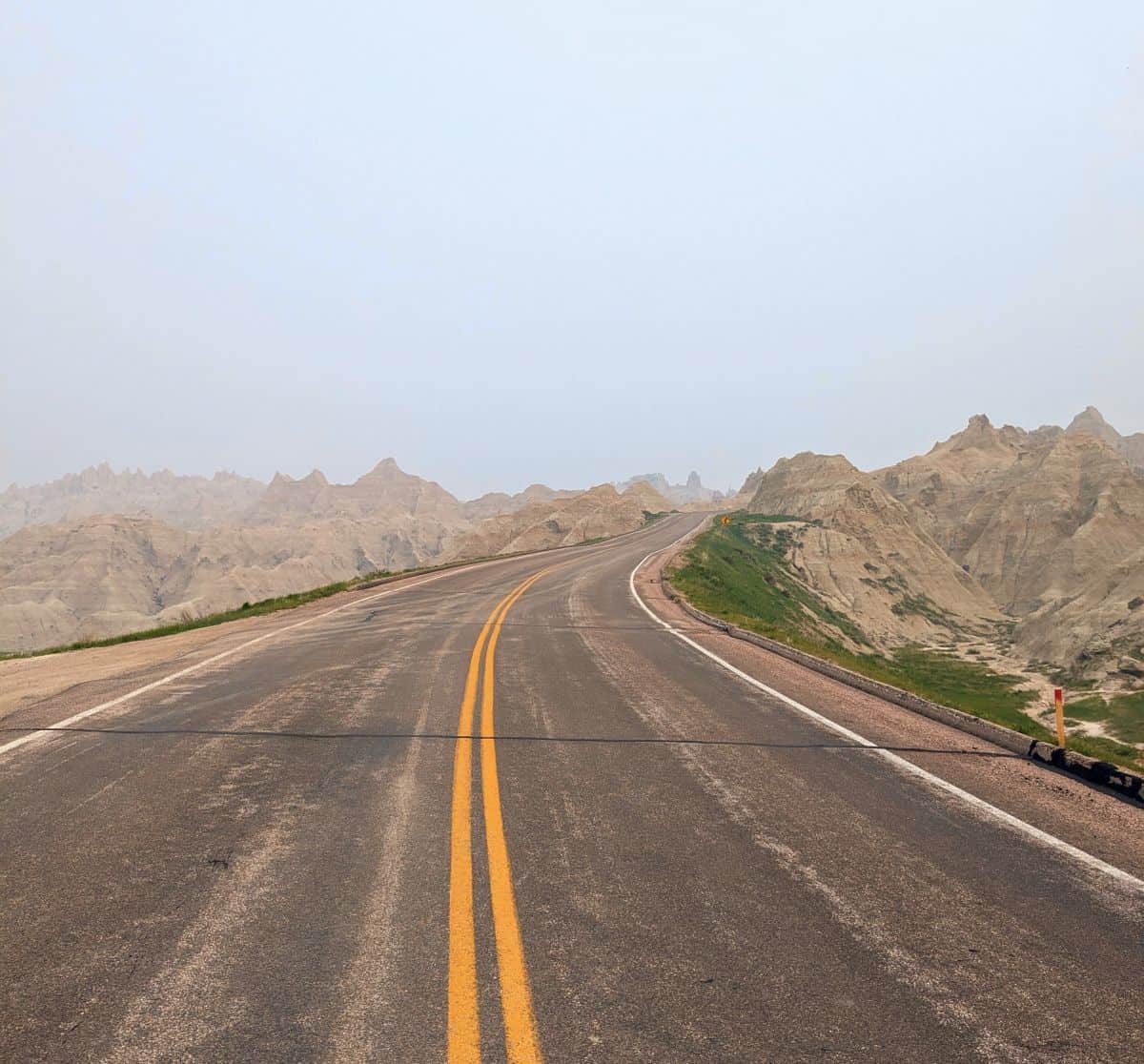 This scenic route winds through a surreal terrain of rugged rock formations and vibrant prairies, offering a visual feast at every turn.
Please note: many of these photos were taken on a morning when smoke from Canadian wildfires had drifted into South Dakota, giving limited visibility.
In this article, I'll give you an overview of what to expect as you drive through the Badlands.
I'll also highlighting the must-see stops that will make driving through Badlands National Park an unforgettable adventure.
So, grab your camera and let's hit the road! If you like a good scenic drive, you'll love your journey through Badlands National Park.
Plan the perfect trip to Badlands National Park with this free printable travel planner.
This post includes affiliate links. If you make a purchase through one of these links, I may earn a small commission at no additional cost to you. As an Amazon Associate, I earn from qualifying purchases. See disclaimer.
Where is Badlands National Park?
Nestled in the picturesque landscapes of southwestern South Dakota, you'll discover the jaw-dropping Badlands National Park.
This place is a geological wonderland, covering around 244,000 acres just east of the famous Black Hills region.
If you're around Rapid City, it's a little over 60 miles away, and about 375 miles from Sioux Falls in South Dakota's "east river."
Trust me, folks, this park is worth the trip. Get ready to feast your eyes on stunning rock formations and mind-blowing vistas that will leave you speechless. And keep your eyes peeled for bighorn sheep.
PRO TIP: If you have flexible travel dates you need to check out Going (formerly Scott's Cheap Flights). You get amazing flight deals sent straight to your inbox with instructions on how to book directly with the airlines. Check out Going here. Going is my favorite way to find great travel deals. 
How long should I spend at Badlands National Park?
You'll need at least one full day to see the best of Badlands National Park.
This will give you time to do the full Badlands Loop Road (more on that below), plus check out the Ben Reifel Visitor Center and do a few Badlands hikes.
You can also take the drive out Sage Creek Rim Road to Roberts Prairie Dog town. There's more out there than just prairie dogs.
If you're a serious hiker or camper, you'll probably want to add a second day.
How long does it take to drive through Badlands National Park?
Badlands Loop Road (Highway 240) is the main road through Badlands National Park. It's about 30 miles long. Driving it without stopping would take you about an hour.
Buuuuuut, you're gonna wanna stop. Otherwise you wouldn't be here: driving along a scenic road through a national park.
On our drive through Badlands, we took about two and half to three hours to make all of the scenic overlook stops. Plus we drove down the Sage Creek Rim Road (it's a dirt road) to Roberts Prairie Dog Town and hiked five short trails.
Wow. We really packed it in!
What to on your drive through Badlands National Park
Before we take another step, I just need to clarify that taking the drive through Badlands National Park is super duper easy. There's basically a main road through the Badlands and you can't not drive on it.
So that means literally everything you could possibly want to do in the main (North Unit) part of the park, that is the part of the part that everyone thinks of, will be off the Badlands Loop Road.
There are a lot of things you can do on your drive through Badlands National Park.
Stop at scenic overlooks (please make sure to pull all the way over into the pullouts or use the provided parking spaces)
Enjoy a picnic
Look for wildlife
Hike
Stop in at the Ben Reifel Visitor Center to talk with a park ranger and/or stamp you national parks passport
Explore the gift shop
Eat a meal at Cedar Pass Lodge
Visit Roberts Prairie Dog Town
Where to enter Badlands National Park
If you are staying in Wall, South Dakota, (more on that below), you'll most likely enter the park through the Pinnacles Entrance Station just a few miles from town and then exit on the far end of the park.
Note: Badlands Loop Road is a two-way highway, so you do not have to exit from the opposite end of the park if you don't want to. But this is a very orderly park, making it easy to do things in the set order they're laid out along the road and then just leave the park. So tidy!
If you're coming from east of the park (heading westbound on I-90), you'll likely want to enter the park through the Northeast Entrance Station (exit 131) and journey west through the park, emerging at Pinnacles.
It really doesn't matter which direction you do the drive, but there are a couple of things to keep in mind:
The Ben Reifel Visitor Center and nearly all of the trailheads are on the east end of the park nearest the Northeast Entrance.
If you plan to visit Minuteman Missile National Historic Site after your Badlands drive, plan to exit the park from the Northeast Entrance and you're virtually there. Check their hours to make sure you don't arrive too late.
Sage Creek Rim Road, a nice little side jaunt to Roberts Prairie Dog Town and a few scenic overlooks, is just inside the Pinnacles Entrance.
Scenic overlooks along Badlands Loop Road
As you drive through Badlands National Park you'll have the opportunity to stop and enjoy several scenic overlooks. They are, in order starting from the Pinnacles Entrance:
Pinnacles Overlook
Ancient Hunters Overlook
Conata Picnic Area
Yellow Mounds Overlook
Conata Basin Overlook
Homestead Overlook
Burns Basin Overlook
Prairie Wind Overlook
Panorama Point
Bigfoot Pass Overlook
White River Valley Overlook
Big Badlands Overlook
Some of the overlook areas include large parking lots and restrooms.
There are three overlooks on Sage Creek Rim Road.
Hay Butte Overlook
Badlands Wilderness Overlook
Sage Creek Basin Overlook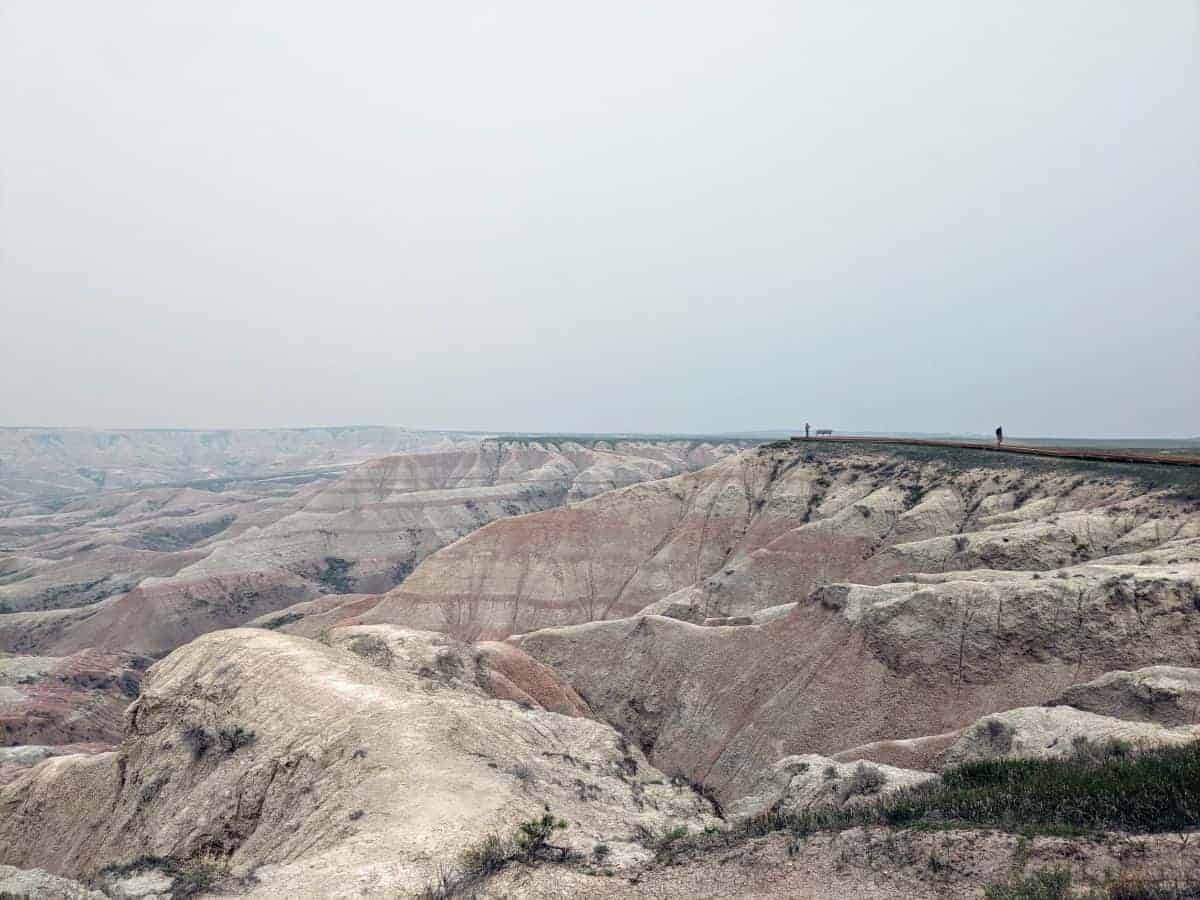 Best stops on Badlands Loop Road
If you wish to stop at all of the overlooks (we sure did) then by all means do that. Plan on that taking you a few hours though.
Are they all "must see" stops? Not really. But I liked taking the time to see them all and judge for myself which were the "best."
If you're shorter on time or just want to see the highlights, these are what I think are the best places to stop on the Badlands scenic loop road (photos follow the list).
Pinnacles Overlook
Yellow Mounds Overlook
Prairie Wind Overlook
Panorama Point
Ben Reifel Visitor Center
Cliff Shelf Nature Trail
Window Trail
Big Badlands Overlook
Honorable mentions to Roberts Prairie Dog Town down Sage Creek Rim Road, Door Trail hike, and Bigfoot Pass Overlook.
Pinnacles Overlook
This is one of the most popular stops on the Badlands Loop Road. Here you'll find a large parking lot and restrooms. It gives you a terrific view of this part of the park.
In addition, you'll be likely to find bighorn lambs bouncing around the rocks in spring, as Pinnacles is a popular place for bighorn sheep to gather.
Yellow Mounds Overlook
Do not pass by this stop on your drive through the Badlands. Here you'll see layers of lovely colored rock formations that you won't want to miss.
It's rather stunning. I kind of couldn't take my eyes off of it.
Prairie Wind Overlook
I personally found this overlook rather stunning. And it's unlike an of the others, because you're not venturing out to the edge of a valley of rock formations.
Instead you're walking a boardwalk that takes you out over utterly flat mixed-grass prairie, so that can you can see just a tiny taste of what the prairie's earliest settlers looked at every day of their lives.
And there is so little actual prairie environment left. It's so important to protect. And Badlands National Park protects the largest tract of mixed-grass prairie left in the United States.
Panorama Point
The views here are so extensive that it makes a great spot for…you guessed it…a panoramic photo. This was absolutely one of my favorite stops of the day.
Hands down. The view is marvelous.
Big Badlands Overlook
This is the spot from which to get the best expansive view of the eastern portion of the Badlands wall. Here the formations are remarkable for their noticeable red stripes.
According to the National Park Service, the Badlands National Park rock formations erode at the rate of one inch per year. Yikes.
Ben Reifel Visitor Center
The main Badlands National Park Visitor Center is named for Ben Reifel, a Lakota Sioux public servant and politician. He was the first member of the Lakota to serve in the United States House of Representatives.
Stop in at the Visitor Center to pick up a map (if you don't already have one), speak with a park ranger, enjoy museum exhibits, and visit the bookstore.
You can also stamp your national park passport here.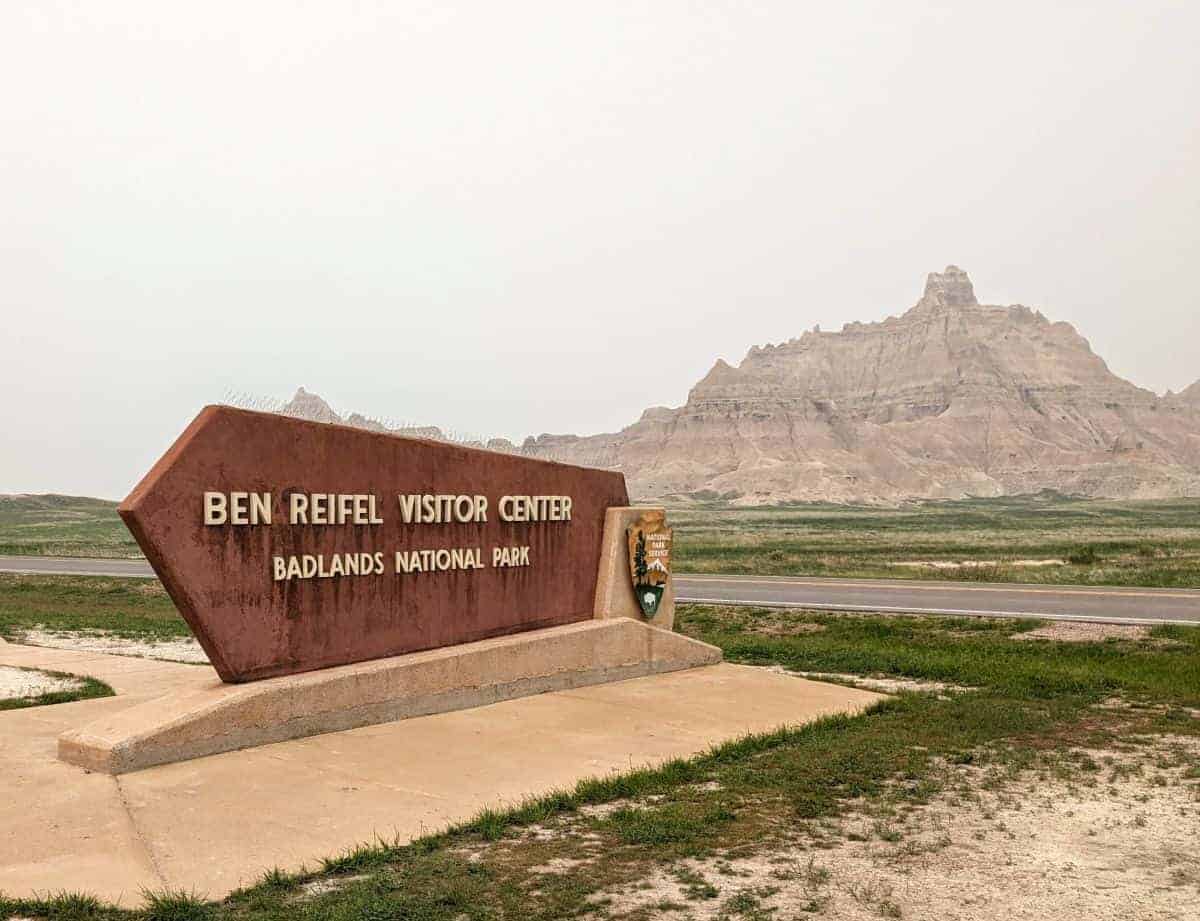 Cliff Shelf Nature Trail
Prepare to be pleasantly surprised on this loop trail. Amidst the park's breathtaking but rocky scenery, you'll find an unexpected juniper forest that defies expectations. Well, it defied mine anyway.
With an elevation change of around 200 feet, the hike offers a touch of challenge, keeping things interesting. It quickly became my second favorite hike after conquering Notch later in the day.
For an overview, see my article all about the best hikes in Badlands National Park.
Notch Trail
If you only have time for one hike at the Badlands (and you feel like you can manage it), it should be Notch. No question.
This awesome hike has it all: rugged terrain, breathtaking views, and even a climb up a log ladder!
I won't go into detail here. If want more information about this hike, I have all the details and a lot of photos of what to expect in my article devoted to the Badlands Notch Trail.
Window Trail
Window is my favorite of the very short and easy trails in Badlands National Park.
The boardwalk trail offers an easy stroll leading to a picturesque view through a natural "window" in the rock formations.
Take a moment to soak in the scenery before leisurely returning to the parking area.
Roberts Prairie Dog Town
If you have the time, I encourage you to take the side trip off of the Badlands Loop Road down Sage Creek Rim Road. You'll find the turnoff for Sage Creek Rim Road very near the Pinnacles Entrance to the park.
There are three notable scenic overlooks down this road: Hay Butte Overlook, Badlands Wilderness Overlook, and Sage Creek Basin Overlook. But the main reason people venture out this way is to see Roberts Prairie Dog Town.
Keep your distance, but spend a few minutes just watching and you might find yourself having a good chuckle over their "barking," running, and jumping. Wait long enough and you might get to see some prairie dog kisses. I'm just sayin'.
Door Trail
The Door Trail begins at the far end of the large trailhead parking lot near the Visitor Center. It's also conveniently located near the Notch and Window trailheads.
I refer to Door as a sort of "choose your own adventure" experience, where you have the option to simply enjoy the easy and short boardwalk section with a view at the end.
Or if you're feeling more adventurous, you can explore beyond the boardwalk area. Keep in mind that the boardwalk is the only maintained part of the trail.
Bigfoot Pass Overlook
Aside from being a great place to take in a wonderful view, Bigfoot Pass is also a noted historical site. This are was used by Chief Spotted Elk (Big Foot) to lead his people in evading US Army troops shortly before they were massacred at Wounded Knee several dozen miles south of the Badlands.
Best way to drive through Badlands National Park
While it is certainly easy to enjoy a drive through Badlands National Park without a map or any other guidance, I always recommend visitors pick up an official park map at the entrance.
But in addition to the paper map, I also love using GuideAlong.
The Black Hills, Rushmore, Devils Tower & Badlands National Park Tour includes the Badlands Loop Road drive and you'll learn so much about the park and the landscape as you drive and stop to enjoy the overlooks.
Seriously. I think it might blow your mind.
It's like having an kindly expert tour guide riding in your car along with you, and it's super affordable and easy to use.
Hubby and I love GuideAlong and have spent literally days driving through the United States following along with multiple tours.
Where to stay on your visit to Badlands National Park
Options for where to stay on a trip to Badlands National Park are somewhat limited.
Wall, South Dakota
If you want to enjoy a full day in Badlands National Park with either sunrise or sunset at the park, I recommend that you consider staying in Wall, South Dakota. You'll have just a drive of a few miles from your hotel to the Pinnacles Entrance.
Lodging and dining options in Wall are somewhat limited, but we enjoyed a comfortable stay at the Best Western Plains Motel. While their free breakfast was not anywhere near among the best we've had, the staff were top-notch and the rooms appeared to have been refreshed and spruced up recently.
I would definitely stay there again.
I recommend planning a two-night stay in Wall so you can spend one entire day in and around Badlands National Park.
Rapid City, South Dakota
If proximity to Badlands National Park is not a top priority for you, another option is to stay in Rapid City. Keep in mind that you'll need to plan for a drive of approximately one hour to reach the park, but if you're planning for a shorter day, this could be a viable choice.
And there is definitely a broader range of dining and hotel options in Rapid City compared to Wall.
Moreover, Rapid City serves as a decent gateway to other remarkable attractions in the area like Mount Rushmore and Custer State Park.
So, if your visit to the Badlands is a part of a bigger South Dakota road trip, you might find it makes a handy home base from which you can make Rapid City day trips.
The Residence Inn Rapid City would make a great option for a place to stay. We love how much room you get for the money at Residence Inns.
Staying inside Badlands National Park
For an immersive experience, consider staying within the park itself. There are a few options for you:
Frontcountry camping: Cedar Pass Campground, Sage Creek Campground
Backcountry camping
More articles about Badlands National Park and other national parks
Pin this post!
Driving Through Badlands National Park