Best Hikes in Badlands National Park (Includes Easy Trails)
Discover all the best Badlands hikes
With its striking rock formations and sprawling prairies, Badlands National Park presents a remarkable playground for adventurers and nature enthusiasts alike. While it is great to drive through the Badlands, you can only get really up close to the remarkable landscape on foot. Here are the best hikes in Badlands National Park.
The park offers many hiking trails that cater to all levels of experience and interests. Truly.
Whether you're seeking a leisurely stroll or desire to take on a bit of a challenge, Badlands National Park has it all. So lace up your hiking shoes, pack your camera, and prepare for an unforgettable time through the best scenery the Badlands has to offer.
In this article, I'll give you all the best trail options that showcase the many wonders of Badlands National Park.
Whether you're a seasoned hiker seeking a new adventure or a beginner this list will help you make the most of your Badlands National Park itinerary.
And believe me, some of these trails are VERY easy to handle. I'd even venture to call them more walks than hikes.
But don't worry. They're not all easy.
Badlands National Park is easily one of the coolest national parks I've ever visited. I think it's one that really needs to be seen in person to understand what all the fuss is about.
Plan the perfect trip to Badlands National Park with this free printable travel planner.
This post includes affiliate links. If you make a purchase through one of these links, I may earn a small commission at no additional cost to you. As an Amazon Associate, I earn from qualifying purchases. See disclaimer.
Where is Badlands National Park?
You'll find the stunning Badlands National Park nestled in the picturesque landscapes of southwestern South Dakota.
This park is a geological wonderland that covers approximately 244,000 acres just east of the famous Black Hills region.
The park is a little over 60 miles from Rapid City and about 375 miles from Sioux Falls on the eastern end of South Dakota.
PRO TIP: If you have flexible travel dates you need to check out Going (formerly Scott's Cheap Flights). You get amazing flight deals sent straight to your inbox with instructions on how to book directly with the airlines. Check out Going here. Going is my favorite way to find great travel deals. 
How long should I spend at Badlands National Park?
You'll need at least one full day to see the best of Badlands National Park.
With one day at Badlands National Park, you can see the Roberts Prairie Dog town, explore the scenery along the Badlands Loop Road, stop in at the Ben Reifel Visitor Center and take on some of the shorter trails, including Notch (more on that below!)
If you are interested in exploring some of the longer hikes at the Badlands, I'd recommend you add a second day in the park.
How to get around Badlands National Park
When you arrive at the entrance to the park, the ranger at the entrance station will offer you a park map.
Always take any information the park offers you. I'm being serious here. The maps are always really helpful.
But in addition to the official park map, you might want to consider downloading the GuideAlong app and purchasing the Black Hills, Rushmore, Devils Tower & Badlands National Park Tour. GuideAlong is like having a skilled tour guide riding in your car along with you giving you advice on what to see and providing amazing insight into what you're looking at.
Hubby and I love GuideAlong and have spent literally days driving through the United States following along with multiple tours.
It's wonderfully easy to use and affordable. I can't imagine doing a road trip without GuideAlong if there's a tour available for where I'm going.
Where to stay on your trip to Badlands National Park
When it comes to where you should stay for your visit to Badlands National Park, your options are going to be somewhat limited.
Wall, South Dakota
My recommendation, especially if you want to enjoy a full day with either sunrise or sunset at the park, is to stay in the small town of Wall, South Dakota, on your trip to Badlands National Park. It's just a few miles from the park's Pinnacles Entrance.
Plus, don't miss the iconic Wall Drug Store, where you can get lost among the souvenirs and tchotchkes, grab a snack or burger, or indulge in some ice cream after a day of exploration.
Hotel and food options in Wall are somewhat limited but we had a very comfortable stay at the Best Western Plains Motel. We've definitely had a better free breakfast elsewhere, but the staff were great and the rooms appeared to have been recently spruced up. I would stay there again for sure.
I recommend planning to stay in Wall for two nights so that you can spend a FULL day in the area.
Rapid City, South Dakota
If being very close to Badlands National Park is not super important to you then you could stay in Rapid City, South Dakota.
You'd need to plan on a drive of about an hour to and from the park. If you're planning to do a shorter day in the park then that might not be a terrible option.
And certainly there are a lot more dining and accommodations options in Rapid City than in Wall.
Plus, Rapid City is a gateway to other incredible attractions like Mount Rushmore and Custer State Park, adding even more excitement to your trip.
In fact, for those who don't enjoy moving around a lot when they travel, Rapid City would make a decent home base from which to explore most of the area around the Black Hills.
The Residence Inn Rapid City would make a great option for a place to stay. We love how much room you get for the money at Residence Inns. Plus you get a free breakfast and kitchen space that's great for those days when you can't face going out for dinner.
Staying inside Badlands National Park
For an immersive experience, consider staying within the park itself. There are a few options for you:
Frontcountry camping at Cedar Pass Campground or Sage Creek Campground
Backcountry camping
Best Badlands hikes
While you can see a lot of Badlands from driving the Badlands Loop Road and enjoying the scenic overlooks, my opinion is that you shouldn't pass up the opportunity to explore what you can on foot.
The best way to do this of course is through hiking. And while Badlands National Park does have an open hike policy, which means they allow off-trail hiking, I'm only going to discuss official designated trails in this article.
Three of the hikes discussed below (Notch, Window and Door) all start from the same parking lot between the Ben Reifel Visitor Center and the Northeast Entrance to the park.
The Notch and Window trailheads are "next door" to each other. Door starts from the other end of the quite large parking lot.
Notch Trail
1.5 miles out and back. Officially moderate to strenuous, this trail leans much more toward strenuous, in my opinion. Includes a climb up a log ladder plus some areas of scrambling.
Without a doubt the best and most challenging hike I've ever done (in a fun way) is the Notch Trail at Badlands National Park.
If you only have time for one hike at the Badlands (and you feel like you can manage it), it should be Notch. No question.
This exhilarating trail offers a mix of rugged terrain, breathtaking views, and a climb up a log ladder!
I'm going to give you a disclaimer up front. I am generally afraid of heights and do not like ladders, but I was determined to give Notch Trail a try.
And even though I found it personally challenging, I was never once really worried for my safety and didn't find the ladder as scary as I expected to.
I'd do this hike again in a heartbeat. Take your time and step carefully, and you'll be fine.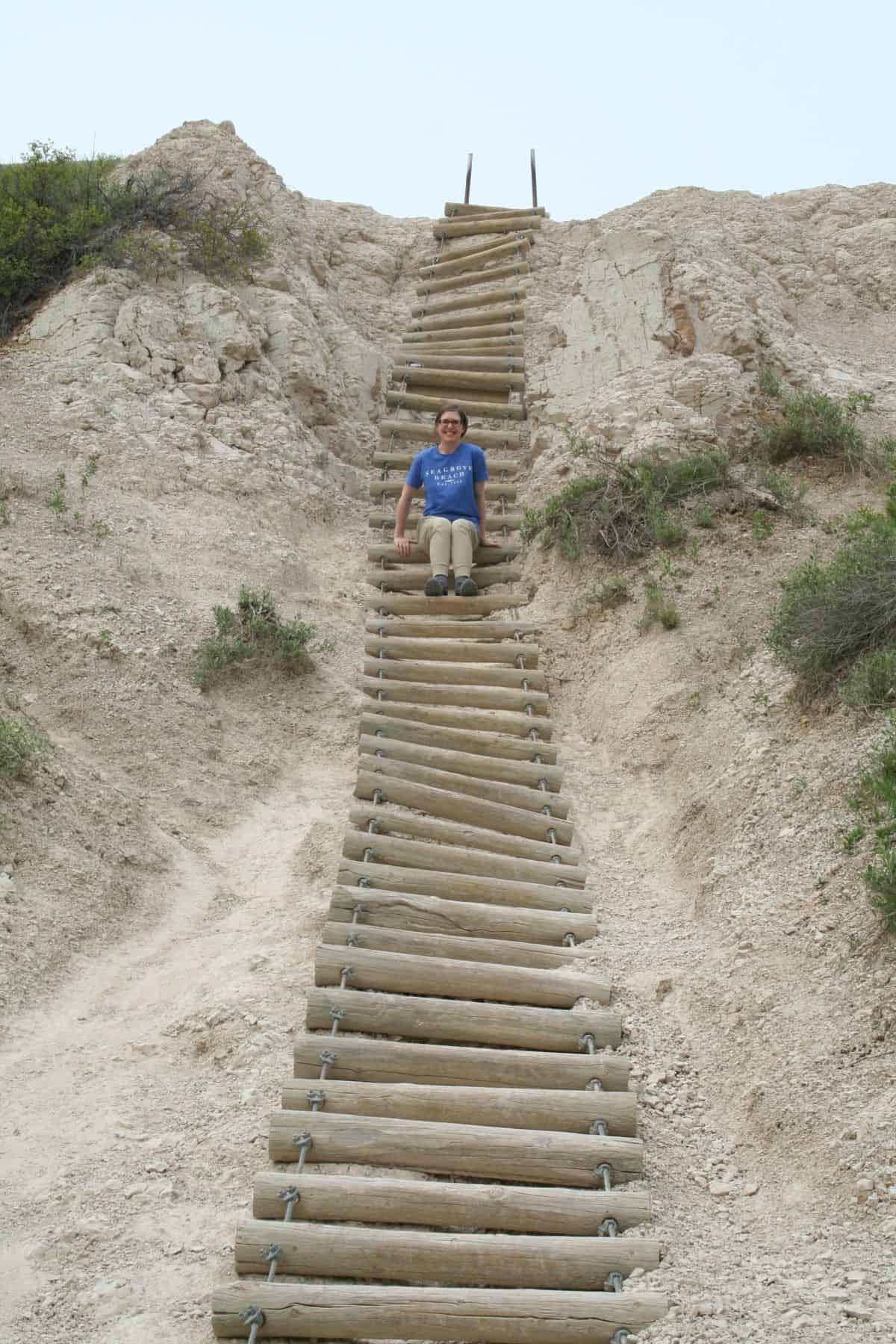 Having said all this, there is nothing wrong with turning back if you feel like you need to. And never let anyone bully you into undertaking a hike that you do not feel safe doing.
At the end of your hike, you'll enjoy lovely vistas as you reach the trail's highlight: the "Notch," a natural opening in the Badlands wall that offers a mesmerizing view of the surrounding canyons.
But as great as the view was, if you do the hike for the view, you might be disappointed.
In my opinion, the point of doing Notch is the hike itself.
For more details and a lot more photos, see my article all about Notch Trail.
Window Trail
0.25 miles out and back. Easy hike with boardwalk all the way.
Window was my favorite short hike in Badlands National Park.
It's a very easy walk along the boardwalk to a lovely view from a natural "window" in the rock formations.
Take a little time to enjoy the view before your easy stroll back to the parking area.
Door Trail
0.25 miles – 0.75 miles. Easy to challenging.
Door Trail starts from the opposite end of the same parking lot that serves the Notch and Window trailheads.
Door is kind of a "choose your own adventure" type of situation.
If you want, you can just walk the easy first boardwalk portion and take in the view. But if you want to you can venture beyond the boardwalk area.
I was tired enough after our Notch trail that I seriously did not want to climb up and down anymore Badlands rocks. I only wandered a little way from the end of the boardwalk to get out among the rock formations.
Yellow markers map out the rest of the "trail" for hikers, but the boardwalk marks the end of the maintained portion of Door. Venturing beyond that is basically at your own risk.
Cliff Shelf Nature Trail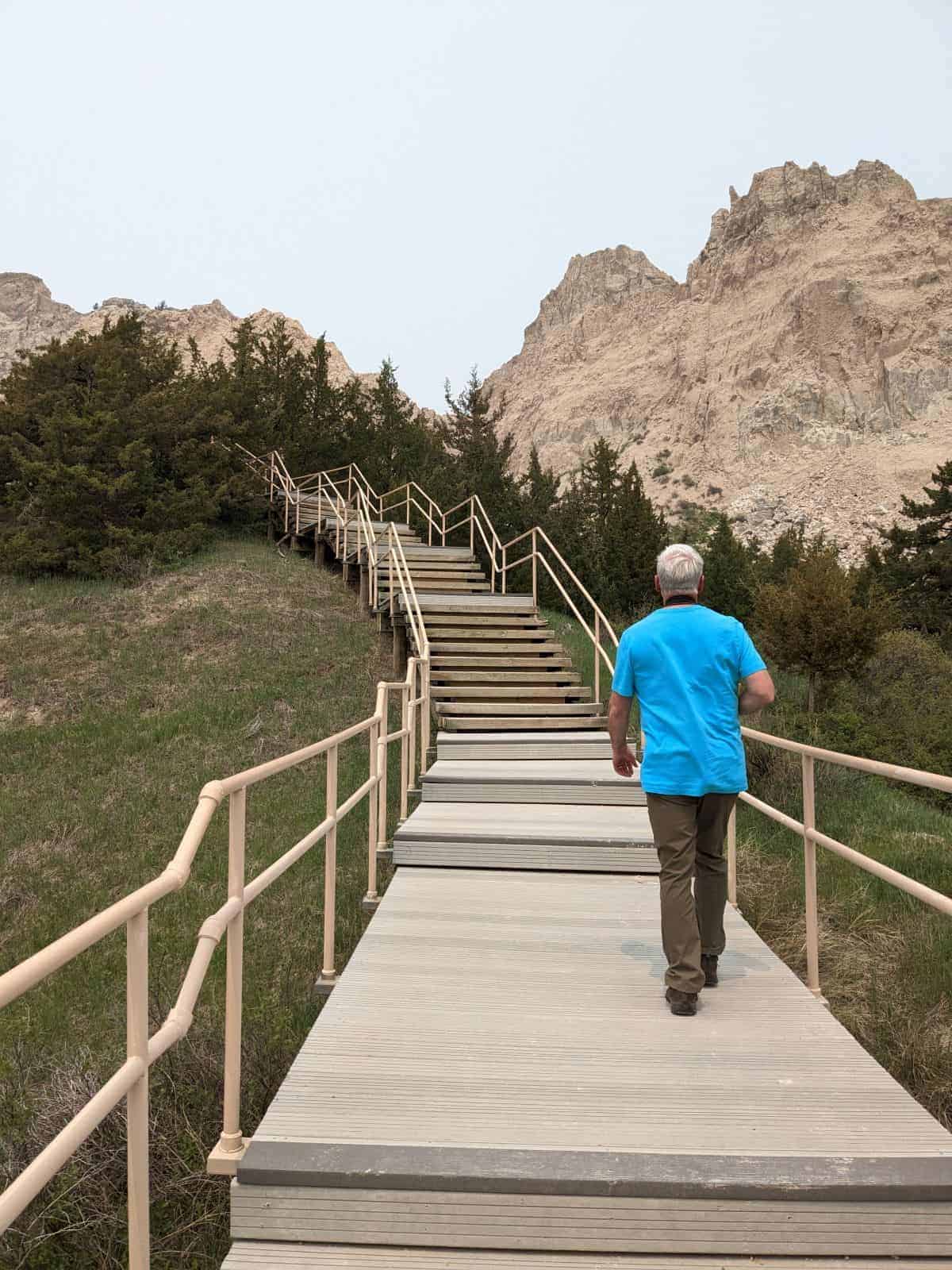 0.5 miles roundtrip. Moderate (includes stairs).
This lovely and unexpected loop trail will immerse you in the park's remarkable juniper forest.
This was my second favorite hike of the day after Notch. The change in elevation (approx. 200 feet) made the hike a little more challenging than I was expecting.
And I loved the surprising juniper forest springing up out of some of the landscape where you would think that you would be the least likely to see such a thing.
Fossil Exhibit Trail
0.25 miles roundtrip. Easy.
This boardwalk loop "hike" is quite easy and fully accessible. You can learn more about fossils from the displays along the way.
This is the trail I would recommend skipping if you're short on time.
Those with very young children might prefer this trail as family?
Other Badlands hikes to explore
While most of the above trails are must-see highlights, don't limit yourself to just those, especially if you plan to spend more than one day in the park…or if you're a more experienced hiker.
Here are a few more official hikes in Badlands National Park that you might enjoy.
Saddle Pass Trail
0.25 miles out and back. Strenuous.
This short trail will lead you up a steep climb the Badlands Wall to a captivating overlook of the sprawling White River Valley below.
Saddle Pass Trail ends with its intersection with the Castle and Medicine Root Loop Trails. From here you can venture back down Saddle Pass or continue on to explore Castle and Medicine Root.
Castle Trail
10 miles roundtrip. Moderate.
Castle Trail is by far the longest trail at Badlands National Park.
Its trailhead is at the Door/Window parking lot and winds its way through grassy areas and around rock formations all the way to the Fossil Exhibit Trail.
It's important to watch for rattlesnakes any time you're in any grassy areas at Badlands National Park. And keep your eyes out for other wildlife. You might even see some bighorn sheep!
Medicine Root Trail
4 miles. Moderate.
This moderate trail takes hikers through prairie and is connected with Castle Trail and Saddle Pass at one end. At the other end it connects with Castle toward the end of that trail nearest the Door/Window parking area.
Badlands National Park hiking tips
While hiking in Badlands National Park is great fun, there are definitely some things to keep in mind before you take off on your adventure.
Keep in mind that there are several easy hikes in Badlands National Park, but they're not all easy. I strongly recommend that you not undertake any hike that is longer or more strenuous than you think you can handle.
Take it from me, it's really not fun to be halfway through a hike and run completely out of energy only to find you didn't bring enough food with you because you thought the hike would be an easy stroll, but it turned out to be a lot more challenging.
It's best to know what you're getting yourself into as much as possible. And there's no harm in being over prepared to get out on the trail.
That could mean more clothes than you think you'll need, more water, more food, etc. Just because you see people out on a trail without proper gear doesn't mean it's a good idea.
Okay enough preaching for now. Here are a few tips for hiking in Badlands National Park.
1. Remember to take plenty of water with you. The National Park Service recommends each hiker take two quarts per two hours of hiking.
2. Leave no trace. That means no taking things from the park, no disrupting the wildlife, no stepping on plant life, and always throw away your trash in the appropriate receptacle or pack it out with you.
3. Inform others of your hiking plans especially if you are planning to hike off trail and/or heading off into the backcountry.
4. Be aware of your surroundings. There is wildlife (including rattlesnakes!) in Badlands National Park.
5. Wear sturdy footwear. The terrain can be rugged, so opt for comfortable hiking shoes or boots that provide good traction. This is most important for Saddle Pass and Notch trails.
6. Check the weather forecast before your trip and come prepared with appropriate clothing and gear. The Badlands can experience extreme temperature fluctuations and sudden weather changes.
More articles about Badlands National Park and other national parks
Best Hikes in Badlands National Park