Badlands National Park Notch Trail: Best Hike in the Park
Don't miss Notch Trail in Badlands National Park
Without a doubt, Notch Trail is the best known and most popular hike at Badlands National Park. The Badlands National Park Notch Trail offers hikers a fun challenge.
Really, what's not to like? You can get up close and personal with Badlands rock formations, enjoy great views, and even climb a steep wooden ladder. It's hand down the most interesting hike I've ever done.
It's a must do for any Badlands itinerary.
Notch is one of the best hikes in Badlands National Park and easily my favorite hike there.
In this article, I'll walk you through everything you need to know before you hike Notch Trail. And there are plenty of photos here, so you'll have a good idea of what to expect on this great trail.
Plan your perfect trip to Badlands National park with this free printable travel planner.
This post includes affiliate links. If you make a purchase through one of these links, I may earn a small commission at no additional cost to you. As an Amazon Associate, I earn from qualifying purchases. See disclaimer.
About Notch Trail
Length: 1.5 miles out and back
Time: Plan to spend at least an hour and a half and up to two hours on this hike
Difficulty: Officially moderate to strenuous (in my opinion, this trail leans more toward strenuous that moderate).
Notable features: This hiking trail includes a climb up a log ladder, a path along a cliff edge, plus some areas of scrambling.
Is Notch Trail scary?
I'm generally afraid of heights and don't like ladders, but I did not find Notch Trail scary. And this is despite the sign warning about the "dangerous cliff."
Now, that doesn't mean it's an easy hike. It is definitely at least moderate in difficulty, with some areas I'd describe as challenging
It is all rather rough terrain and you will need to do some scrambling, but I never once in the entire hike felt like I was in danger.
There are trail markers along the way to keep you reassured that you're following the correct path. Plus since it's quite a popular hike, there will be plenty of people coming and going…so you can watch those ahead of you to see how they manage the hike.
Take your time, step carefully, stay away from the cliff edge, and you'll be fine.
If you have a bad fear of heights, you might not want to attempt this hike. But you can always try it, see how you feel, and turn back if you need to.
If you watch the hikers above you before you climb the Notch Trail ladder, it seems as though they are walking along a very narrow ledge on the cliff overhead.
Here's what it actually looks like once you're up there.
How to get to Notch Trail
The Notch trailhead is located at the south end of the parking lot that also serves the Door and Window trail heads on the eastern side of Badlands National Park.
The parking area is just off the Badlands Loop Road. It's such a large parking lot, it's hard to miss.
If you enter the park through the Northeast park entrance station, you'll reach the parking area before you get to the Ben Reifel Visitor Center.
If you enter at Pinnacles (near Wall, South Dakota), you'll be hiking closer to the end of your visit to Badlands National Park.
The trailhead is clearly marked at the Notch Trail parking area.
PRO TIP: If you have flexible travel dates you need to check out Going (formerly Scott's Cheap Flights). You get amazing flight deals sent straight to your inbox with instructions on how to book directly with the airlines. Check out Going here. Going is my favorite way to find great travel deals. 
Things you need to know about hiking Notch Trail
If you only have time for one hike at the Badland National Park, it should be Notch. No question.
At the end of the trail you'll be treated to a view of the badlands through a "notch" in the Badlands wall. But don't miss the cool views back over the hike after you get to the top of the ladder.
Don't undertake this amazing hike just for the view at the end. In my opinion, the worth of this trail is in the hike itself.
Notch is one of the most popular trails (if not THE most popular) in Badlands National Park. So, if you're self conscious about doing the ladder climb with others watching, I'd avoid Notch in the middle of the day.
At the start of this hike, signage will remind you to wear the proper shoes. Heed this warning. Notch involves A LOT of climbing over rocky terrain. Do not attempt this hike in flimsy footwear.
I've seen other travelers write about a way to get to the notch without using the ladder. I personally did not see a path to doing that, but then I'm not the most savvy trailblazer.
Avoid this hike during and after heavy rain as the path can be treacherous.
Here's what to expect as you traverse the Badlands National Park Notch Trail.
Start your hike from the south end of the large parking lot at the trailhead.
Wind your way back into the Badlands rock formations until you get to the wooden ladder.
After you climb the ladder, you'll follow the marked path all the way to the "notch."
​Be mindful of the edge of the path as you travel.
Enjoy the view from the notch.
You'll return to your car by the same path. Keep aware of other hikers around you and how quickly they're moving. There are plenty of spots to move out of the way of faster moving traffic if you're hiking more slowly.
Climbing back down the ladder definitely felt more awkward the climbing up.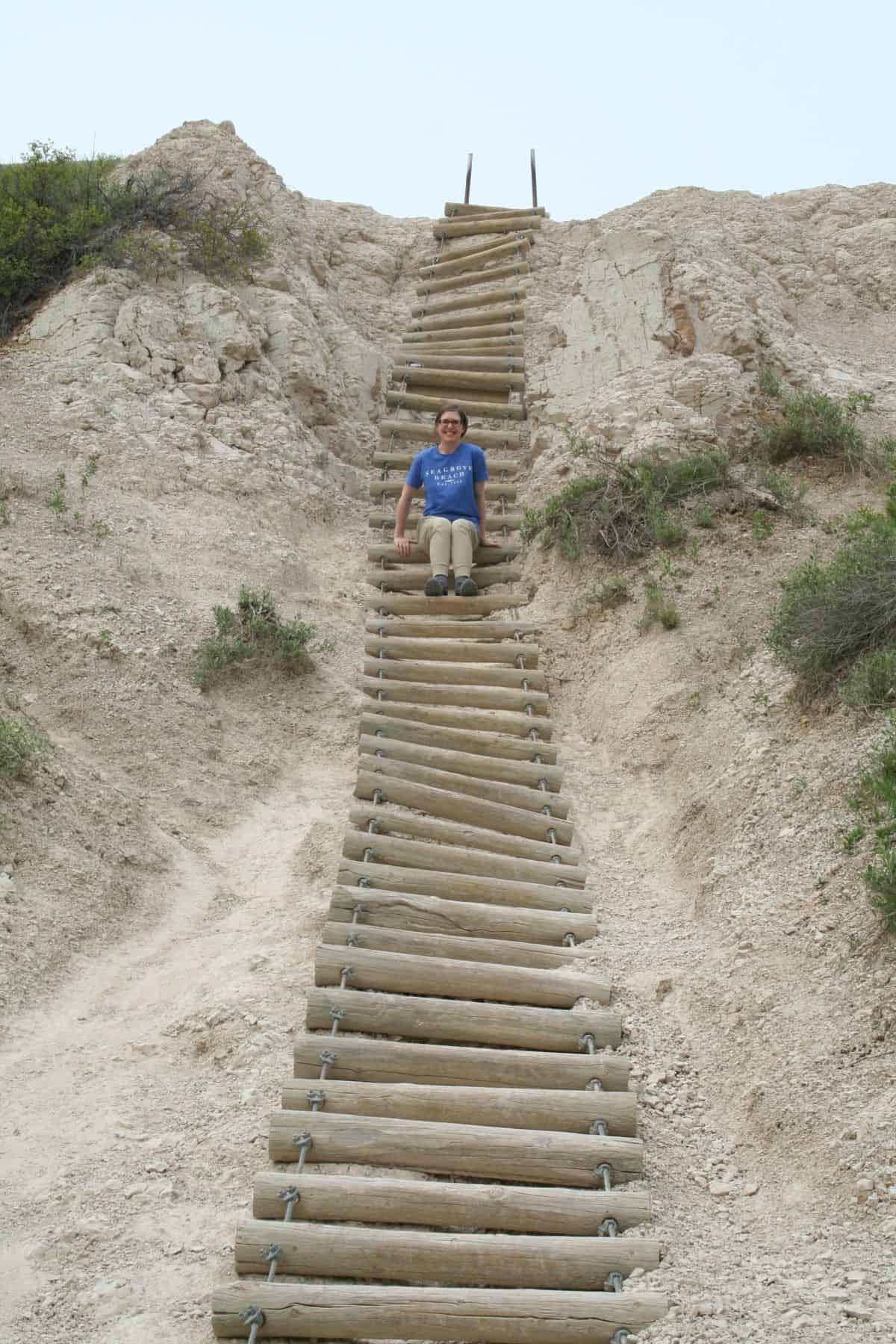 Please note that if you attempt to "de-ladder" before the bottom, thinking "Well, I'll just walk the rest of the way down," the surface there is quite loose and you may just end up falling hard on your tailbone.
Ask me how I know!
Other hikes in Badlands National Park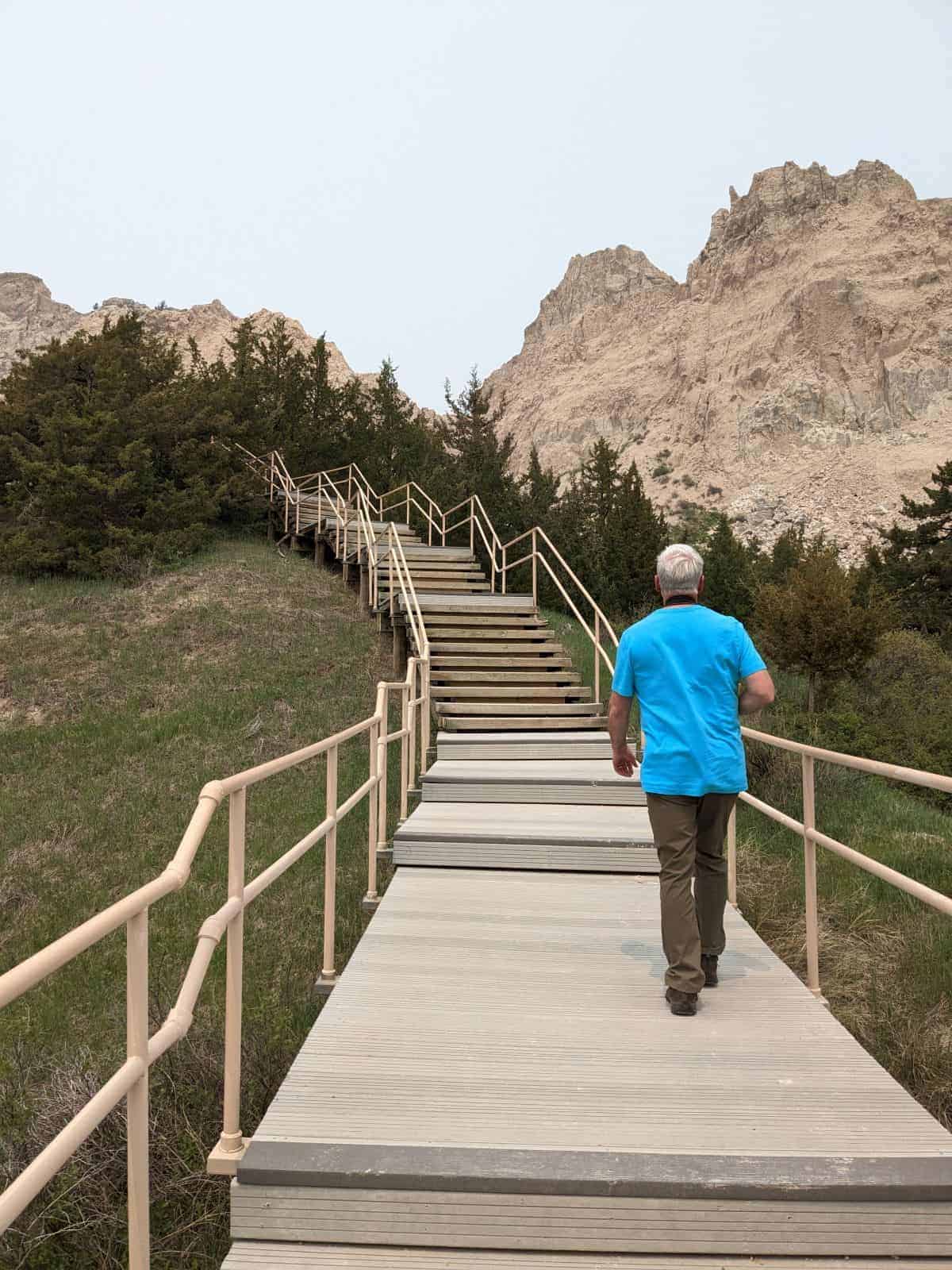 Of course there is more to Badlands National Parking hiking than just the great hike at Notch Trail. Other official trails in the park are:
Cliff Shelf: 0.5 miles roundtrip, moderate, some stair climbing
Window Trail: 0.25 miles out and back, easy boardwalk all the way
Door Trail: 0.25 – 0.75 miles roundtrip, easy to strenuous.
Fossil Exhibit Trail: 0.25 miles roundtrip, easy boardwalk all the way
Saddle Pass: 0.25 miles, strenuous and steep
Medicine Root Loop: 4 miles roundtrip, moderate
Castle Trail: 10 miles roundtrip, moderate
If you only have a little more time for hiking than doing just Notch Trail, I would add Window and Cliff Shelf. Or maybe do Saddle Pass also or instead of Window.
For more details about all of these hikes (plus photos!), read my article all about the best hikes in Badlands National Park.
Tips for hiking in Badlands National Park
Hiking in Badlands National Park is awesome. But before you set off on the trail, there are a few tips to remember.
While there are several short and easy hikes in Badlands National Park, but there are also some longer and more strenuous hikes. I never recommend that anyone undertake a hike that is more strenuous than they think they can handle on any given day, especially in very hot or very cold weather.
It's best to know what you're getting yourself into as much as possible. And there's no harm in being over prepared to get out on the trail.
I never shy away from bringing extra food, extra water or extra layers of clothing than I think I'll likely need. Getting caught out on the trail unprepared might be an inconvenience, but it could also potentially be quite serious.
And never compare your preparedness against those hiking around you. National Park hiking trails are full of people hiking without proper gear or protection. That doesn't mean it's a good idea.
Okay, stepping off my soap box for now. Here are a few tips for hiking in Badlands National Park.
Remember to always take plenty of water with you. The National Park Service recommends each hiker take two quarts per two hours of hiking.
Leave no trace. Do not remove anything from a national park, do not disturb the wildlife, do not trample the plant life. If there is no available trash can, then you need to take your trash with you.
Make sure others know about your hiking plans especially if you are planning to hike alone (not recommended), off trail, and/or heading off into the backcountry.
Be mindful of your surroundings. National Parks are full of families on vacations but there are also dangers about. Every year even experienced hikers are lost to falls, surprise bad weather, wildlife mishaps, and more. Be careful!
Wear the appropriate footwear. The terrain can be rugged, so go for sturdy hiking shoes or boots that will give you good traction. This is most important for Saddle Pass and Notch trails.
Check the weather forecast before your trip and come prepared with appropriate clothing and gear. The Badlands can experience extreme temperature fluctuations and sudden weather changes.
How to enjoy more of Badlands National Park
When you arrive at the entrance to the park, the ranger at the entrance station will offer you a park map. The maps are always really helpful, and provide a quick way to see what parts of the park you might not have yet explore.
But in addition to the official park map, you should consider using the GuideAlong app.
GuideAlong offers a Black Hills, Mt. Rushmore, Devils Tower & Badlands National Park Tour. It's not just an audio tour, GuideAlong will actually help you navigate through the park and make decisions about what to see and when.
Hubby and I love GuideAlong and have spent literally days driving through the United States following along with multiple tours.
It's wonderfully easy to use and affordable. I can't imagine doing a road trip without GuideAlong.
Where to stay on your trip to Badlands National Park
When it comes to where you should stay for your visit to Badlands National Park, your options are going to be somewhat limited.
Wall, South Dakota
The area most convenient to Badlands National Park is town of Wall, South Dakota. It's just a few miles from the park's Pinnacles Entrance.
Thought hotel options in Wall are limited, we had a very comfortable stay at the Best Western Plains Motel. I would stay there again for sure.
I recommend planning to stay in Wall for two nights so that you can spend a FULL day in the park.
Rapid City, South Dakota
If being as close to Badlands National Park as Wall is not a top priority for you then Rapid City might be good option for you. The main downside is that you're looking at a drive of about an hour both to and from the park (potentially longer). On the plus side, there are quite a few more dining and hotel options in Rapid City than in Wall.
The Residence Inn Rapid City would be a solid choice for a place to stay. We love how much room you get for the money at Residence Inns.
Staying inside Badlands National Park
If you want a completely immersive trip, you can stay inside the park.
Frontcountry camping at Cedar Pass Campground or Sage Creek Campground
Backcountry camping
More articles about national parks
More articles to help you plan your trip to Badlands National Park
Badlands National Park Notch Trail