Best National Parks in Utah: The Utah Mighty 5
These Utah National Parks feature great hiking and stunning scenery
Gravity-defying red rock formations, unbeatable hiking trails, and adventures in the desert are just a few of the things that make visiting the best national parks in Utah the bucket list-worthy experience it is.
Utah's National Parks are some of the top things to do in southern Utah.
This post includes affiliate links. If you make a purchase through one of these links, I may earn a small commission at no additional cost to you. As an Amazon Associate, I earn from qualifying purchases. See disclaimer.
In this article, you'll find details about each of the Utah Mighty 5 as well as a suggested road trip itinerary for seeing all the Utah national parks in one trip.
Plan your Utah National Parks trip with this FREE travel planner.
How many national parks are there in Utah?
Utah is home to five National Parks: Arches, Bryce, Canyonlands, Capitol Reef, and Zion.
In addition, there are several other national park units in Utah including Golden Spike National Historical Park, Glen Canyon National Recreation Area, Hovenweep National Monument, and Mormon National Historical Trail.
See the best of Utah's National Parks with the GuideAlong Utah Mighty 5 Audio driving tour bundle. No data connection need. No recurring charges. Just the best and most flexible audio tour available.
Utah national parks map
Click on the map to go to the shared map in Google Maps.
Arches National Park
Arches National Park is famous because of its eye-popping natural arches, awesome rock formations, and stunning desert vistas
Arches is much smaller than other national parks, so you can cover it in a day or two.
Hike along its wonderful trails to take in as many of its fantastic landscapes and vistas as you can.
Highlights include quirky rock formations and wondrous arches scattered throughout the park, including Delicate, Double, Turret Arch, Landscape, and Sand Dune arches.
PRO TIP: If you have flexible travel dates you need to check out Going (formerly Scott's Cheap Flights). You get amazing flight deals sent straight to your inbox with instructions on how to book directly with the airlines. Check out Going here. Going is my favorite way to find great travel deals. 
Things to do in Arches National Park
Drive the 18-mile scenic road
Hike to Delicate Arch (avoid in the midday summer heat)
Explore Devils Garden
Try an easy hike to Double Arch or a Delicate Arch viewpoint
Try exploring Arches National Park with this half-day 4×4 driving tour.
Or take the full day to explore with this Arches National Park 4×4 Drive and Hiking Tour.
Where to stay at Arches National Park
There is no lodging in Arches National Park. Many people choose to stay in nearby Moab.
Find hotels in Moab near Arches National park.
Bryce Canyon National Park
Bryce Canyon is one of the most stunning things to see in Utah. It's all about peculiar needle-shaped hoodoos, bizarre rock formations, and stunning sandstone pillars.
Bryce Canyon National Park is home to the largest collection of hoodoos in the world and the landscape here is simply fantastic.
It's so otherworldly, you might have a hard time tearing yourself away. It's really that mesmerizing.
One day is enough to explore the park if you start out early because it is relatively small compared to the other Mighty Five parks.
Despite its size, Bryce Canyon does not lack natural wonders. Highlights include Fairyland Canyon, Silent City, Mossy Cave Waterfalls, and Queen's Garden Trail.
The best way to fully experience the beauty of Bryce's red rock hoodoos is by hiking the Queen's Garden to Navajo Loop, a trail that will have you wobbling your way through rock tunnels, limestone walls, and even a pine forest before getting to the main lookout point in the park, where you'll get 360-degree views of the hoodoo amphitheater.
According to the National Park Service, Queen's Garden "beginning at Sunrise Point, descending 320 feet (98m), is considered the least difficult trail entering the canyon from the rim."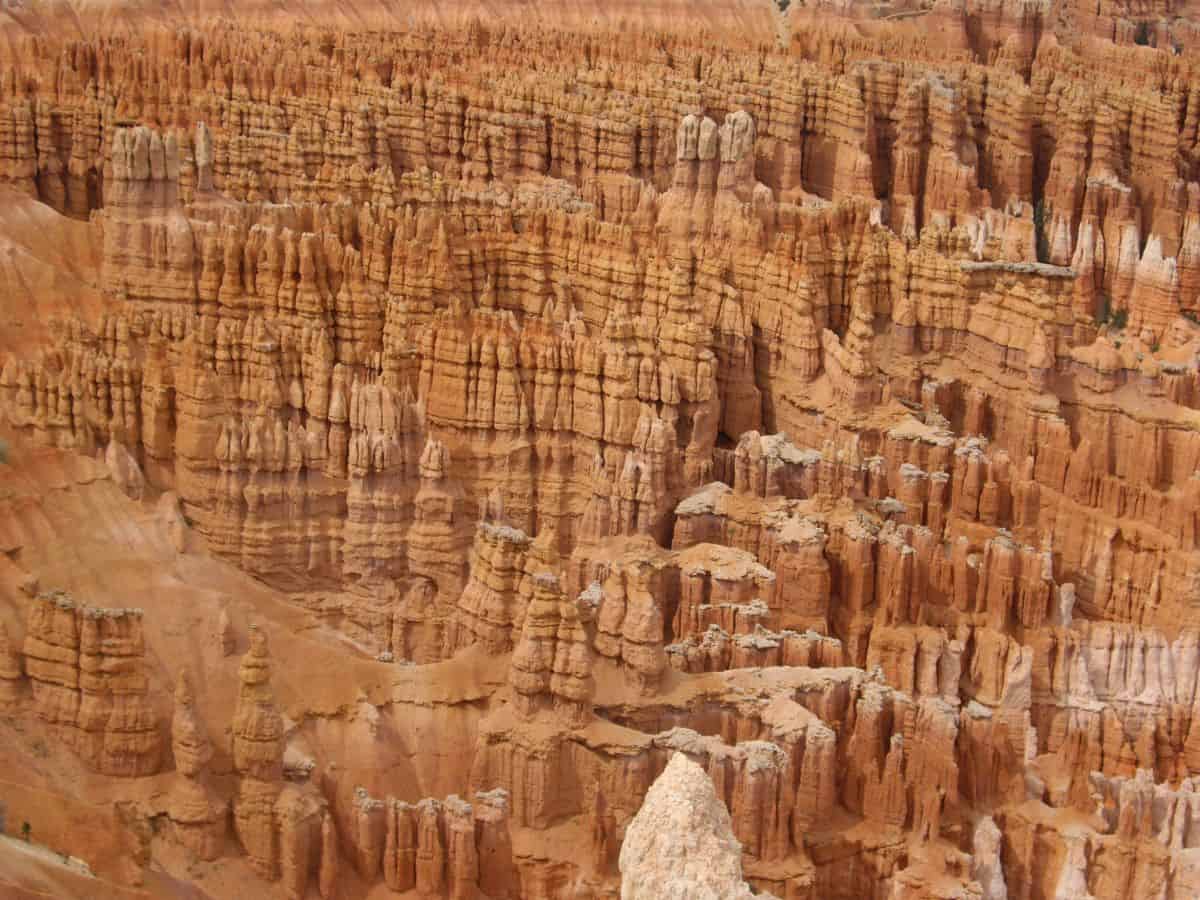 Things to do in Bryce Canyon National Park
Hike Queen's Garden Trail
Navajo Loop (often combined with the Queen's Garden Trail)
Sunset Point
Bryce Amphitheater
Drive the Southern Scenic Drive
Explore the visitor center museum
Explore Bryce with this 3-hour guided sightseeing tour.
Or check out stunning views from the canyon rim with this guided ATV tour.
Where to stay at Bryce Canyon National Park
If you want to stay inside the park, you can check out the Lodge at Bryce Canyon.
You can also find accommodations in Bryce Canyon City and in Tropic.
Featured Utah and National Parks tours
Canyonlands National Park
Canyonlands is one of the best national parks to visit if you want to take a deep dive into the desert.
Deep canyons, splendid rivers, stunning sandstone cliffs, sheer red rock formations, tons of hiking trails, and spectacular vistas make Canyonlands one of the most scenic national parks in the United States.
Spanning a huge 330,000 acres of nature, Canyonlands is divided into different sections: Island in the Sky, The Needles, and The Maze.
Even though Canyonlands is located pretty close to Arches, the landscape here differs. Canyonlands is all about sweeping canyon views and humongous rock formations.
Things to do in Canyonlands National Park
It is literally impossible to explore everything in one visit, but a few highlights you shouldn't miss are:
Grand View Point
Mesa Arch
Shafer Canyon
Grand View Point Trail
Upheaval Dome
Buck Canyon Overlook
Spend a full day exploring both Arches and Canyonlands national parks with this full-day guided 4×4 driving tour.
Where to stay at Canyonlands National Park
There is no lodging (or dining options) inside Canyonlands National Park.
Some travelers may choose to stay in Moab (as it is nearest to Island in the Sky). Find hotels in Moab, Utah.
If you want to stay southeast of the park, check out lodging options in Monticello.
Capitol Reef National Park
Capitol Reef National Park is what we'd call a hidden gem in the national parks system in Utah.
The lesser-known of the Mighty Five national parks features startling cliffs, canyons, and domes in a geologic monocline known as the Waterpocket Fold, which is a big 100-mile wrinkle on the earth.
Things to do in Capitol Reef National Park
Must-dos at Capitol Reef include:
Driving Highway 24 scenic road through the park
Panorama Point and Sunset Point
Hiking to Hickman Bridge and Cassidy Arch
Walking along Grand Wash
Where to stay at Capitol Reef National Park
There are no lodgings in Capitol Reef National Park.
Check out Capitol Reef Resort. It's located at the entrance to Capitol Reef National Park. In addition to traditional lodge rooms, they also offer unique teepee and Conestoga wagon accommodations.
There are also several other great lodging options you could try in Torrey, Utah.
Zion National Park
If you're yearning for a desert-filled adventure, Zion National Park has you covered. One of the most beautiful parks in the US, this park is a perfect go-to for hiking trails, contrasting landscapes, and wildlife spotting.
Home to white and red-hued cliffs, hanging gardens, other-worldly looking rock formations, and lush meadows, Zion National Park is what we call a huge contrast in scenery, which means hiking here is never boring.
Most of the best views at Zion can be found along the Zion Canyon Scenic Drive and the Zion-Mount Carmel Highway, making it easy to explore in a short time.
For unique hikes, try The Narrows, Emerald Pools, and a hike up the world-famous trail that leads to Angel's Landing if you're not afraid of heights.
Angel's Landing is a pretty strenuous hike that can take about 4 hours to complete. At the end of the hike, you'll get the chance to stand 1500 feet above the canyon floor.
The Narrows is the narrowest section of Zion Canyon at Zion National Park and one of the most emblematic slot canyon hikes in Utah.
As you make your way through the gorge, you'll get to walk amid walls as tall as a thousand feet and wade over a river so narrow that it can sometimes measure only twenty feet in width.
The hike is beautiful and a must on anyone's Utah itinerary, especially if you're keen to experience one of the most beautiful slot canyons the state has to offer and don't mind a bit of a challenge.
Aside from the park's contrasting landscapes, something that makes Zion so special is the fact that it's a mecca for Native American history, which you can learn about by visiting the Zion Human History Museum.
Here, you'll get to understand all about the Paiute people, who once called the grounds of Zion their home.
Things to do in Zion National Park
Scenic drive
Angels Landing
The Narrows
Short hiking trails like:

Canyon Overlook Trail
Riverside Walk
The Emerald Pool Trail
Watchman Trail.
You can book a Narrows guided hike (including necessary equipment) here.
Check out a slot canyon and enjoy a UTV ride with this East Zion tour.
Where to stay at Zion National Park
There is one hotel inside Zion National Park: Zion Lodge.
Springdale is quite close to Zion and a popular option for those looking for budget accommodations quite near the park. Find lodging in Springdale, Utah.
If you're looking for a larger city to stay in, you might try St. George, Utah, but expect longer drive times to the park.
Kanab is also a popular option. Find hotels in Kanab, Utah.
More things to do at and near Zion National Park
Utah National Parks road trip itinerary
If you're interested in visiting all of the Utah Mighty 5 in one epic road trip, then you need to look no further than this Utah National Parks road trip itinerary.
You'll visit all five of the National Parks in Utah, each one more strikingly beautiful than the last!
Starting in Salt Lake City, this Utah Mighty Five road trip itinerary will have you checking out the scenery at Zion National Park, exploring the vast canyons of Canyonlands, walking through arches and cliffs at Arches and Capitol Reef, and gawking at the amphitheater of red rock hoodoos that make up the landscape at Bryce Canyon, all in just a few days.
Consider spending one day of your trip exploring Salt Lake City either at the beginning or end of your trip, if you'll be flying into and out of the airport there.
Road Trip Start: Drive to Zion National Park
Depending on when you land, day 1 will be all about driving to Zion National Park, your starting point to this epic National Parks road trip through Utah.
Plan on this drive taking you about 4.5 to 5 hours from Salt Lake City International Airport.
Depending on when you arrive at Zion, you may also have time to hit a short hiking trail, including the Canyon Overlook Trail, Riverside Walk, The Emerald Pool Trail, or the Watchman Trail.
Stop 1: Zion National Park
By far one of the most popular hikes at any U.S. National Park, undoubtedly Angel's Landing will be on the top of most traveler's lists for their day at Zion National Park.
Do note that you need a permit to hike Angel's Landing, so plan in advance in order to snag yours. Angel's Landing is pretty challenging and not recommended for those afraid of heights (like me!).
Alternatively, you can do a few of the shorter, easy hikes in the park or opt for a scenic drive around Zion.
After hiking, it's time to drive about 75 miles to Bryce Canyon National Park for another day of adventures.
Where to stay at Zion National Park
Stop 2: Bryce Canyon
Bryce Canyon National Park is home to the largest collection of hoodoos in the world and the landscape here is simply fantastic.
After some serious hiking, it's time to rest for a bit before hopping on your car to drive Highway 12, a scenic road that cuts through the park and provides access to some of the most beautiful viewpoints of Bryce Canyon.
Come sunset, hike your way to Sunset Point, where you'll get to see the sun go down over hundreds of red rock hoodoos that look as though they glow!
Where to stay at Bryce Canyon National Park
Stop 3: Capitol Reef
From Bryce Canyon, drive about two hours (approximately 115 miles) to Capitol Reef National Park, which is Utah's most underrated national park.
Despite its lack of popularity, the landscapes you'll get to see at Capitol Reef are simply out of this world.
The park is home to the Waterpocket Fold, which is a "wrinkle" on the earth's surface that created a dramatic landscape of humongous cliffs, strange rock formations, and rugged canyons.
After lunch, hike up to Hickman Bridge, a short hiking trail that provides access to some of the most iconic landmarks in the park.
After hiking, hop in your car and drive the 8-mile scenic road, where you'll get to stop at some of the most gorgeous lookout points in the park.
Although short, make sure you plan a couple of hours to complete the drive, as you'll be wanting to make multiple stops along the way.
Next, drive down Highway 24, which will take you to a petroglyph panel that provides glimpses into the lives of indigenous people who once called Capitol Reef their home before beginning your drive to Moab, the gateway to your next destination: Arches National Park.
The drive to Moab is about 140 miles.
Where to stay at Capitol Reef National Park
Stop 4: Arches National Park
Home to over 2000 natural arches and a variety of whacky-looking rock formations, a visit to Arches National Park is an experience like no other.
Since the park is relatively small, it's pretty easy to check out the top highlights in just a day.
If you're up for a strenuous hike, start your adventure with a hike to Delicate Arch, which is one of Utah's most iconic natural landmarks and a popular sunrise spot.
Avoid this hike during the midday heat in summer.
If you don't want to hike to Delicate Arch, you can hike to a Delicate Arch viewpoint. There's a flat accessible trail to the lower viewpoint.
Or you could do the longer (moderately strenuous) hike to the upper viewpoint.
After gawking at Delicate Arch, grab your car keys and drive down the Arches Scenic Ride, where you'll get to make multiple stops at the best viewpoints in the park to get a pretty well-rounded introduction to its scenery.
If you want to try a hike in Devils Garden, you might want to try the Landscape Arch hike, which takes about an hour to complete and will get you to see the longest natural arch in the world.
Because there is no accommodation available at Arches National Park, you will need to drive back to the town of Moab, which is located just under 20 minutes away.
If possible, try lingering inside Arches past sunset, as the park is considered one of the best places in the world for stargazing.
Where to stay at Arches National Park
Stop 5: Canyonlands National Park
Canyonlands is massive and one could dedicate an entire trip to see just this park and still never run out of amazing things to do.
Since we only have a day, the best way to go is to focus on the easiest section to explore: Island in the Sky.
At Island in the Sky, consider hiking the short Mesa Arch trail for sunrise (you'll have to start the day early in order to get there in time, but the views it provides are so worth the early wake-up call).
Next, drive the park's 16-mile scenic drive (34 miles round trip) to Upheaval Dome, where you'll be hitting some of the most iconic viewpoints of Canyonlands in one go.
After driving, you'll still have enough time to tackle a few hikes. The trails at Island in the Sky are pretty short and sweet, so you'll be able to do a few of them before the day is finished.
A few recommended trails include the Aztec Butte Trail (1.6 miles), White Rim Overlook Trail (0.9 miles), and Murphy Point Trail (3.6 miles).
Where to stay at Canyonlands National Park
Road Trip End: Return to starting point
This is the bare minimum amount of time that I would suggest for a road trip itinerary like this. Ideally, you would allow more time so that you can enjoy more of each park and not feel rushed getting from one stop to the next.
Other Utah sites to add to your Utah road trip itinerary
Monument Valley
Monument Valley is kind of the trifecta of the best of Utah (and Arizona): The Old West, Native American culture, and beautiful desert scenery.
The entire Monument Valley region is known for its stunning views, hiking trails, and awe-inspiring red sandstone buttes, making it one of the most emblematic landmarks not only in Utah but also in the entire United States.
Check out Mexican Hat, hike the Wildcat Trail, or do the highly popular 17-mile scenic drive.
You might enjoy this extended Monument Valley tour with backcountry access.
Or try this 3-hour sunset tour with a Navajo guide.
If Monument Valley looks familiar to you, it may be because it has made appearances in many movies, including films like Sergio Leone's 1968 film 'Once Upon a Time in the West', 2001: A Space Odyssey, Forrest Gump, Lone Star Ranger, Mission: Impossible 2, and many, many more.
Grand Staircase-Escalante National Monument
Spanning 1.87 million acres in southern Utah, Escalante National Monument is home to tons of natural treasures, including its amazing Grand Staircase of cliffs and terraces, monoliths, slot canyons, natural bridges, arches, the Escalante River, and Lower Calf Creek Falls, a set of waterfalls with a natural pool below where you can take a dip and cool off.
The lower falls hike is quite popular and a relatively flat 6-mile out-and-back hike.
Dead Horse Point State Park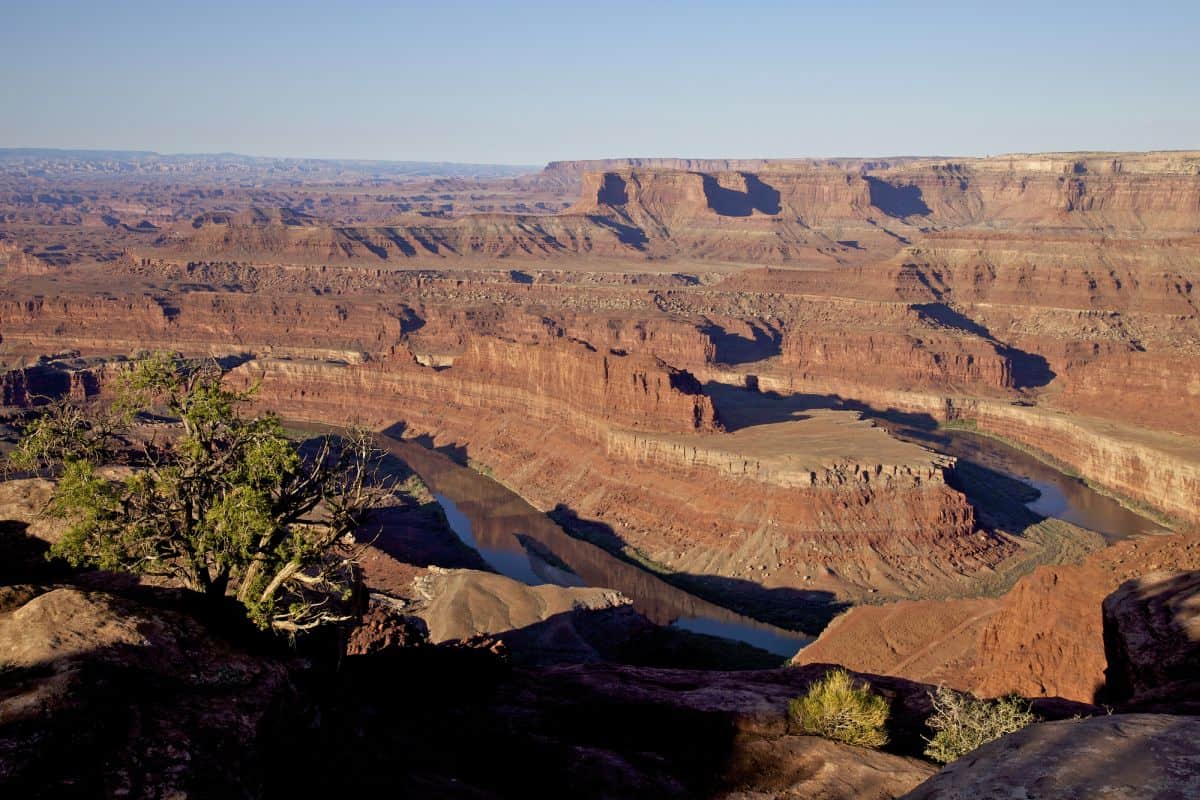 This beautiful state park offers exceptional vistas of expansive canyons, stunning Colorado River overlooks, and outdoor adventures that will make you feel as though you're walking over Mars—all without the crowds you'll usually find at Arches and Canyonlands.
Start at the visitor center to access the miles of hiking and single-track mountain bike trails.
There are eight miles of hiking trails leading to various overlooks. All are considered easy hikes. Bikers will enjoy the 16 miles of single-track mountain biking trails.
Dead Horse Park has been an officially designated International Dark Sky Park since 2016.
Goblin Valley State Park
Located between Capitol Reef National Park and Canyonlands National Park, Goblin Valley will make you feel like you've somehow traveled to another world (maybe to Mars?), one made up of eerie-looking hoodoos and rock formations.
While here, the ultimate way to explore the valley is by hiking the Goblin's Lair Trail, a 2.3-mile out-and-back trail that will take you through clusters of hoodoos, several canyons, and cavernous formations. Or try a guided 4-hour canyoneering adventure.
Goblin Valley State Park is also a certified International Dark Sky Park. Anyone up for stargazing?
Snow Canyon State Park
Known for its Navajo sandstone cliffs, petrified dunes, and extensive lava fields, Snow Canyon is a mecca for fun adventures in the outdoors amid beautifully unique scenery.
Located at the exact intersection of the Colorado Plateau, the Great Basin, and the Mojave Desert, Snow Canyon State Park mixes completely different ecosystems that together create a fascinating landscape.
Personally, I think the canyon scenery looks quite a bit like Zion National Park.
A few of the best things to do at Snow Canyon include hiking, scenic driving, sliding down dunes, desert wildlife viewing, and rock climbing.
Tours mentioned in this article
Final thoughts on Utah National Parks
The Utah Mighty 5 National Parks are truly amazing sites. Even if you can't visit all five of them at once, as outlined in the suggested road trip itinerary above, your visit to whichever Park (or Parks) is sure to delight you.
I hope this list of natural treasures in Utah has helped you plot an exciting outdoorsy vacation through the Beehive State.
Which is your favorite of the Mighty 5 Utah National Parks?
More articles to help you plan your trip to the Utah National Parks
Need more help planning your trip? Check out our list of the essential travel planning resources. 
Pin this post!
Best National Parks in Utah: The Mighty 5