17 Amazing Things to Do in Southern Utah
As one of my favorite destinations in the west for unparalleled landscapes, southern Utah is a mecca when it comes to incredible things to do, especially if what you're looking for is desert scenery at its best. These are the best things to do in southern Utah.
If you're currently planning your trip to southern Utah, chances are you're wondering what are the best things to see and do in that part of the state.
Plan the perfect trip to Southern Utah. Grab your free travel planner here.
From hiking through slot canyons to walking amid seas of red rock to experiencing the desert, here are some of the most amazing southern Utah things to do.
This post includes affiliate links. If you make a purchase through one of these links, I may earn a small commission at no additional cost to you. As an Amazon Associate, I earn from qualifying purchases. See disclaimer.
Zion National Park
If you're yearning for a desert-filled adventure, Zion National Park has you covered. Located in southwestern Utah, Zion is one of the most beautiful and popular national parks in the US.
Zion National Park is a perfect go-to for hiking trails, contrasting landscapes, and wildlife spotting.
Most of the best views at Zion can be found along the Zion Canyon Scenic Drive and the Zion-Mount Carmel Highway, making it easy as pie to explore in a short time.
For unique hikes, try The Narrows, Emerald Pools, and a hike up the world-famous trail that leads to Angel's Landing (if you're not afraid of heights).
You might enjoy this guided hike of The Narrows, one of the most popular hikes in U.S. National Parks. Equipment provided.
Arches National Park
Arches National Park is famous for its eye-popping natural arches (of course!), other-worldly rock formations, and stunning desert vistas. It is much smaller than other national parks, so you can cover it in a day or two.
Hike along Arches' wonderful trails to take in as many of its fantastic landscapes and viewpoints as you can.
Highlights include quirky rock formations and wondrous arches scattered throughout the park, like the famous Delicate Arch plus Double O, Turret Arch, Landscape, and Sand Dune arches.
If you prefer a guided experience, try this full-day tour of both Arches National Park and Canyonlands National Park.
Bryce Canyon National Park
Bryce Canyon is all about peculiar needle-shaped hoodoos, bizarre rock formations, and splendid sandstone pillars.
One day is enough to explore the park if you start out early because it is relatively small compared to the other Mighty Five parks.
Despite its size, Bryce Canyon does not lack natural wonders. Highlights include Fairyland Canyon, Silent City, Mossy Cave Waterfalls, and Queen's Garden Trail.
Canyonlands National Park
Canyonlands is one of the best national parks to visit if you want to take a deep dive into the desert.
Deep canyons, splendid rivers, sandstone cliffs, sheer red rock formations, tons of hiking trails, and spectacular vistas make Canyonlands one of the most scenic national parks in the United States.
Spanning 330,000 acres of nature, Canyonlands is divided into different sections: Island in the Sky, The Needles, and The Maze.
It would be impossible to explore everything in one visit, but a few highlights you shouldn't miss are Grand View Point, Mesa Arch, Shafer Canyon, Grand View Point Trail, Upheaval Dome, and Buck Canyon Overlook, all within Island in the Sky, the easiest section to explore.
Capitol Reef National Park
Capitol Reef National Park is what we'd call a hidden gem of the U.S. national parks system in Utah.
A lesser-known of the Mighty Five Utah national parks, Capitol Reef features cliffs, canyons, and domes in a geologic monocline known as the Waterpocket Fold, which, put simply, is a big 100-mile wrinkle on the earth.
Must-dos at Capitol Reef include driving Highway 24 scenic road through the park, Panorama Point and Sunset Point, hiking to Hickman Bridge and Cassidy Arch, walking along Grand Wash, and shopping for goodies at the Gifford Homestead.
For more information, read my post about Utah's "Mighty 5" National Parks (including tips for where to stay).
Goblin Valley State Park
Located between Capitol Reef National Park and Canyonlands National Park, Goblin Valley will make you feel like you've somehow traveled to another world (maybe to Mars?), one made up of eerie-looking hoodoos and rock formations.
While here, the ultimate way to explore the valley is by hiking the Goblin's Lair Trail, a 2.3-mile out-and-back trail that will take you through clusters of hoodoos, several canyons, and cavernous formations. Or try a guided 4-hour canyoneering adventure.
Goblin Valley State Park is also a certified International Dark Sky Park. Stargazing anyone?
Grand Staircase—Escalante National Monument and Lower Calf Creek Falls
Spanning 1.87 million acres in southern Utah, Escalante National Monument is home to tons of natural treasures, including its amazing Grand Staircase of cliffs and terraces, monoliths, slot canyons, natural bridges, arches, the Escalante River, and Lower Calf Creek Falls, a set of waterfalls with a natural pool below where you can take a dip and cool off.
The lower falls hike is quite popular and a relatively flat 6-mile out-and-back hike.
Monument Valley Navajo Tribal Park
Monument Valley is a sort of trilogy when it comes to getting the best of Utah: The Old West, Native American culture, and stunning desert landscapes.
The entire Monument Valley region is known for its stunning scenery, mesmerizing hiking trails, and glorious striking red sandstone buttes, making it one of the most emblematic landmarks not only in Utah but also in the entire United States.
Hike the Wildcat Trail, check out Mexican Hat, or do the highly popular 17-mile scenic drive.
You might enjoy this extended Monument Valley tour with backcountry access.
Or try this 3-hour sunset tour with a Navajo guide. According to the tour operators, you'll "see the famous West and East Mitten Buttes, John Ford Point, the Three Sisters, Moccasin Arch, the Totem Pole and more."
If Monument Valley looks familiar to you, it may be because it has made appearances in many movies, including films like Sergio Leone's 1968 film 'Once Upon a Time in the West', 2001: A Space Odyssey, Forrest Gump, Lone Star Ranger, Mission: Impossible 2, and many, many more.
Red Cliffs Desert Reserve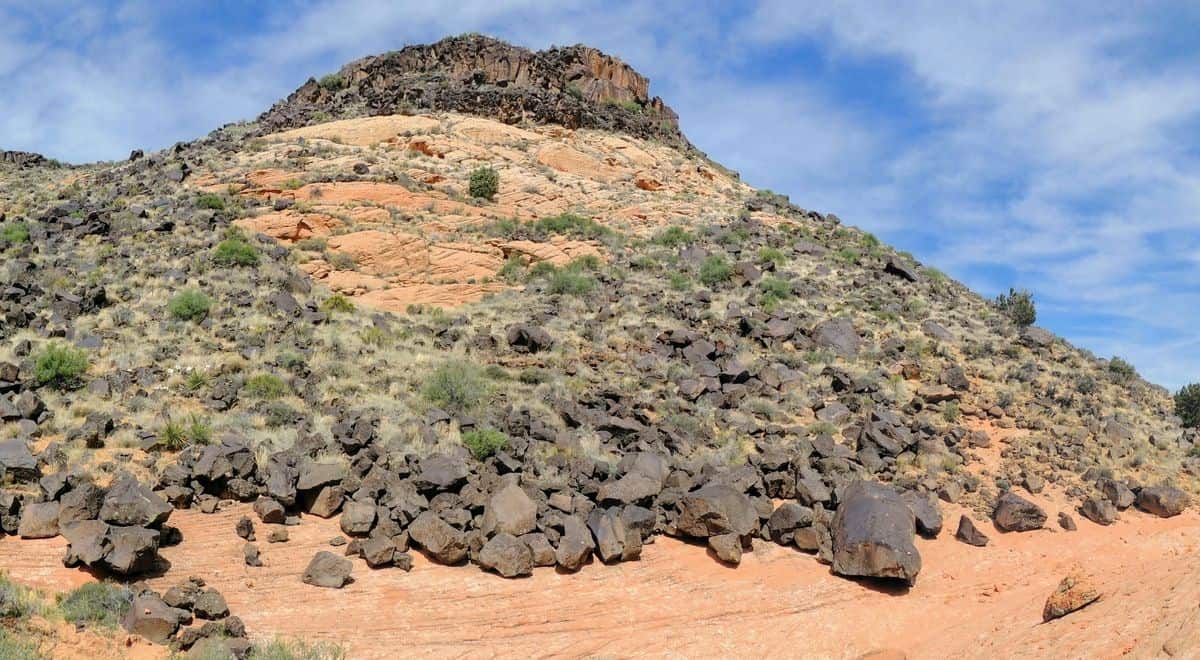 Set in a transition zone between the Colorado Plateau, the Great Basin, and the Mojave Desert, Red Cliffs Desert Reserve is a convergence of different ecosystems, which makes it a mecca for gorgeous desert landscapes and mixtures of flora and fauna, many of which you won't find anywhere else in the world.
Red Cliffs Desert Reserve actually became protected in order to provide the desert tortoise, a threatened species, a safe place to live. Moreover, many other endangered reptiles, mammals, and birds also call the reserve their home.
During your time here, you'll get the chance to go on plenty of fun hikes, ranging from easy strolls to tougher desert challenges.
Each trail will provide you with the chance to spot desert tortoises if you get lucky as well as other animals endemic to the area, so make sure you go slowly and keep your eyes out for them!
The reserve includes Snow Canyon State Park (see below).
Snow Canyon State Park
Located at the exact intersection of the Colorado Plateau, the Great Basin, and the Mojave Desert, Snow Canyon State Park mixes completely different ecosystems that together create a fascinating landscape.
Personally, I think the canyon scenery looks quite a bit like Zion National Park.
Known for its Navajo sandstone cliffs, petrified sand dunes, and extensive lava fields, Snow Canyon is a mecca for fun adventures in the outdoors amid other-worldly-looking scenery.
A few of the best things to do at Snow Canyon include hiking, scenic driving, sliding down sand dunes, spotting desert fauna, and rock climbing.
Dead Horse Point State Park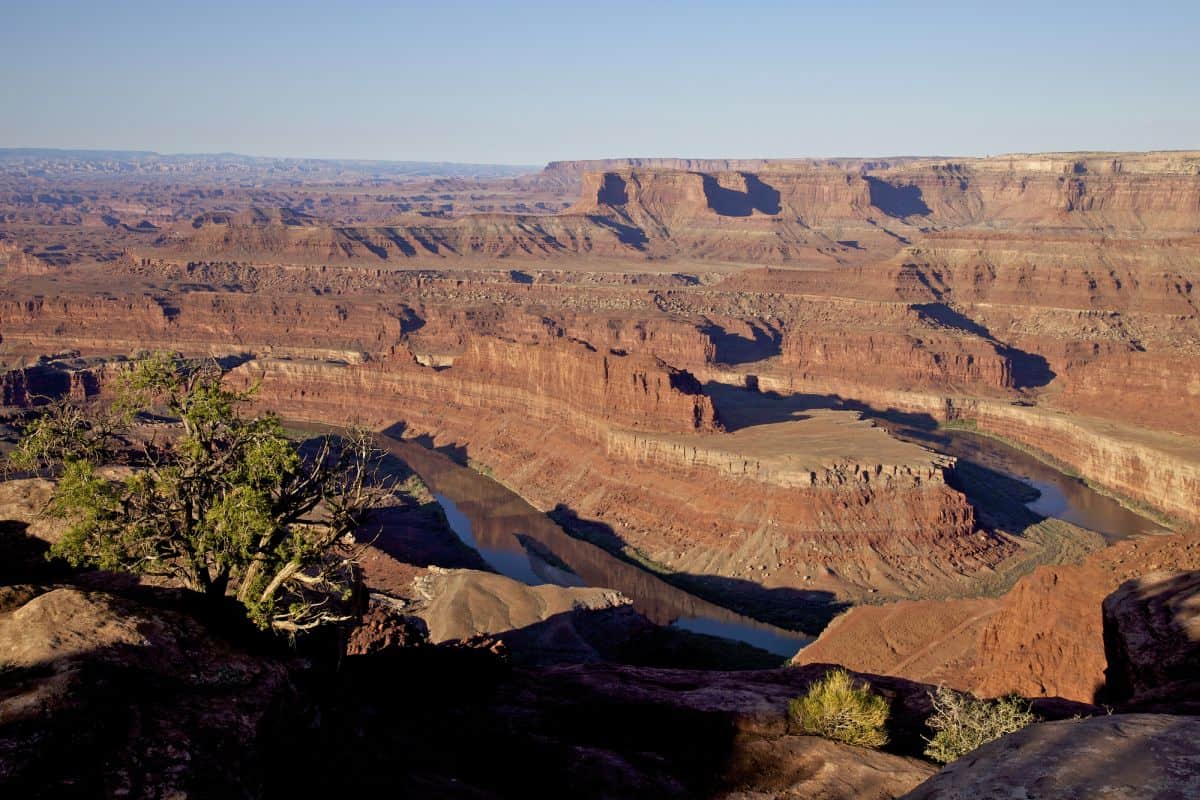 This beautiful state park offers exceptional vistas of expansive canyons, stunning Colorado River overlooks, and outdoor adventures that will make you feel as though you're walking over Mars—all without the crowds you'll usually find at Arches and Canyonlands.
Start at the visitor center to access the miles of hiking and single-track mountain bike trails. There are eight miles of hiking trails leading to various overlooks. All are considered easy hikes.
Enjoy 16 miles of single-track mountain biking trails.
Dead Horse Park has been an officially designated International Dark Sky Park since 2016.
Kanab
Located close to the border with Arizona, Kanab has been dubbed "Little Hollywood" because of the fact that it has served as a natural stage for many films and series, including John Wayne's Stagecoach, The Lone Ranger, and Planet of the Apes.
Check out the Little Hollywood Museum, if you're interested in learning more about the area's film history.
Kanab is a great base from which to explore some of the area's most unique natural destinations, including the Buckskin Gulch slot canyon, Thin Wire Pass, Coyote Buttes, and The Wave.
Try a guided hiking tour of Peek-a-Boo Slot Canyon, less crowded than some of the other popular sites in Utah and Arizona.
Visit Panguitch, Utah
This quaint historic town was founded by Mormon pioneers in a truly remarkable location.
Located just 20 minutes from Bryce Canyon National Park, wondrous towering mountains and mystic lakes enfold beautiful red brick buildings, making the scenery at Panguitch look as though it came straight out of a painting.
As you stroll its streets, you'll stumble across plenty of antique shops, local art galleries, and craft shops, making it a true treat for creative spirits.
As a fun fact, Panguitch means "Big Fish", and the town is host to the Panguitch Valley Balloon Rally and the Annual Quilt Walk Festival.
St. George, Utah
More than just a gateway town to Zion National Park, St. George, Utah, offers plenty of wonderful things to do all year round.
Don't miss the historic Main Street and Ancestor Square in historic downtown St. George for great dining, shopping, and more.
Other top things to do in St. George include:
Top-rated golf courses
​Pioneer Park (don't miss the view from Dixie Rock)
Important historical sites such as Brigham Young's Winter Home and Mountain Meadow Massacre Memorial
Sand Hollow State Park
Sand Hollow State Park is one of the newest state parks in Utah, but it's also one of the most popular.
Known for its lovely blue water surrounded by stunning red sandstone scenery, Sand Hollow draws OHV enthusiasts from all over the area.
Sand Hollow State Park is also a great place for:
Dixie National Forest
At almost 2 million acres, Dixie National Forest offers visitors a ton of things to do in Southern Utah. Outdoor enthusiasts will enjoy hiking, camping, mountain biking, ATV-ing, skiing, horseback riding, and more.
Don't miss the forest's scenic byway Highway 12, Highway 14, and Patchwork Parkway to see more of South Utah's amazing scenery.
The name of the forest comes from the way that this area was called Utah's Dixie because of the settlers who traveled there from the Southeastern United States.​
Cedar Breaks National Monument
Cedar Breaks is a natural amphitheater that draws visitors in to look at the beautiful red rocks scenery and enjoy outdoor activities such as hiking, camping, snowshoeing, and snowmobiling.​
Hikers of all skill levels will find a trail at Cedar Breaks they will enjoy.
Cedar Breaks is also known for its stargazing. The dark sky views are among the things that Cedar Breaks National Monument was created to protect.​​
Final thoughts on southern Utah things to do
There's no doubt that southern Utah is a truly remarkable place to visit in the United States, especially if scenery and stunning desert landscapes are what you're yearning for.
Once you visit southern Utah, it will kind of get under your skin and you'll discover that one visit just isn't enough.
Utah, especially southern Utah is not a "one-and-done" kind of travel destination.
More articles to help you plan your trip to southern Utah
Pin this post!
View the web story