11+ Amazing Day Trips From Rapid City, South Dakota
These day trips from Rapid City will help you explore more of the area
Rapid City, South Dakota, is a popular "home base" from which to explore Mount Rushmore, the Black Hills, and everything else that area has to offer. Here are the top day trips from Rapid City.
In this article I cover the best day trips, including guided options, plus I'll give you some recommendations for where to stay in Rapid City.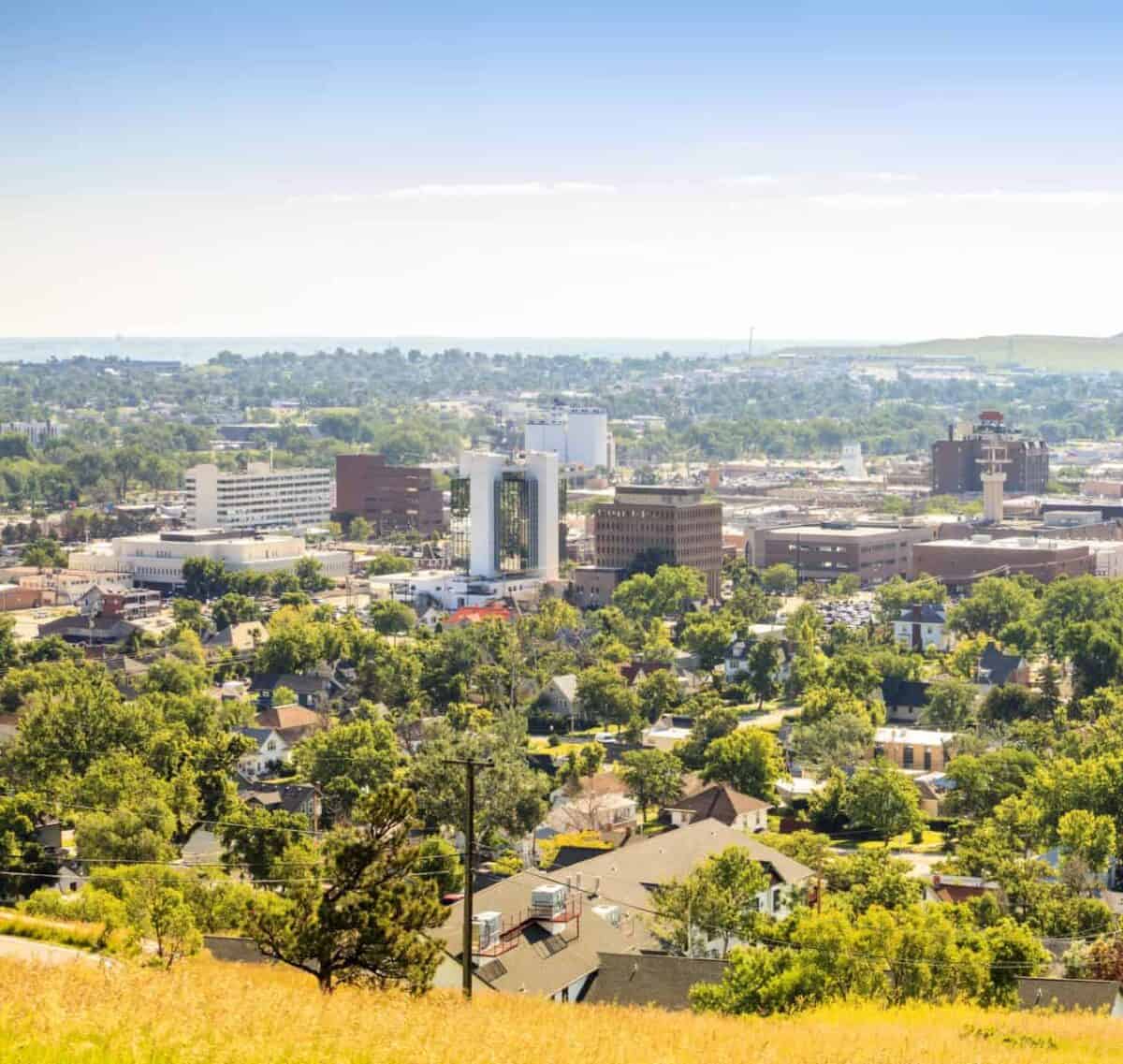 The day trip ideas in this article are arranged in order of distance from Rapid City (from the closest to the farthest). All are a drive of under 2 hours (most are quite a bit less).
Listed drive times are approximations. The time it takes you to drive to the suggested day trip destination will depend upon several factors including your exact starting point, the time of day, time of year, weather, etc.
And some of these day trip suggestions are rather close to each other, so you could even combine a couple of destinations, spending half a day at each. For example, you could visit Devils Tower before spending the rest of the day in Deadwood.
Plan the perfect trip with this free printable travel planner.
This post includes affiliate links. If you make a purchase through one of these links, I may earn a small commission at no additional cost to you. As an Amazon Associate, I earn from qualifying purchases. See disclaimer.
Guided day trips from Rapid City, South Dakota
Want to leave all the details of your day trip in the hands of a professional tour guide? Then one of these guided tours from Rapid City could be exactly what you're looking for.
All offer the option to reserve now and pay later.
1. Mount Rushmore and Black Hills Bus Tour with Live Commentary: Full-day tour of Mount Rushmore, Crazy Horse Memorial and Custer State Park. Includes hotel pick up at 7 Rapid City locations and one location in Keystone. Entrance fees included.
2. Mount Rushmore and Black Hills Tour with Two Meals and a Music Variety Show: Enjoy a full-day tour of Mount Rushmore plus Crazy Horse Monument, Iron Mountain Road, Sylvan Lake (Custer State Park), and more. Includes breakfast and dinner plus a stop for lunch and all entrance fees. The day ends with the Fort Hays Old West Town and Dinner Show.
3. Private Tour of Mount Rushmore, Crazy Horse and Custer State Park: Don't want to deal with a larger group of other travelers? Try a private guided tour of Mount Rushmore and other top sites. Includes entrance fees, pick up and drop-off from hotels/lodgings in the Keystone, Rapid City, and Hill City, SD areas (including campgrounds, B & B's, VRBO'.s, etc.).
4. Private Badlands Sunset and Wildlife Adventure from Rapid City: Explore Badlands National Park with an expert guide and include a stop at the Badlands Wall for sunset. This 5 – 6 tour could be a great option for those with less time to explore the park. Park admission, snacks and water included.
Mount Rushmore National Memorial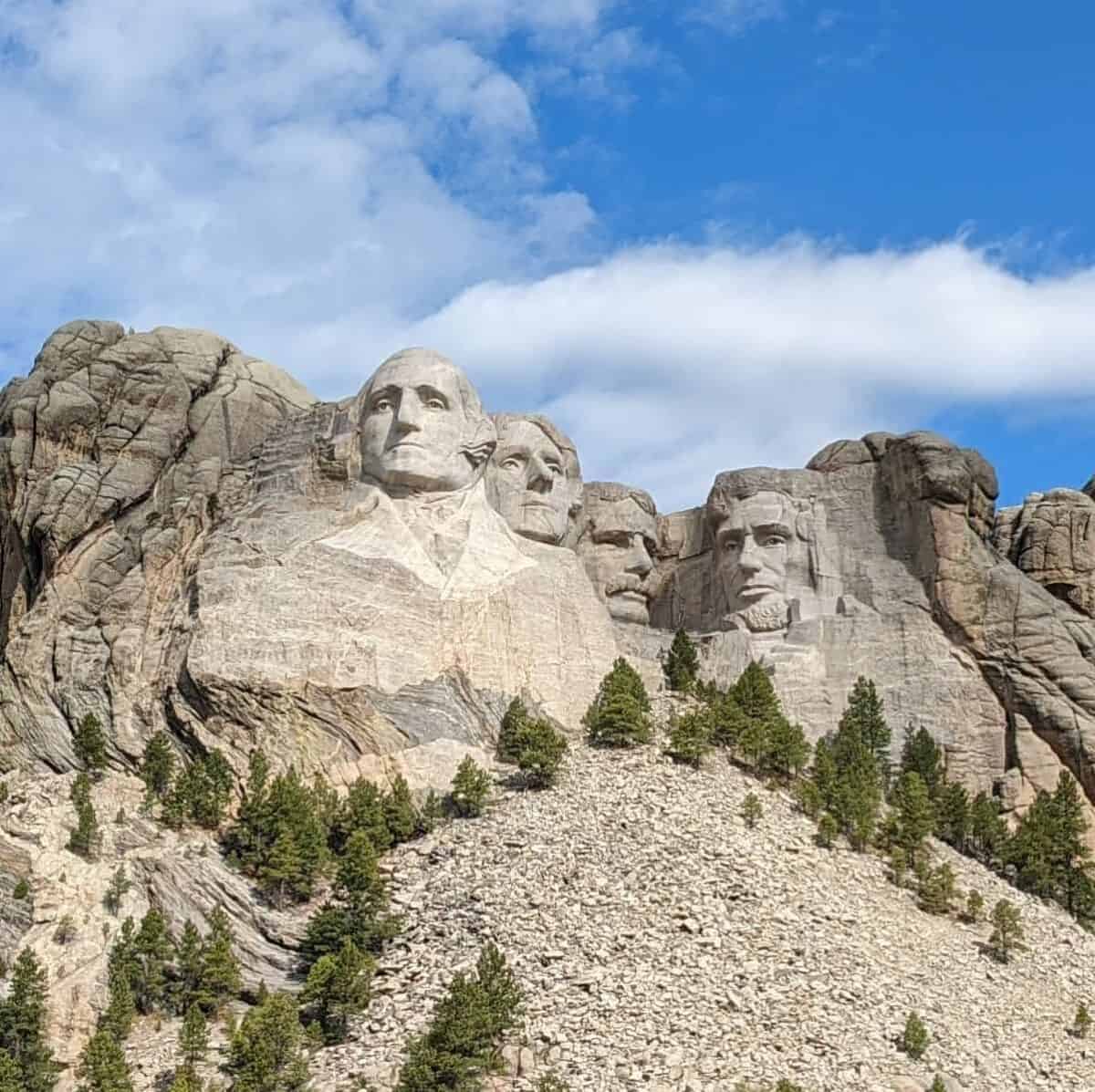 Distance from Rapid City: 28 miles
Approximate drive time: 35 minutes
Mount Rushmore is one of the most visited sites in the United States. You've got George Washington, Thomas Jefferson, Abraham Lincoln, and Teddy Roosevelt heads carved into a mountain. What more do I need to say?
Mount Rushmore is free to visit but you do have to buy a parking pass (which is good for a full year).
You should plan to spend at least one hour at Mount Rushmore, but I recommend you spend closer to two hours there.
Top things to do (and see) at Mount Rushmore include:
Avenue of Flags
Presidential Trail
Sculptor's Studio
Lincoln Borglum Visitor Center
Evening Lighting Ceremony (late May to late September)
For full details about the memorial and all the things to do there, see my full article all about how to visit Mount Rushmore.
Custer State Park
Distance from Rapid City: 32 miles
Approximate drive time: 40 minutes
No, it's not a National Park, but Custer State Park comes highly recommended by those who have visited this awesome place.
It's not far from the Mount Rushmore/Crazy Horse Memorial area.
This remarkable state park is full of some astounding scenery (yay, nature lovers!), great scenic drives, wildlife, and more.
Seriously. If you ask anyone who's spent any time in South Dakota what you should see while you're there, you're likely to get many people telling you that Custer State Park is a "must see."
Top things to do there include:
Sylvan Lake
Needles Highway
Wildlife Loop Road
And if you need to stop for a bite to eat, the Blue Bell Lodge dining room has a lovely atmosphere and great service.
Crazy Horse Memorial
Distance from Rapid City: 43 miles
Approximate drive time: 1 hour
Once it's completed, the Crazy Horse Memorial will be the largest mountain carving in the world. It will be approximately 10 times the size of Mount Rushmore, and is more than 500 feet high.
It's so large, that it's easily viewable from the road out front. It's a great place from which to get a few photos at a distance that show how tall the carving is.
But if you DO have the time, it pairs well with Mount Rushmore for a day trip from Rapid City.
In addition to the memorial, you can learn more about Native American culture at the Indian Museum of North America.
PRO TIP: If you have flexible travel dates you need to check out Going (formerly Scott's Cheap Flights). You get amazing flight deals sent straight to your inbox with instructions on how to book directly with the airlines. Check out Going here. Going is my favorite way to find great travel deals. 
Deadwood
Distance from Rapid City: 45 miles
Approximate drive time: 50 minutes
Deadwood, South Dakota, has been attracting crowds since its founding in 1876…back when you could glimpse Wild Bill Hickok and Calamity Jane about town.
Today Deadwood is known for its tourist attractions, casinos, shops, and restaurants.
You can even visit Saloon No. 10, which sits on the site where Hickok was gunned down during a poker game in 1876. The original saloon was destroyed in a fire not long after Hickok's death.
Badlands National Park
Distance from Rapid City: 57 miles (to Pinnacles entrance station)
Approximate drive time: 55 minutes
Aside from Mount Rushmore (above), one of the top draws in Southwestern South Dakota would have to be Badlands National Park.
It's full of stunning views from its scenic overlooks, amazing hikes, fun wildlife like prairie dogs and bighorn sheep, and some interesting history.
Badlands National Park is absolutely worth the one hour or so drive from Rapid City and a full day of your South Dakota Road trip itinerary.
Starting from Rapid City, you'll enter the park through the Pinnacles Entrance before you enjoy a lovely drive on the Badlands Loop Road.
Don't miss out on all of the wonderful hikes in Badlands National Park.
Notch Trail is by far the most popular.
For details about how to spend your Rapid City day trip here, see my Badlands National Park itinerary article.
Mammoth Site
Distance from Rapid City: 59 miles
Approximate drive time: 1 hour
In Hot Springs, South Dakota, you'll find the largest facility in the world dedicated to the study of the mammoth.
The Mammoth site is actually an active dig. Those who visit the site can learn more (through educational programs and self-guided tours) about the fossils that have been dug up there.
The site was originally going to be the location for a housing development. But in the 1970s, mammoth remains were unearthed during site prep.
The area was further explored and up to this point, literally dozens more mammoths have been found on that one piece of land. And it's not all that big.
The Mammoth Site is open to the public every day.
Jewel Cave National Monument
Distance from Rapid City: 59 miles
Approximate drive time: 1 hour, 15 minutes
Clearly South Dakota has a lot of above-ground beauty to recommend it to travelers, but don't discount the options available for visitors to see under the ground.
Though perhaps not as well-known as the nearby Wind Cave National Park (below), Jewel Cave makes a great day trip from Rapid City.
Jewel offers more than 215 miles of mapped passageways and is one of the longest caves in the world.
In addition to touring the cave, Jewel Cave National Monument also offers hiking trails you might enjoy exploring.
There is the 0.25-mile Roof Trail and Canyons Trail is 3.5 miles.
Although the monument grounds are free to enter and explore above ground, you will need a ticket for a guided tour to see the cave. The National Park Service highly recommends booking tickets in advance.
Wind Cave National Park
Distance from Rapid City: 60 miles
Approximate drive time: 1 hour, 15 minutes
Wind Cave National Park is home to one of the largest caves in the world and is the only other National Park in South Dakota (Badlands National Park being the other).
Like Jewel Cave, entrance to Wind Cave is by guided tour only and you will need to have a reservation. You can book your tour in advance, and that is recommended if you have a definite preference for the tour, date, and time you want. 
You can also check at the Visitor Center for available tours, but keep in mind that they often sell out at least an hour in advance. And during the busiest summer travel times, I wouldn't go without having a tour reserved in advance.
There is no fee to enter the park, but you will need to pay a fee for the guided tour if you want to see the cave.
Minuteman Missile National Historic Site
Distance from Rapid City: 71 miles
Approximate drive time: 1 hour, 5 minutes
At one time in U.S. history, there were 1,000 missiles tucked away under the surface of the American Great Plains. Some are still there.
Minuteman Missile National Historic Site tells the "why" of these missiles and is made up of three sites: the Visitor Center, the Delta-01 launch facility, and Delta-09 missile silo.
Admission to the launch facility is by guided tour only. Even if you don't have a tour reserved (they're small groups), you can still see the outside of the facility at the fence.
The Minuteman Missile National Historic Site Visitor Center is just a short drive from the Badlands National Park Northeast Entrance.
In the Visitor Center you can talk with a park ranger, watch a film about the weapons system, explore exhibits, stamp your national parks passport, and enjoy the small gift shop.
Devils Tower
Distance from Rapid City: 110 miles
Approximate drive time: 1 hour, 55 minutes
The unique Devils Tower rises above the Northeast Wyoming landscape, looming over everything nearby, and drawing in visitors from all over.
A day trip to Devils Tower from Rapid City is often paired with a drive through Spearfish Canyon and/or a stop in Deadwood, South Dakota.
Devils Tower is quite a popular spot and there is limited parking at the Visitor Center. If you can avoid trying to park there in the middle of the day, please do.
Even during lower travel times, the parking lot fills up quickly from late morning until late afternoon.
While you can make this a rather quick stop, I'd recommend taking the time to walk the Tower Trail if you have the time. It goes around the base of Devils Tower, allowing you to see its unique beauty from every possible angle.
Scenic Drives
Distance from Rapid City: varies
Approximate drive time: varies
Needles Highway
The Needles Highway scenic drive in Custer State Park is one of the most unique drives we've ever done. With its granite, "needle" rock formations, you really need to see it for yourself.
The road can be narrow and windy in places, but take it slow and you'll be fine.
Please note that there are some narrow tunnels on this road, and it is closed after the first snow and then typically re-opens on about April 1.
If you're already planning to visit Custer State Park from Rapid City anyway, it makes sense to do this drive if you can.
Iron Mountain Road
Iron Mountain Road is another scenic drive you can do near Mount Rushmore and Custer State Park, but if you don't have time, you don't need to do both Iron Mountain and Needles.
This road connects Custer State Park with Mount Rushmore and you can get some interesting views of Rushmore as you drive it.
Plan to drive slowly, and note that there are a few one-lane tunnels along the way.
Spearfish Canyon
This drive is a popular one to combine with a day trip to Devils Tower from Rapid City and/or Deadwood.
Known for its limestone walls, Spearfish Canyon also has a few waterfalls you might want to see:
Bridal Veil Falls
Roughlock Falls
Spearfish Falls
GuideAlong tours
Not sure how to string together all the amazing sites there are to visit from Rapid City?
One of the easiest ways to decide what to see in the Black Hills area is to use GuideAlong with the Black Hills, Rushmore, Devils Tower & Badlands National Park Tour.
This amazing self-guided driving audio tour will guide you through the area, providing audio commentary along the way based on your vehicle's GPS location.
All you have to do is purchase and download the tour you want and then start driving.
Where to Stay in Rapid City
Major chain hotels tend to be the most popular of the hotel options in Rapid City.
The Residence Inn Rapid City would make a good home base since you can get a kitchen in your room. We often stay in Residence Inns because we love how much room you get for the money.
Take a look at Hotel Alex Johnson if you're interested in a downtown Rapid City location with some history. It's less than 10 miles from Rapid City Regional Airport.
More articles to help you plan your trip to South Dakota
Pin this post for later!
Day trips from Rapid City, SD