How to Visit Mount Rushmore: Tips & What to Do There
These are the best things to do at Mount Rushmore
Mount Rushmore National Memorial is one of the most iconic and visited tourist sites in American. It's on the bucket list of many travelers, and in this article we're going to talk about how to visit Mount Rushmore.
Led by sculptor Gutzon Borglum (and then his son Lincoln Borglum after his death), Mount Rushmore construction ended in 1941.
The 60-foot-high sculptures of George Washington, Thomas Jefferson, Theodore Roosevelt, and Abraham Lincoln were chosen to represent the history of the U.S. up to that point.
In this article I'll cover all the must see things at Mount Rushmore plus cover some of the practical details too. Things like:
how long you should plan to spend at Mount Rushmore
how much it costs
where to stay
what other things there are to do in the area
Plan the perfect trip to Mount Rushmore with this free printable travel planner.
This post includes affiliate links. If you make a purchase through one of these links, I may earn a small commission at no additional cost to you. As an Amazon Associate, I earn from qualifying purchases. See disclaimer.
Where is Mount Rushmore?
Mount Rushmore is tucked away in the famous Black Hills region of South Dakota just about 35 miles from Rapid City.
Day trips from Rapid City, South Dakota
The nearest town is Keystone, South Dakota, and that's where we recommend you stay (more details on that below). Keystone is just a few miles from Mount Rushmore, making it very convenient to pop back over to see the memorial at night.
The closest airport to Mount Rushmore is Rapid City Regional Airport. This is certainly a convenient option as Rapid City is not too far from Mount Rushmore.
If you prefer to use larger airports, well, first of all I don't blame you, and secondly, you'll have a bit of a drive.
Denver International Airport is the closest major airport, and it's about a six hour drive to the Mount Rushmore area.
PRO TIP: If you have flexible travel dates you need to check out Going (formerly Scott's Cheap Flights). You get amazing flight deals sent straight to your inbox with instructions on how to book directly with the airlines. Check out Going here. Going is my favorite way to find great travel deals. 
Why is there controversy around Mount Rushmore?
The history of Mount Rushmore includes some controversy because it was constructed on land that the United States government stole from the Sioux Nation.
In 1980, the United States Supreme Court ruled that the land on which Mount Rushmore currently sits was illegally taken by the U.S. government from lands that had been set aside for the Great Sioux Reservation.
The Black Hills of South Dakota were included in the Great Sioux Reservation which was to be "set apart for the absolute and undisturbed use and occupation of the Indians" according the Fort Laramie Treaty (1868).
Although the Supreme Court ruled that the land was illegally taken, their decision ordered that "just compensation" would be monetary in the amount $102 million.
The Sioux have refused the money, insisting on return of Sioux sovereignty over the land.
How long does it take to see Mount Rushmore?
You should plan to spend a minimum of an hour at Mount Rushmore.
This would give you enough time to pay the parking fee, walk down the Avenue of Flags, enjoy a view of the memorial from a few different angles to get pictures, pop into the Visitor Center, peruse the gift shop, etc.
For many visitors to Mount Rushmore, their time at the memorial will be a once-in-a-lifetime event. I'd recommend that you plan to do more than just snap a few photos and be on your way.
Keep reading to see my recommendations for what to do at Mount Rushmore.
How much does it cost to see Mount Rushmore
There is no entrance fee to see Mount Rushmore; however, you will need to pay for parking.
The parking fee ($10 at the time of writing this article) gives you access to the parking structure at Mount Rushmore National Memorial for one full year. This is the fee for cars, RVs and motorcycles.
Best time of day to visit Mount Rushmore
The best time of day to visit Mount Rushmore is first thing in the morning or as early in the day as you can manage.
The parking facility and grounds open early in the morning even if the buildings are closed.
Another good time to visit Mount Rushmore is in the evening, so that you can see the mountain lit up (more on this below).
Mount Rushmore is a very popular site, and there will more than likely be a lot of people there.
The best way to avoid the biggest crowds is to avoid being there during the middle of the day if you can.
Mount Rushmore is open year-round. The grounds and parking areas are open late into the evening during the summer months.
June, July and August will be the busiest months with the most tourists at the memorial.
Visiting Mount Rushmore at night
Don't miss seeing Mount Rushmore at night if you have the opportunity.
Even if you aren't able to see the evening Lighting Ceremony that runs nightly from late May through the end of September, it's worth taking the time to visit the memorial in the evening.
As noted above, the parking facilities and grounds will be open late into the evening during certain times of the year.
Hours for the Information Center and the Lincoln Borglum Visitor Center will also vary with the season.
Things to do at Mount Rushmore
Of course the memorial is the star of the show at Mount Rushmore. But there's a lot more to do that just look at it.
Here are some of the best things to do at Mount Rushmore.
Stop in at Information Center
Pick up a map of the area, speak with National Park Service staff, stamp your national parks passport, and more.
Try a self-guided audio or multimedia tour
Across from the Information Center, guests can rent self-guided audio tours of the memorial to learn more about Mount Rushmore as they explore.
Rental rates are reasonable and vary based on the type of tour (audio or multimedia).
The tour incorporates narration, music, audio clips of those involved in the creation of the memorial, and more.
Explore the Lincoln Borglum Visitor Center
I always recommend that guests at an national park unit make plans to at least stop in at the visitor center.
At Mount Rushmore's Lincoln Borglum Visitor Center, guests can learn more about the memorial through exhibits and a short film.
The Visitor Center is located below the Grand View Terrace. It's open daily except for Christmas Day.
Walk along the Avenue of Flags
The walkway that leads guests from the gift shop/cafe area to the Grand View Terrace is flanked by 56 flags representing all 50 U.S. states, two commonwealths, three territories, and one district.
The flags are arranged alphabetically.
Before you walk down the Avenue, pause to get a great photo of the memorial with the flags in the foreground.
Supposedly the idea for the Avenue of Flags came from a Mount Rushmore visitor. It was originally set up for the U.S. Bicentennial in 1976. I can't image Mount Rushmore without it now.
Enjoy the view from the Grand View Terrace
This is the place to get the prime, straight on view of Mount Rushmore. Take your time here and just soak in the view. The "grand" view that is.
Hehe.
Just below the Grand View Terrace is the Lincoln Borglum Visitor Center. Stretched out in front of the terrace is the amphitheater.
Walk the Presidential Trail
After you've paid a visit to the Visitor Center and enjoyed the view of the memorial from the Grand View Terrace, you could be on your way if you're pressed for time.
But I would really recommend that you try the Presidential Trail. Even if you don't do the full 0.6-mile loop, you can get some really wonderful views of the mountain.
The first 0.2 miles of the trail is accessible. The rest of the trail includes 422 stairs.
Before I walked the trail, I spoke with an NPS ranger and asked him where was the best place to start the trail. He recommended walking the trail in a clockwise direction starting from the left end of the Grand View Terrace (as facing the mountain).
So that's what I did.
You can do the trail in either direction, but in my estimation you will be walking down a lot more stairs than you will be climbing if you take the trail clockwise rather than counterclockwise.
Visit the Sculptor's Studio
If you are visiting Mount Rushmore in the summer, I'd recommend you take the time to stop by the Sculptor's Studio.
You can view a 1/12th scale model in the studio where Gutzon Borglum worked between 1939 and 1941.
During the summer, rangers offer short talks about the workers who created the sculpture as well as their techniques and tools.
Get some ice cream
The ice cream shop at Mount Rushmore offers sweet treats to enjoy including a special flavor straight from one of the Mount Rushmore presidents.
That's right. The story is that the vanilla ice cream at Memorial Team ice cream at Mount Rushmore comes from Thomas Jefferson's recipe that dates from the 1780s.
While it's not true that Jefferson introduced ice cream to America, he has been credited with writing down the first known recipe recorded by an American.
Where to stay on your trip to Mount Rushmore
Keystone
Hubby and I truly loved our stay at K Bar S Lodge in Keystone, South Dakota.
It was great being just a few miles from Mount Rushmore, making it easy to make a quick trip over there at sunset so that we could visit Mount Rushmore at night.
If you can swing it, the mountain view rooms are worth the extra money, in my opinion. We loved that we could see George Washington's head from the window of our room.
K Bar S Lodge is one of our favorite places that we've ever stayed in all of our years of traveling together.
The staff were great and our room was very comfortable. You can learn more about K Bar S Lodge here.
Custer
Another popular home base for exploring the area around Mount Rushmore is Custer, South Dakota.
While farther from Mount Rushmore than Keystone, the town of Custer is marginally closer to Custer State Park and definitely closer to Wind Cave National Park (another popular thing to do in the area).
Bavarian Inn is quite popular with guests and is one of the most highly rated properties in the area.
Another popular option is the newly renovated Holiday Inn & Suites Custer, which offers a free breakfast.
Rapid City
If you're planning on including a visit to Badlands National Park in your South Dakota itinerary, you might want to consider making Rapid City your home base. Not everyone wants to move hotels every day or two. I definitely get that.
Compared to Keystone or Custer, Rapid City offers more dining and hotel options.
The Residence Inn Rapid City would make a great option for a place to stay. We love how much room you get for the money at Residence Inns.
Other things to do in the area
Although Mount Rushmore National Memorial seems like it is in a fairly remote location in Southwestern South Dakota, there are a remarkable number of things to do near Mount Rushmore.
A few of the most popular options are listed below.
One of the easiest ways to decide what to see in the Black Hills area is to use GuideAlong.
This amazing app will guide you through the area, providing audio commentary along the way based on your vehicles GPS location. All you have to do is purchase and download the tour you want and then start driving.
We really enjoyed using the Black Hills, Rushmore, Devils Tower & Badlands National Park Tour on our trip to South Dakota.
Custer State Park
Distance from Mount Rushmore: 16 miles to the Sylvan Lake entrance
Approximate drive time: Approx. 30 minutes
Not far from Mount Rushmore and Crazy Horse, Custer State Park is much beloved by those who visit. It's full of amazing sites, wildlife, wonderful views, and some stunning rolling prairie.
Must-do things at Custer State Park include:
Sylvan Lake
Needles Highway
Wildlife Loop Road
Crazy Horse Memorial
Distance from Mount Rushmore: About 18 miles
Approximate drive time: Approx. 35 minutes
Once it's completed, the Crazy Horse Memorial will be the largest mountain carving in the world. It will be approximately 10 times the size of Mount Rushmore, and is more than 500 feet high.
Rapid City
Distance from Mount Rushmore: 24 miles
Approximate drive time: About 35 minutes
Rapid City is the second largest city in South Dakota (after Sioux Falls). Of course, if you're staying in Rapid City, you're probably already aware of the many things there are to do there.
Storybook Island children's park
Chapel in the Hills
Bear Country USA
Wind Cave National Park
Distance from Mount Rushmore: About 40 miles
Approximate drive time: Approx. 1 hour
Otherwise known as South Dakota's other national park (after the Badlands), Wind Cave is home to one of the largest caves in the world.
Entrance to Wind Cave is by guided tour only. I recommend you book your tour in advance if at all possible. Otherwise, you will need to check at the Visitor Center to find out if any tours are available that day.
Though there is a fee for a guided tour, there is no park entrance fee.
Badlands National Park
Distance from Mount Rushmore: 85 miles (to Pinnacles Entrance Station)
Approximate drive time: About 90 minutes
Full of amazing scenery and fun hikes, Badlands National Park is absolutely worth a day of your South Dakota Road trip itinerary.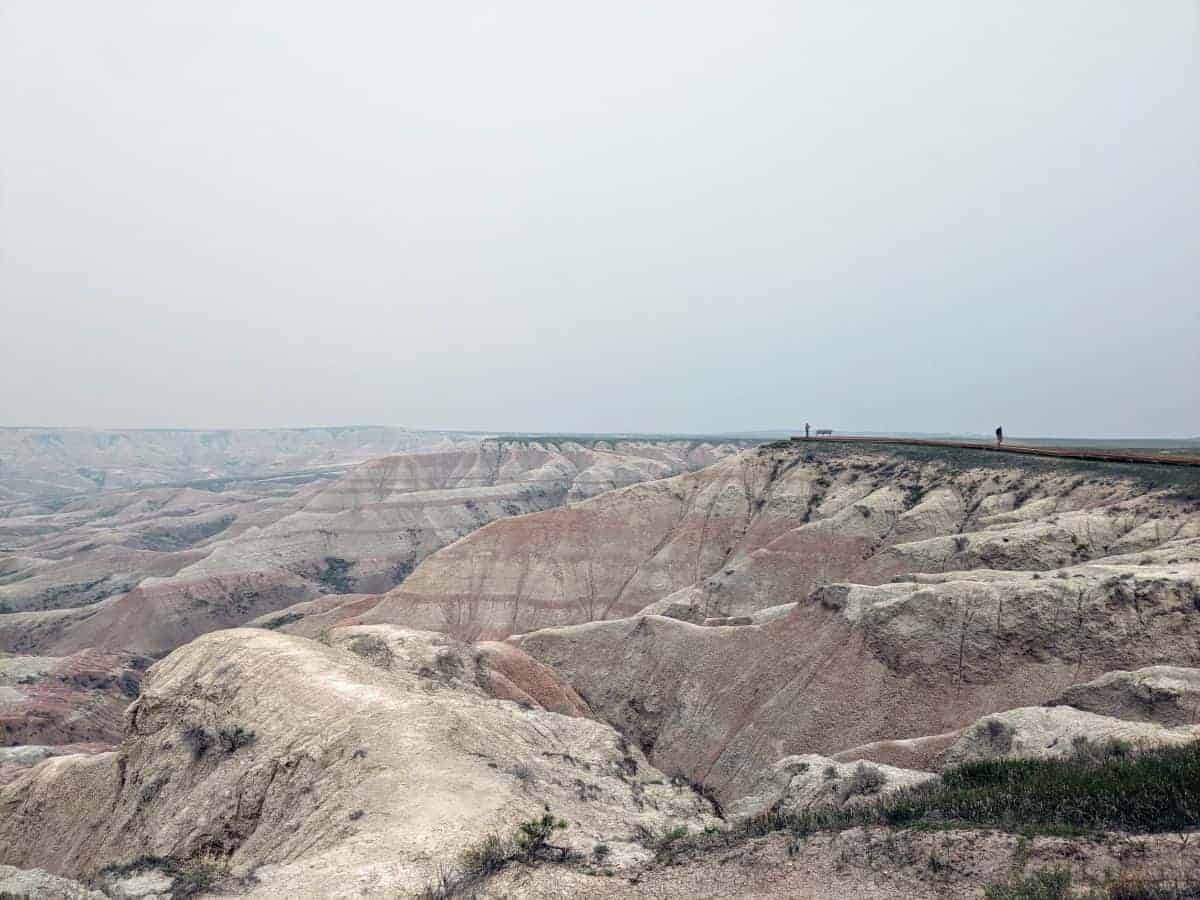 For all the details you need on how to spend a day at Badlands National Park, see my Badlands National Park itinerary article.
Even more about Badlands National Park:
For the full list of ideas, see best things to do near Mount Rushmore.
Save this post to Pinterest!
More articles to help you plan your trip to South Dakota
How to visit Mount Rushmore