Delightful Weekend in Savannah Itinerary
If you're looking for a taste of Ye Olde American South, you simply must spend a weekend in Savannah, Georgia.
Savannah (and it helps if you say it all drawn out like Suuuuvannuuuh) simply drips with history like the trees drip with Spanish moss.
And the food. Oh, the food. You could go to Savannah only for the food and come away happy. Enjoy a quintessentially Southern escape with my weekend in Savannah itinerary.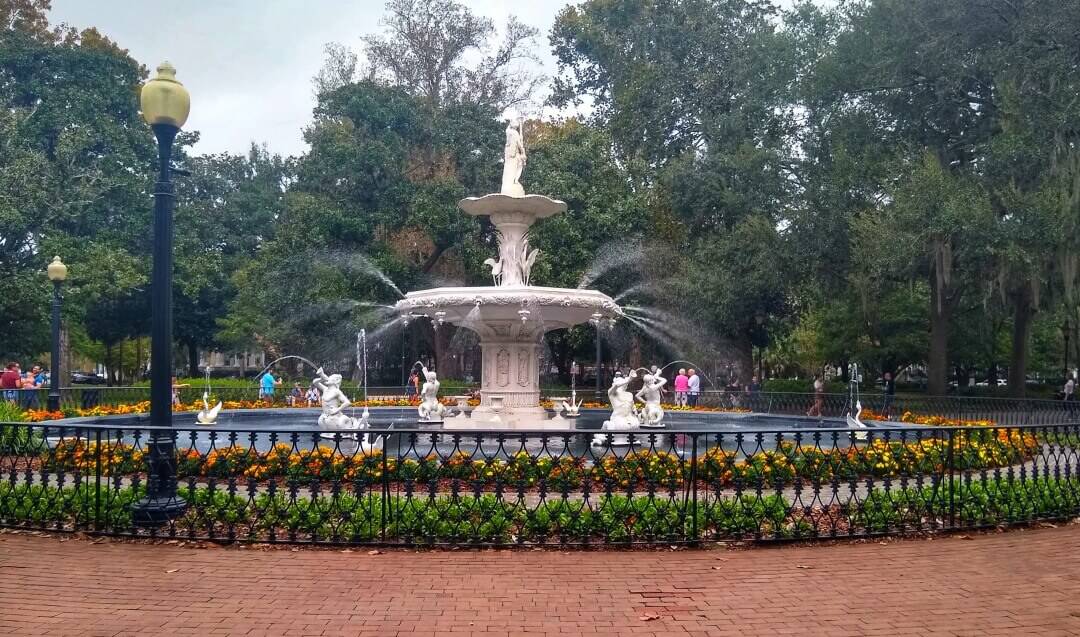 This post includes affiliate links. If you make a purchase through one of these links, I may earn a small commission at no additional cost to you. As an Amazon Associate I earn from qualifying purchases. See disclaimer.
If you want to avoid the tourist hordes then I suggest Savannah in shoulder season.
We spent a weekend there in October and were pleased to find the city quieter even than I was expecting.
Though we had also been hoping to avoid heat, we didn't quite manage that.
Our weekend there was simultaneously overcast, muggy and drizzly for much of the time. And much warmer than we expected. I did not pack well for this trip.
[Hangs head in shame.]
Learn from my mistakes and check out my weekend packing list so you're prepared for your amazing weekend in Savannah.
Related Post → Charleston or Savannah? Which to visit
Where to stay in Savannah
I recommend staying in the historic downtown area. You'll enjoy being in the heart of the city and it will also reduce the need to drive around from site to site.
Street parking can be hard to come by and can be expensive.
We stayed at the Marriott Savannah Riverfront (100 General McIntosh Blvd) in a river view room, which we loved.
The hotel is conveniently located at the end of historic River Street, just steps from the Waving Girl Statue. It's quite comfortable and the staff are friendly.
We recommend it highly. Book here now!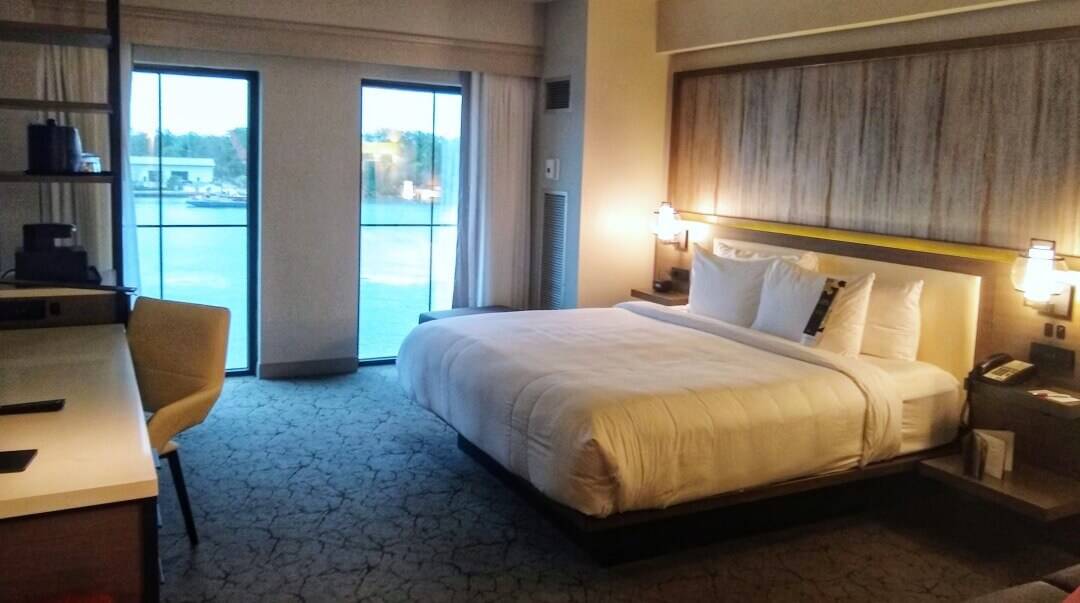 Waving Girl Statue
After we settled in, we were anxious to get out and see some of the historic riverfront area.
Just a few steps from our hotel we came upon the Waving Girl Statue in Morrell Park.
The statue honors Florence Martus who greeted each and every ship entering or leaving Savannah for 44 years by waving a handkerchief or a lantern at night.
According to legend, she did this because as a young girl she had fallen in love with a sailor and she was trying to make sure he could find her, but there doesn't appear to be any historical evidence to support this notion.
Related Post → Romantic Getaways in the South that Couples Love
The statue is the creation of Felix de Weldon, who also sculpted the Marine Corps (Iwo Jima) War Memorial in Alexandria, Virginia.
River Street
From the Waving Girl Statue, we continued along the river to explore River Street.
I do have to admit it is a rather touristy area, but that doesn't mean you shouldn't take a stroll down it once or twice.
Be advised that Savannah does have an open container law, so there will be people walking around (especially at night) with alcoholic beverages.
Cars are permitted to drive on River Street, but there is very limited parking.
We walked partway down River Street before cutting over to Bay Street to find our restaurant of choice for dinner. After dinner and dessert we did the entire street. You know, to get the full effect.
Dinner at B. Matthew's Eatery
We stopped for dinner at B. Matthew's Eatery (325 E Bay St). Their menu has some great vegetarian and gluten free options on it, so it seemed perfect for us.
We were surprised to walk in and see the restaurant almost entirely empty. We were early, but surely not that early. The food was quite good.
I would recommend B. Matthew's.
Try a Savannah food tour
Unsure about where to eat in Savannah or want to try a little from a lot of places?
Savannah is a great place to take a food tour.
You might like this highly rated tour of six of Savannah's specialty stores and restaurants.
Or try this tour of secret spots and secret bites.
Leopold's Ice Cream
After dinner, of course we had to try Leopold's Ice Cream (212 E. Broughton St.).
Expect lines out the door if you visit Savannah during high season. Early in the evening on a Friday night in October there were only a few people in line ahead of us.
Leopold's has been a Savannah institution for more than 100 years. They're probably most famous for their Tutti Frutti ice cream.
I tried the Savannah Socialite which is chocolate ice cream with Georgia pecans and bourbon caramel. It. Was. Delicious.
We loved the ice cream there so much we wanted to go back the next day, but it just didn't work out. Next time for sure!
The shop is full of all sorts of Hollywood memorabilia, and I wasn't sure why, but it turns out the son of the founder had a dream to work in Hollywood, so off he went.
He has credits as a producer or executive producer on more than 20 films including The Sum of All Fears and Mission: Impossible III.
Breakfast at The Collins Quarter Café
We had an historic walking tour booked for 10 a.m. the next morning that met up outside The Collins Quarter on Bull Street, so of course, that was the perfect place to enjoy a leisurely breakfast before the tour.
The Collins Quarter is a popular spot, but they do not take breakfast reservations. We arrived at about 8 a.m. on Saturday and were seated right away.
It didn't start getting noticeably busy until closer to 9 a.m. There is also outdoor seating, but I loved the décor and atmosphere inside the café.
The Collins Quarter has a lot of great gluten-free options and a few solid vegetarian options as well.
Hubby had the "Leo's Big Brekkie." It had three different kinds of breakfast meat, so he was a happy camper.
I had the Banana's Foster French Toast, which was delicious and surprisingly large. I couldn't eat all of it, but I sure enjoyed what I did eat.
I also tried the spiced lavender mocha. It was without a doubt the best mocha I have ever tasted. Yes, it does have tiny little lavender blossoms sprinkled on the top, and they are just perfection.
I can't say enough good things about The Collins Quarter and definitely would love to go back the next time we go to Savannah.
Genteel & Bard Savannah History Tour
I'm a little embarrassed to say that I didn't know much about the history of Savannah before actually going there.
That's not usually how I roll.
I like to do pre-trip research, but this trip I just couldn't find the time. Enter historical walking tour.
What better way to learn more about your destination than have a local show you around and tell you all the best stories?
Genteel & Bard's tours come highly recommended, so I didn't hesitate to book their Savannah History Walking Tour.
T.C. Michaels is an outstanding and friendly guide. He truly brought the city to life, from its planning and founding up to the present. And where does all that energy come from?
I'm kind of a wimp though and had my fill of walking after about an hour and a half, but would still recommend you give this great tour a try if you are at all interested in the history of Savannah or even if you just want to hear some good stories from a great storyteller.
It will most definitely make you appreciate Savannah more as well as the people who worked so hard to preserve it for future generations to enjoy.
As an aside, Savannah locals will swear that theirs is the most haunted city in America.
Additional tours in Savannah
If you're interested in a ghost tour you might like this Haunted History and Ghosts Walking Tour or this 2-Hour Paranormal Mystery Tour.
Lunch at Fox & Fig
After our stellar tour we were ready for some lunch, and decided to give the local plant-based cuisine a try. Fox & Fig Café (321 Habersham Street) comes highly recommended and we were not disappointed.
The dining room is quite small, but the food and service were great. There was also a steady stream of takeout customers at the counter.
I enjoyed looking around the other tables to see what they were eating. Judging by other people's orders, it appears that the Fox & Fig pancakes (they not serve these any longer) were quite popular as well as their iced coffee drinks.
Hubby enjoyed a vanilla milkshake made with Leopold's coconut milk ice cream with his lunch.
I ordered the Fox Burger, and it was outstanding.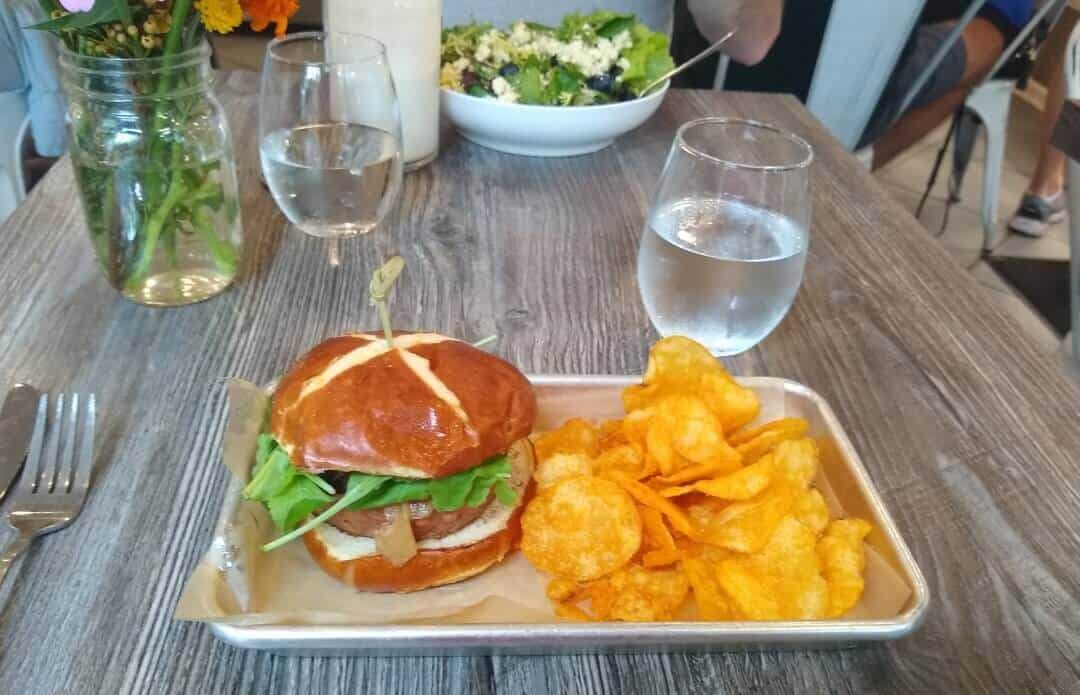 Cathedral Basilica of St. John the Baptist
After our Savannah history tour and lunch we were only a few blocks away from the Cathedral of St. John the Baptist.
In addition to looking for all the best art when we travel, we enjoy visiting historical and prominent places of worship.
St. John the Baptist is open for visitors. They suggest a $3 per adult cash donation, which we were glad to make. They do allow photography of the interior but for personal use only.
Dinner at Vic's on the River
After a day of walking through Savannah we were looking forward to a nice, quiet dinner with a view of the River.
We made reservations for Vic's on the River (26 E Bay St). They offer valet parking, which we appreciated to help us make our reservation on time.
You can also get to the restaurant through Vic's Coffee Bar on River Street. Just take the elevator up to the fourth floor.
The food and service were outstanding, and I would highly recommend this restaurant particularly for a special occasion.
They have a large number of gluten-free options, but they're a little light on the vegetarian options.
I was able to make a delicious dinner though out of a baby Tuscan kale salad with preserved lemon (resisting the temptation to lick my plate clean) and the fried green tomatoes with grits and goat cheese appetizer.
Hubby quite enjoyed their filet with sour cream and chive mashed potatoes.
Take a walk in Forsyth Park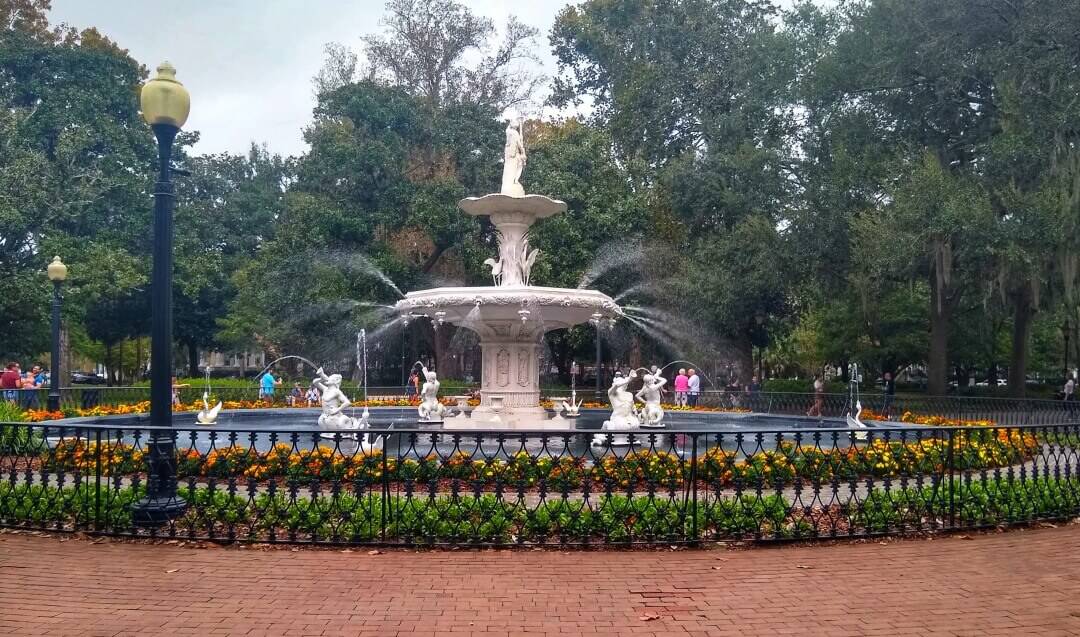 There's a quite well-known fountain in Savannah, and you'll find it in Forsyth Park (2 W Gaston St).
Forsyth is a 30 acres of walking paths, gardens, sports courts and fields, a half-shell theatre, and more.
It's truly a beautiful park and well worth a visit.
Grab a treat at Back in the Day Bakery
Back in the Day Bakery comes highly recommend by my sister, who is quite the foodie, so really there was no way I could NOT stop here.
It was literally the last thing we did in Savannah before we pointed the car in a homeward direction.
Back in the Day is best known for their biscuits. The biscuits fly out the doors until they are sold out for the day. It was shortly after 11 a.m. when we got in line and I was surprised that they were surprised they still had biscuits left.
I would have been disappointed to drive there and find there were no biscuits.
I probably could have consoled myself with one of their enormous cinnamon rolls, but I was looking for a good Southern biscuit. And I sure found it.
Other things to do in Savannah
If you have more time, you could extend your trip into a long weekend and explore more of Savannah and surrounding area. Check out some of the city's most important historic buildings and historic sites.
Visit Tybee Island
One of the most popular day trips from Savannah is Tybee Island, which boasts the oldest and tallest light station in Georgia. The 2.5-mile-long barrier island's strategic location at the mouth of the Savannah River also made it an important military outpost.
Although Tybee is quite close to Savannah, it's a great way to feel like you are far from the city. You could easily have a good time spending an entire day exploring the Island.
To explore the island, you can of course drive yourself there, or you could book a sightseeing tour like this one that includes a dolphin-watching cruise. Or perhaps just enjoy a day relaxing on a Tybee Island beach complete with beach chairs, umbrellas, and coolers stocked with ice.
Explore the squares
Savannah is known for its 22 squares that make little neighborhoods throughout the historic district, like Lafayette Square and Chippewa Square. Most are named for historic people or events and many include historic monuments or statues.
I think they have the effect of making Savannah feel like a smaller city than it really is…in a good way.
Bonaventure Cemetery
About 3 or 4 miles from downtown Savannah, you'll find the famous Bonaventure Cemetery. The cemetery rose to fame because of the popularity of Midnight in the Garden of Good and Evil.
If you're looking for the Bird Girl Statue, it was moved to the Telfair Academy Museum to keep it safe.
The cemetery is open to the public for free, and they offer free tours one weekend a month.
Please keep in mind that Bonaventure is a "working" cemetery, so if you see a crowd of people with a hearse and other vehicles parked nearby, assume that there is a funeral taking place.
Owens-Thomas House and Slave Quarters
This historic mansion is operated as a house museum that is open to the public for touring. Marvel at the historic architecture and learn about the differences in the lives of those who were at the top of Savannah society and those who were at the bottom.
The house was designated a National Historic Landmark in 1976.
Juliette Gordon Low Birthplace
The Juliette Gordon Low Birthplace preserves the home of the founder of the Girl Scouts Movement, one of the most beautiful historic homes in Savannah…and certainly one of the most famous. And more importantly, it serves to preserve the vision of the Girl Scouts.
Facing possible demotion, the Girl Scouts of the USA purchased the home in 1953, creating a museum specifically for girls. Of course, it's open to all who want to visit.
Wormsloe Historic Site
Located about 9 miles from downtown Savannah, Wormsloe State Historic Site preserves the Wormsloe tabby ruins. The site was owned by Noble Jones who came to the New World with James Oglethorpe (founder of Savannah).
This is one of the most important historic sites in the state, preserving the oldest structure in Savannah. The ruins include part of an outer wall, a well, a brick chimney and more.
Final thoughts on your Savannah weekend getaway
Whatever you choose to put on your Savannah weekend trip itinerary, you're sure to enjoy your time there. I think it's one of the best places to visit in the American South.
The beauty, Southern charm, rich history and (of course) the food all combine to make this gem of the Southern United States a great place for a weekend getaway.
I just know you'll have the best time.
More articles to help you plan your Savannah, Georgia, weekend
Pin this post!