Perfect Weekend in St. Augustine Itinerary  
Follow this St. Augustine itinerary to have a perfect weekend trip
St. Augustine, Florida, is a great city for a short trip like a weekend getaway. There are endless options for how to spend your time here. With this weekend in St. Augustine itinerary you can have the perfect visit to America's oldest city.
In fact, there are so many things to do in St. Augustine you'll have trouble narrowing it down to what you can reasonably manage to do in one weekend.
Whether you crave adventure or relaxation, there are endless options for how to spend your time here!
Need help planning your St. Augustine weekend getaway? Then don't miss our essential travel planning resources page.  
This post includes affiliate links. If you make a purchase through one of these links, I may earn a small commission at no additional cost to you. As an Amazon Associate, I earn from qualifying purchases. See disclaimer.
How many days do you need in St. Augustine?
Although it would take you quite a while to see everything in St. Augustine, we recommend a visit of two to three days to see the top sites and attractions.
We love how compact the historic area of St. Augustine is, making it easy to see a lot in a short amount of time. It's perfect for a weekend getaway.
Pin this post!
You can easily plan a trip to St. Augustine, Florida, with this weekend itinerary. We've covered the top sites.
But don't worry, we've also provided some recommendations for other things to do as well so that you can customize your itinerary.
St. Augustine Weekend Itinerary: Day 1
Explore Castillo de San Marcos National Monument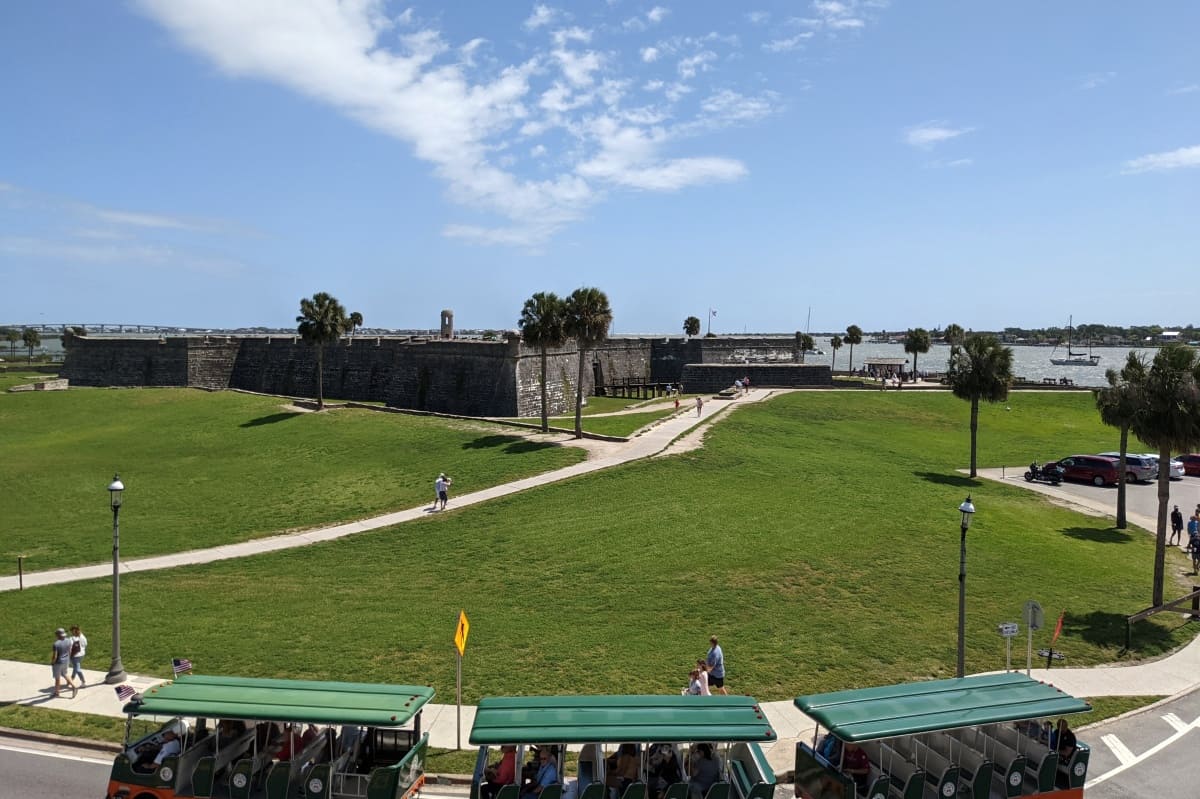 Address: 1 South Castillo Drive, Saint Augustine, FL 32084
I recommend you start your trip with a visit to Castillo de San Marcos National Monument. It's one of the most visited sites in St. Augustine and for good reason. 
It's the oldest masonry fortification in the U.S., and (supposedly) one of only two existing structures in the world built from coquina.
Coquina is composed of shell fragments and sand, which made it ideal for military fort construction.
Unlike other forms of stone that would shatter when struck by cannon fire, because coquina is quite porous it simply compressed.
So, it would actually deflect the shot or cannon balls would even lodge within the fortress walls.
We recommend you do the fort first thing in the morning. Later in the morning, there can be a long line to enter. And of course, in the summer months, the interior of the Castillo can get quite hot.  
While there is a fee to enter the fort, guests are welcome to stroll the grounds outside for free. You can also use your America the Beautiful pass for entry.
Paid parking is available nearby at the adjacent parking lot or in the city parking garage just a few blocks away.
Check out historic St. George Street
Just a short stroll away from Castillo de San Marcos is historic St. George Street. St. George Street is the main street that runs down the center of old St. Augustine.
St. George Street is closed to vehicles and home to many points of interest in the city such as museums, restaurants, and shops.
Have fun looking through everything this street has to offer. And don't miss poking around the little side streets too.
Ponce de Leon's Fountain of Youth Archeological Park
Address: 11 Magnolia Avenue, St. Augustine, FL USA, 32084
For this site, you'll have to hop in your car and head just a few minutes outside of central St. Augustine.
The Archeological Park marks the location of the native Timuacan village of Seloy. It was also the original location of St. Augustine.
Much like Historic Jamestowne, you can visit sites in the park that mark locations of original buildings.
The Park is also part living history museum with firearms and blacksmithing demonstrations.
You can get a small discount if you purchase tickets in advance online or you can buy at the ticket office on site. There are no same day ticket sales online.
Make sure to stop at the Fountain House to try a sip of the water from the "Fountain of Youth."
This is just for fun. There doesn't appear to be any archeological evidence that Ponce de Leon ever set foot anywhere in the area of this park.
The Fountain of Youth is pet friendly.
Featured tours in St. Augustine
St. Augustine Weekend Itinerary: Day 2
Take a Colonial Quarter tour
Purchase tickets at 14 S. Castillo Drive
The Colonial Quarter living history museum should definitely be on your St. Augustine weekend itinerary.  
If you've ever been to Colonial Williamsburg, then you definitely have an idea of what Colonial Quarter is like…just on a much larger scale.
Your Colonial Quarter ticket includes a guided tour of the museum.
Our tour guide, Bert, was outstanding. He walked us through hundreds of years of St. Augustine history, as the oldest permanent European settlement in North America.
The tour includes live demonstrations of blacksmithing and firearms, plus you can walk through an historic house and climb the watchtower for a great view of Castillo de San Marcos and the Matanzas River.
Stroll the oldest street in America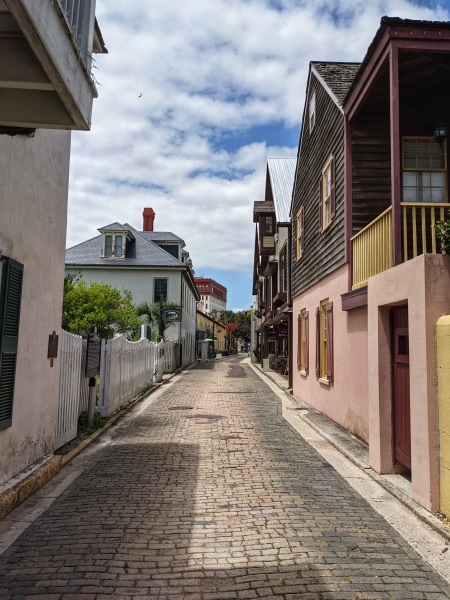 As long as you're in the oldest city in America, why not also take a walk along the oldest street in America while you're there?
Aviles Street is located south of Plaza de la Constitución between St. George Street and Charlotte Street.
In addition to making a great photo spot, Aviles Street is also home to art galleries, museums, and restaurants.
Pirate & Treasure Museum
Location: 12 South Castillo Drive, St. Augustine, FL 32084
I recommend you make a stop at the Pirate & Treasure Museum during your St. Augustine weekend getaway.
Initially, I visited the museum almost solely out of curiosity, but I was so glad I went. It's not a large museum, but the exhibits are well done, fun, and engaging. 
There is an impressive collection of historical pirate artifacts in the museum including a "treasure chest" and an old Jolly Roger flag. 
The Pirate & Treasure Museum is a little dark (in every sense of the word) and might not be appropriate for very young children.
The museum was established by pirate history enthusiast and entrepreneur Pat Croce. It was originally located in Key West, Florida, and then moved to St. Augustine.
You can purchase tickets in the museum or buy them ahead of time online.
Oldest Wooden School House
Okay, this one's mainly just for a laugh.
If you have time (and $5 to spare) I recommend you consider popping into the Oldest Wooden Schoolhouse. You'll find it at the top of St. George Street.
It's quite small, so it won't take much time at all to see every square inch of it. It's also…how do I put this delicately?…so cheesy and hokey and cringe-y.
And full of creepy mannequins. They stare at you from everywhere.
They might give you nightmares.
Don't miss the child mannequin stashed UNDER THE STAIRS as "punishment."
I did find that those who sell the entry tickets take the museum quite seriously, so if you do go in as a bit of a joke….maybe don't let on that's why you're there.
Just sayin'…
More things to do in St. Augustine
Of course, there's much more to do in St. Augustine than you can fit into one weekend.
If you enjoy music, definitely take a look at what's going on at the St. Augustine Amphitheater during your visit.
It's a great venue and just a short drive from the historic center of the city on Anastasia Island. Anastasia makes a great day trip from St. Augustine.
Check out these additional options. All include free 24-hour cancellation.
You might enjoy taking a guided tour of the Old Jail Museum.
Or perhaps visit the "first established wax museum" in the United States.
Another great option is to see several St. Augustine attractions for one price with this combo ticket that includes a trolley ticket and access to several sites/museums (plus free cancellation).
Why should you visit St. Augustine?
St. Augustine lays claim to the title of "oldest city in America" and is home to many historically significant landmarks and attractions.
St. Augustine's historic district and downtown area is where you'll find most of the action. It hosts a number of museums, shops, art galleries, and restaurants that attract thousands of visitors every year.
This historic town was founded by Spanish explorers in 1565, and it's rich in culture. 
From the Spanish fortress Castillo de San Marcos to the multitude of historic houses, museums, tours and other attractions there is plenty for you to see and do during your weekend trip to St. Augustine.
Where to stay in St. Augustine
Although its historic center is quite compact there is no shortage of accommodations. You'll find a wide variety of places to stay from vacation rentals to small B&Bs and boutique hotels. 
Affordable major chain hotels are also nearby and make a good budget option.
A vacation rental just steps from the historic district like this one on Airbnb has plenty of room for a small family or it's perfect for a couple. And since it includes a full kitchen, it's easy to save money on food.
If you're interested in hotel accommodations here some top rated and recommended options:
Casa Monica: This iconic resort and spa in the historic district is a popular high-end place to stay. It's located very near Plaza de la Constitución. Book your stay right now.
Penny Farthing Inn: This Bed & Breakfast is located in historic St. Augustine near the popular Lightner Museum. Book your stay today.
Holiday Inn St. Augustine – Historic District: This affordable hotel option is located about a 6-minute drive from Castillo de San Marcos National Monument. Book your reservations now.
Where to Eat in St. Augustine
Of course, if you go the route of staying at a Vrbo or Airbnb, you can save money on food by eating in.
You can shop for food and supplies at the local Publix (125 Jenkins St, St. Augustine, FL 32086) or the Target at 1440 US Hwy 1 S, St. Augustine, FL 32084.
If you do want to eat out, here are a few places we would recommend for lunch or dinner:
The Floridian
Location: 72 Spanish St #3638, St. Augustine, FL 32084
We highly recommend you make time for dinner at The Floridian during your St. Augustine weekend. We thought the food and service were outstanding.
They have great vegetarian and gluten-free options.
It's a popular spot, so reservations are recommended. Check out their menus here.
Columbia
Location: 98 St George St, St. Augustine, FL 32084
My husband's favorite meal of our St. Augustine visit was at Columbia. They have some great gluten-free options and some solid vegetarian options.
Hubby claims Columbia has the best flan he's ever tasted.
This is not an inexpensive restaurant, but you can save a little money if you eat there for lunch. Reservations are strongly recommended.
Sweet treats
There are also great places in St. Augustine to get snacks and dessert:
Tips for visiting St. Augustine
When to go
You'll enjoy smaller crowds and somewhat lower temperatures if you visit St. Augustine between October and April.
The rainiest months on average are from June through September, where it can rain up to 10 or 11 days out of the month.
How to get around
The best way to get around historic St. Augustine for your day trip is to use your feet. The historic district is quite compact with most top sites very close to each other.
If you're staying outside the historic area of St. Augustine, you can park your car in the Historic Downtown Parking Facility (1 Cordova Street) and then easily walk to nearly everything you want to see.
There may be some limited street parking around the area, but we would recommend you use the garage. There's also a convenient Visitor Center there, as well as restrooms and a gift shop. 
Tours mentioned in this article
Final thoughts on planning a trip to St. Augustine, Florida
If you're looking for a beautiful destination with rich history, then St. Augustine is the place to be.
Whether you enjoy history or food or outdoor adventure, you can't go wrong with a St. Augustine weekend getaway.
More articles related to St. Augustine weekend getaways
Pin this post!
Perfect Weekend in St. Augustine Itinerary