One Day in Charleston: The Perfect Itinerary
Charleston, in the heart of South Carolina's Lowcountry, is full of rich history and wonderful food. There are so many things to see. Far too many to see in one day. But don't worry. You can still see some of the top sites with just one day in Charleston.
To see the best of Charleston in one day, just follow our itinerary below!
Plan your trip to Charleston with your FREE printable travel planner.
This post includes affiliate links. If you make a purchase through one of these links, I may earn a small commission at no additional cost to you. As an Amazon Associate I earn from qualifying purchases. See disclaimer.
Need help planning your trip to Charleston? Check out our list of the essential travel planning resources.
Itinerary: What to see in Charleston in one day
Aiken-Rhett House
Address: 48 Elizabeth Street, Charleston, SC 29403
Parking: You'll find paid parking nearby in the Visitor Center Parking Garage at 73 Mary Street.
Aiken-Rhett House was once the home of Governor and Mrs. William Aiken Jr. William Aiken Jr. Was the 61st governor of South Carolina from 1864–1866.
While Nathaniel Russell House has been beautifully restored, if you're looking for an historic Charleston home that's been carefully preserved, I recommend you pay a visit to Aiken-Rhett House.
Aiken-Rhett House is considered to be "the most intact townhouse complex showcasing urban life in antebellum Charleston" according to the National Trust for Historic Preservation.
While the main house is quite a site, you also won't want to miss the carefully preserved quarters where many enslaved people (including children) lived and died to maintain the Aiken-Rhett "way of life."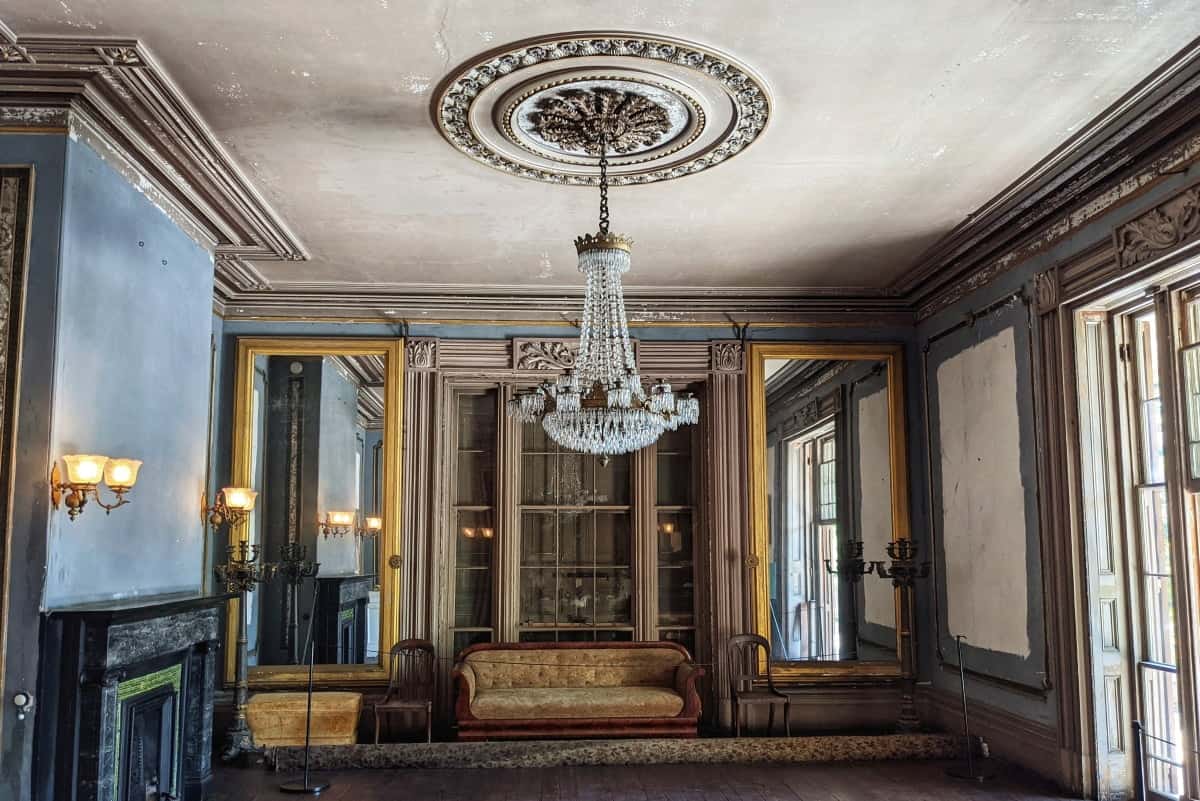 Aiken-Rhett House is managed by the Historic Charleston Foundation that also looks after Nathaniel Russell House.
To get the most out of your visit to Aiken-Rhett, download the Historic Charleston Foundation app onto your iPhone so you can listen to the audio tour.
You can purchase tickets in advance online.
If you have time and are interested in seeing both Aiken-Rhett and Nathaniel Russell House on your visit to Charleston, you can purchase a combo ticket and save money over purchasing two separate tickets.
Pin this post!
See more of historical Charleston
Want to see more of the history of Charleston? Check out this highly-rated historical walking tour.
If you're staying in Charleston overnight and like a good evening ghost tour, try this popular tour.
Or rest your feet and see Charleston from the back of a horse-drawn carriage.
Waterfront Park
Location: Vendue Range and Concord Street
Parking: Park at the Concord Cumberland Parking Garage at 1 Concord Street
After you walk through historic Aiken-Rhett house it's time to head toward the water for a lovely stroll through Waterfront Park.
In this beautiful stretch of waterfront is where you'll find Charleston's iconic Pineapple Fountain, a top photo spot in the city.
If you have time, take a few minutes to walk out on the pier. There are some nice bench swings out there if you're looking for a nice place to sit down and catch a nice breeze on a warm day.
Enjoy lunch on the water at Fleet Landing
Address: 186 Concord St, Charleston, SC 29401
Parking: Park at the Concord Cumberland Parking Garage at 1 Concord Street
Fleet Landing is a great place to enjoy a Southern lunch in Charleston.
Located on the water near Waterfront Park, Fleet Landing is a popular place so reservations are strongly recommended.
Get an outdoor table if you can for nice views of the water, plus Fort Sumter and Castle Pinckney in the distance.
The food and service here are excellent. Fleet Landing also very helpfully offers separate gluten-free and vegetarian menus.
And make sure you get the hushpuppies. They're a staple in Charleston.
Hushpuppies are deep fried cornmeal batter. Basically, bits of golden heaven.
One popular story behind the origin of hushpuppies is that they were created as a way to keep dogs quiet ("Hush, puppy!") when they would get noisy in anticipation of coming food on a hunt or fishing trip.
I don't think anyone really knows where the name came from.
All you need to know is that they are delicious, and you are required to order them at least once per visit to Charleston.
More Charleston food
Prefer to put your tastebuds into the hands of an expert on Charleston food?
Try this highly rated food tour of Charleston.
Shop at historic Charleston City Market
Address: 188 Meeting St, Charleston, SC 29401
Parking: Keep your car at the Concord Cumberland Garage if you don't mind a walk of about 7 minutes from Fleet Landing or park in the garage at 85 Hassell Street
The four-city-block-long Charleston City Market is considered by many to be a "must do" in Charleston.
The market is full of fun stalls to look through. You'll find beautiful art and decorative works from local artisans as well as traditional items like sweetgrass baskets that have been made in Charleston for centuries.
Fort Sumter
Visitor Center Address: 340 Concord Street, Charleston, SC 29401
Parking: Park in the Aquarium Parking Garage at 24 Calhoun Street
I know not all of you are history nerds like me, so consider Fort Sumter optional. HOWEVER, I do highly recommend it.
Fort Sumter is probably best known as the starting place of the American Civil War, when it was fired upon by Confederate forces on April 12, 1861.
Fort Sumter sits on an island in Charleston Harbor and is only accessible by boat. You'll want to book your tickets ahead of time online through Fort Sumter Tours the official vendor and transportation provider.
Plan to arrive at the Liberty Square Visitor Center at least 30 minutes before the ferry leaves.
If you have tickets, you can bypass the Visitor Center entirely and go around the side of the building to the back where the line for the ferry begins.
There are restrooms available in the Visitor Center. And a gift shop!
There's also a gift shop at the fort, but don't wait too long to stop in because it may close before the end of your visit if you're in the last tour group of the day.
Inside the fort, don't miss the history talk from the National Park Service ranger. It's excellent and provides some important information about your surroundings.
Also, note that the ferry ride can be rather breezy. Even though it was a very warm day, I was glad I brought a jacket along. 
You can also choose to take the ferry from Patriots Point in Mount Pleasant.
Savannah, Georgia, is also a popular day trip from Charleston.
To get the most out of a visit, I'd recommend a weekend trip to Savannah but you can see the best of the best with a Savannah day trip.
Read More → Savannah vs Charleston: Which to Visit?
Other great things to do on a day trip to Charleston if you have time
If you have more time in Charleston (or if none of the activities I've described above appeal to you) there are plenty of other ways to spend a day in Charleston.
You could try a guided tour of the city's French Quarter, like this one.
Or check out this combination city tour and harbor cruise activity.
Battery
Take a stroll along the water at the far southern end of Charleston. You may be able to score free street parking down here.
Nathaniel Russell House
The beautifully restored Nathaniel Russell House is located at 51 Meeting Street.
Purchase tickets in advance online. If you're also planning to visit Aiken-Rhett House (see above), I recommend buying the combo ticket so you can save some money.
Folly Beach
If you're looking for something beach-y to do outside of Charleston, then I recommend a visit to Folly Beach south of Charleston.
Not sure what to take with you to Folly Beach? Check out our beach essentials packing list post.
Angel Oak
Supposedly the oldest living thing east of the Mississippi River, Angel Oak can be found about 20 minutes outside of Charleston at 3688 Angel Oak Rd, Johns Island, SC 29455.
The park is free to enter and take as many photos as you like.
And touching the Angel Oak is okay, but please don't climb on it.
Old Slave Mart Museum
The Old Slave Mart Museum in Charleston shines a light on the city's past role in domestic inter-state slave trade from 1856 to 1863. The museum is housed in probably the only known building that was once used as a slave mart that is still in existence.
The Old Slave Mart Museum is an important part of American history, and it provides visitors with important information on the most painful parts of American history. If you have time in your Charleston itinerary, visit this museum in the historic district.
Old Exchange and Provost Dungeon
The Old Exchange and Provost Dungeon is a national historic and Charleston landmark. For the past 250 years, this building has been used as a commercial exchange, custom house, post office, city hall, military headquarters and museum.
The Provost Dungeon in the bottom floor was used as a prison during the American Revolution, and it contains exhibits that tell the story of this important period in our nation's history.
Find places to take fun photos
Charleston is one of the most beautiful cities in the United States, and it's a great place to take photos. There are so many amazing places to photograph in Charleston, especially around the historic district.
Rainbow Row
Rainbow Row is one of the most famous and photographed areas in Charleston, and it's a quick stop on a day itinerary. This colorful row of historic homes is located on East Bay Street in downtown Charleston, and it's within walking distance of Waterfront Park.
Full disclosure: I personally think Rainbow Row is a waste of time if you only have one day, but it makes for a good Instagram photo if that's your thing.
Customs House
Snap a photo of the U.S. Customs House at East Bay, Market Street, Concord, and Cumberland streets in the downtown area.
It's one of the few Customs House buildings remaining in the U.S. that still serves its original purpose and signals Charleston's importance as a major port city.
Construction on the building began just a few years before South Carolina seceded from the Union and was paused during the Civil War. The building was completed in 1879.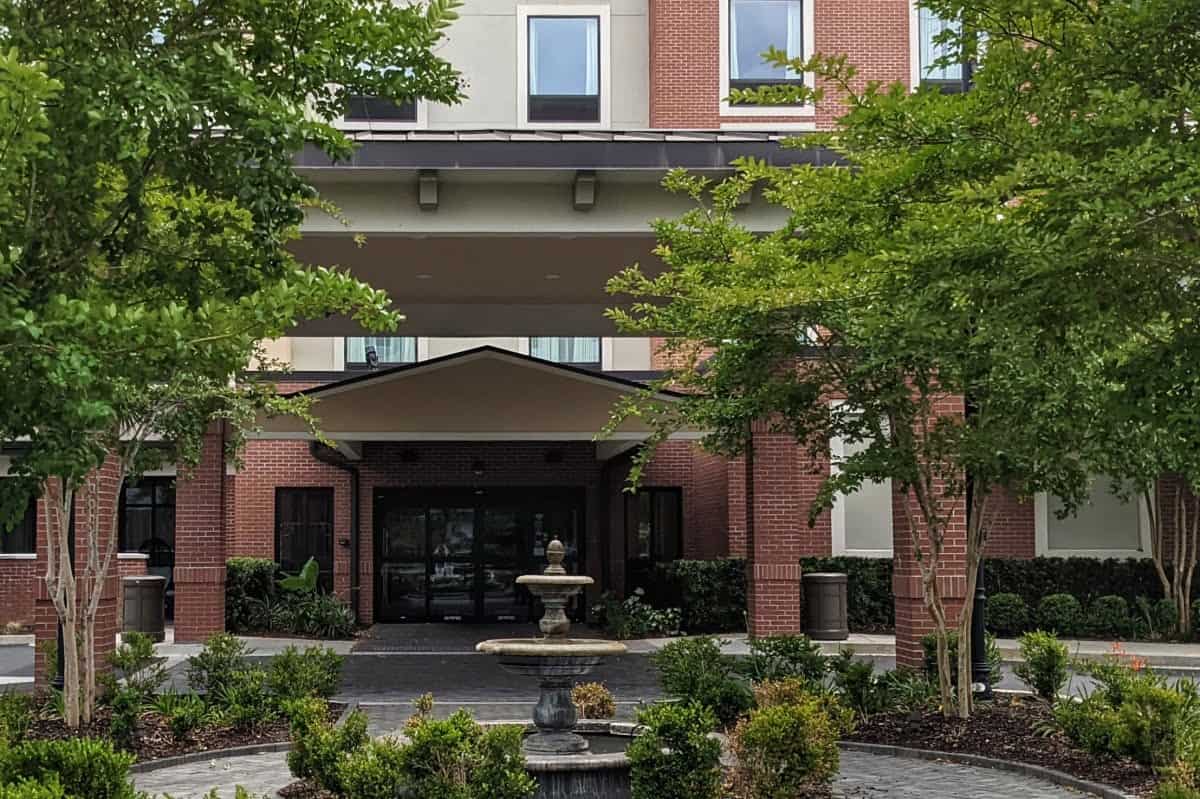 Where to stay in Charleston
Andrew Pinckney Inn—boutique hotel with 41 rooms located just a couple of blocks from the Charleston City Market. Check it out here.
The Dewberry—luxurious accommodations bordering Marion Square, near fine dining and shopping on King Street. To get around Charleston, use one of the Dewberry Volvo guests cars or try one of the complimentary bicycles. Book your room today.
Budget-friendly Option: DoubleTree Mount Pleasant—we enjoyed our stay at this lovely and budget-friendly hotel just a few minutes outside Charleston. Book your stay.
There are also some great Mount Pleasant breakfast places nearby like Vicious Biscuit and Page's Okra Grill.
When to visit Charleston
Our recommendation is to enjoy a visit to Charleston, South Carolina, in either the spring or later in the fall.
Summer can get unbearably hot. The hottest months in Charleston are typically also the wettest.
And while temperatures in the early to middle of fall can be more pleasant…it can also bring the possibility of hurricanes.
I'm just sayin'. So keep that in mind.
PRO TIP: If you have flexible travel dates you need to check out Going (formerly Scott's Cheap Flights). You get amazing flight deals sent straight to your inbox with instructions on how to book directly with the airlines. Check out Going here. Going is my favorite way to find great travel deals. 
How to get around in Charleston
If you're staying in the historic center of Charleston (see our recommendations above) or it's not too hot, then walking is a great way to get around Charleston.
However, you may find that some of the sites you want to see are a greater distance apart than you prefer to walk.
Try grouping sites and activities together geographically when you can to minimize walking.
Or if you want to drive, it will also minimize the number of parking garages you'll be in and out of on your trip, saving you a little money.
Final thoughts on what to do in Charleston in one day
Let's be honest. There's no way you can see Charleston in one day.
BUT with some good planning and a solid itinerary (I've got you covered there), you can still get a great sampling of all the best the Holy City has to offer.
Explore Charleston's beautiful house museums, try some of her magnificent food and explore her important history with a visit to Fort Sumter, through a walking tour, or on a visit to a local plantation.
More articles to help you plan a trip to Charleston
Pin this post!