23 Seattle Souvenirs: Ideas From a Seattle Native
Find the perfect souvenir from Seattle
Seattle is a beautiful city on the Puget Sound with plenty of tourist attractions to keep visitors busy. But no doubt you'll want a memento of your trip to the Emerald City. If you're looking for the perfect Seattle souvenirs, you're in luck!
In this blog post, I will discuss some of the best souvenirs to remember your trip to Seattle. From Pike Place Market to the Space Needle, we will cover all of the bases.
I'll also mention some other great Seattle-themed gifts, like…well, you'll need to just keep reading to find out what.
Plan the perfect trip to Seattle with this FREE travel planner.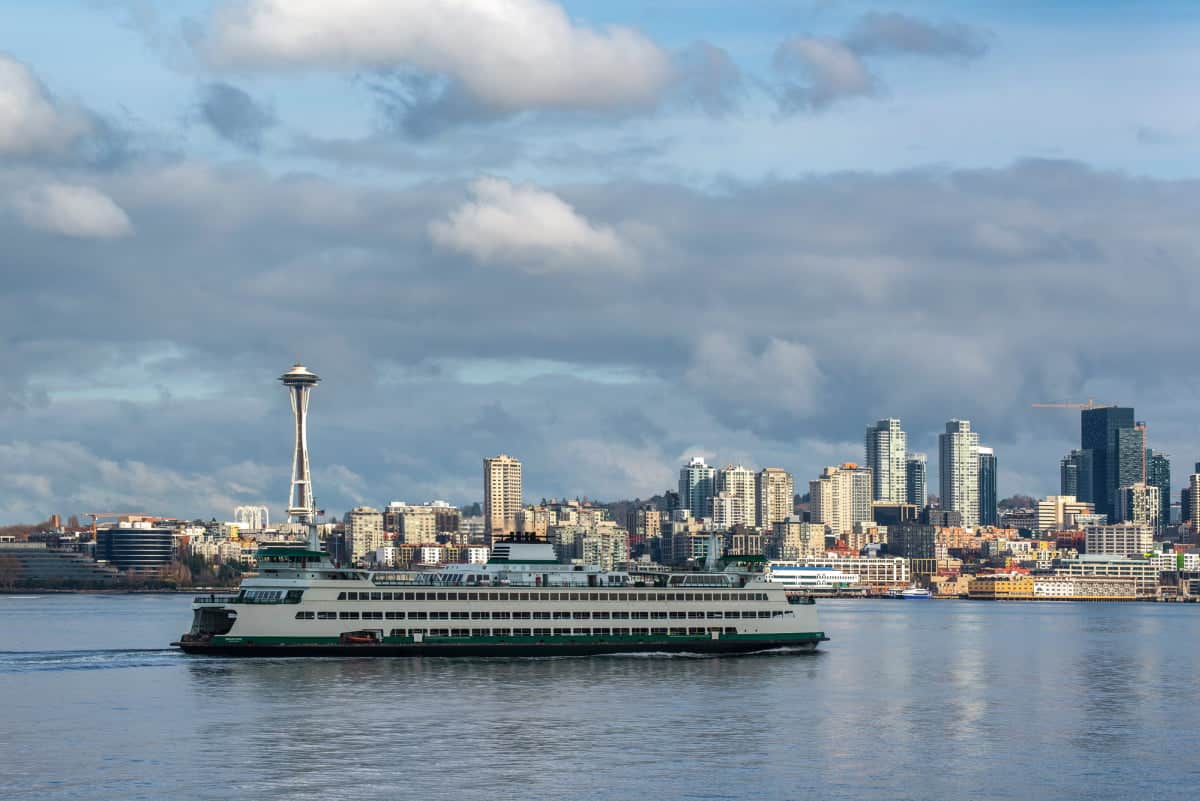 Seattle coffee souvenirs
Starbucks coffee mug
My favorite Seattle souvenir is the classic Starbucks coffee mug.
If you're looking for a Seattle-themed souvenir, then Starbucks is one of the best places to buy one. The coffee giant was founded in Seattle and has become one of my favorite places to buy a souvenir from almost all of my U.S. trips.
So next time you're in Seattle, be sure to stop by one of the many Starbucks stores around the city and pick up a coffee mug as a keepsake of your trip.
Something from the oldest Starbucks Store
The oldest Starbucks store is located at 1912 Pike Place. Yes, I know it isn't the original. That's OK.
It's a fantastic photo opportunity and you can buy some great souvenirs there. However, you should prepare to wait in line; it is particularly popular with tourists.
Starbucks Reserve coffee or other local coffee
If you appreciate coffee and you haven't yet tried Starbucks Reserve coffee then all I have to say is "What are you waiting for?"
It won't be cheap, but it is so worth it. I once paid $25 for half a pound of Starbucks Kona (not a blend, mind you) and it was without a doubt the best coffee I had ever tried in my entire life. Worth every last penny.
You won't be sorry.
Grab some amazing Reserve coffee at the Seattle Roastery at 1124 Pike St. You can find Reserve at other Starbucks stores too, but the Roastery is an experience in and of itself.
If Starbucks isn't your thing you'll certainly find a coffee shop you do like that will offer its coffee for sale.
And grabbing a unique drink at the Roastery is one of my favorite cheap things to do in Seattle.
Photo of yourself at the Gum Wall
Sometimes the most meaningful souvenirs are free. The entire point of a souvenir is to have a visual reminder of an experience, right?
And Seattle just happens to have some unique photo spots.
You'll find the Gum Wall at 1428 Post Alley. Yes, it's weird. But it's also kind of amazing.
The Gum Wall might not be for everyone, but it makes for a great photo souvenir. And if you can stomach it, you can even contribute to the wall!
In November 2015, the wall was cleaned of 2000 pounds of gum. The sugars in the gum had been damaging the bricks. More gum was added immediately after the cleaning was completed, of course.
Photo with the Fremont Troll
The Fremont Troll is one of Seattle's most popular tourist attractions. No doubt you've images of it all over Instagram.
You'll find him clutching a Volkswagen Beetle on N. 36th Street at Troll Avenue N.
Theo Chocolate
Getting back to food…Theo chocolate makes a great Seattle trip souvenir or gift. It's made in Seattle, and you can even tour the factory.
And most importantly it's quite delicious. So, make sure you grab some at the flagship store after your tour or just stop by and pick up a tasty souvenir from Seattle.
Theo also offers vegan chocolate varieties.
Fran's Chocolates
Fran's chocolates make a great gift…for others or just a treat for yourself.
My father loves Fran's so much that my mother has ordered them to be shipped from Seattle as a Christmas gift after they moved away from Seattle.
I love their classic salted caramels. You can pick some up for yourself at their boutique on 1st Avenue in downtown Seattle.
Fran's is also well known for its caramel sauce. You have to try it.
glassybaby
If you or someone in your life loves candles then consider getting a unique souvenir from glassybaby. They make hand-blown glass candle holders and drinkware. Each one is different.
Since Seattle is known for its glass art, these make a beautiful and very Seattle souvenir.
My sister owns several of these, some of them purchased directly from one of their Seattle hot shops where they make these items and offer them for sale. And they are just stunning.
A glassbaby would be a little more pricey than your average souvenir, but they're perfect for a more splurge-y memento (that you can use). They make beautiful gifts.
Pick up a Seattle souvenir from Pike Place Market
No doubt Pike Place Market is near the top of your Seattle bucket list. It's one of my favorite things to do in Washington State and a great place to pick up some souvenirs like…
Fresh seafood
You read that right. If you're into seafood, why not buy some from the famous Pike Place Fish Market? They're the guys who throw fish.
They'll package it for travel and you can have a delicious Seattle souvenir to bring home with you. They also advertise that they ship nationwide.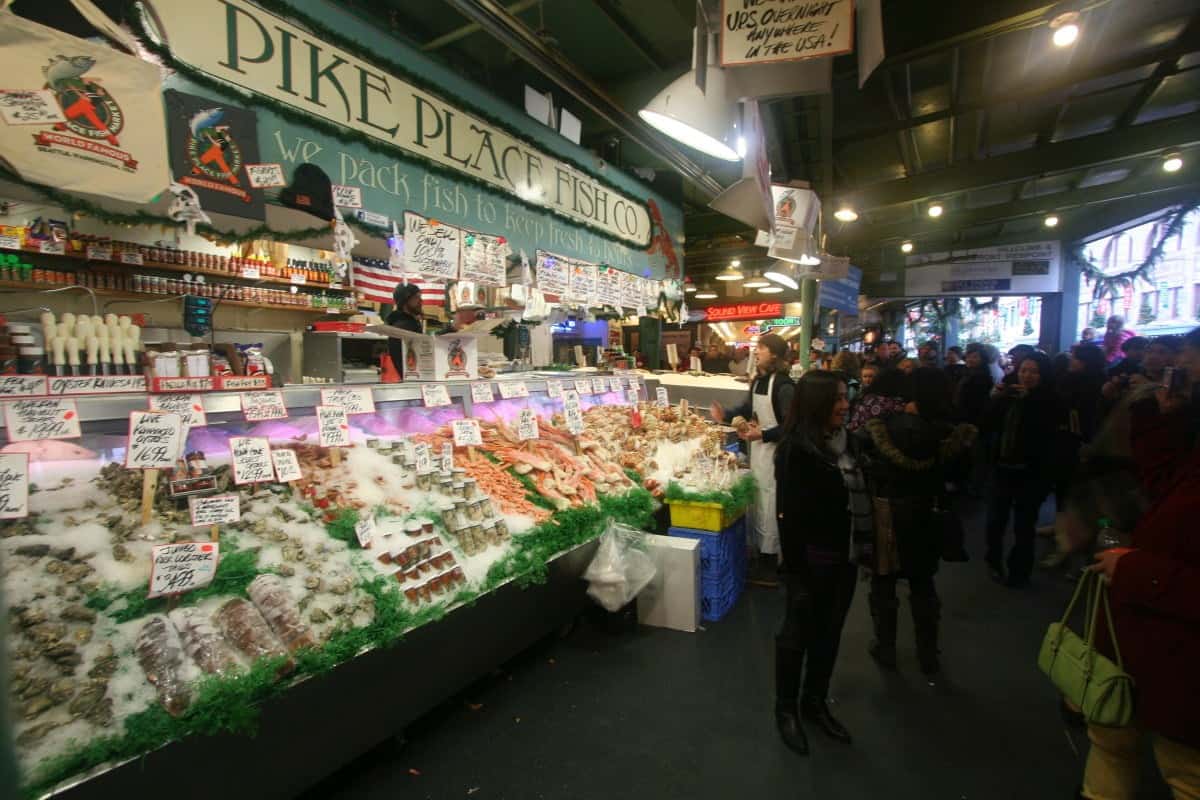 Smoked salmon
If you're at all concerned about getting fresh seafood home, try a Pacific Northwest delicacy, smoked salmon.
You can buy it at Pike Place Market or just about a thousand other places in Seattle. No joke. I think it's everywhere, even the airport. You'll be tripping over it.
MarketSpice Tea
I'd wager that cinnamon-orange is probably their best-known variety, but you can find much more than that in the MarketSpice Pike Place Market shop. It's just steps from the Pike Place Fish Market.
And they don't offer just tea, they also have a lot of spices. Of course.
Flowers
Grab a bouquet of beautiful and local fresh flowers to brighten up your hotel room. Or buy a potted plant as a Seattle souvenir that will last longer.
You can find beautiful flowers at Pike Place Market.
Grab a souvenir from Ye Olde Curiosity Shop
Ye Olde Curiosity Shop is a Seattle landmark, and it's the perfect place to pick up a Seattle souvenir…or a creepy curio. It's kind of the souvenir shop that beats all souvenir shops.
You can find everything from standard souvenirs to Northwest Coast Native art in the shop. If you're looking for something unique or perhaps a little oddball, this is the place to go.
Local art
Seattle is home to a thriving art scene, and you can find local artists' work all over the city. The Pike Place Market is a great place to start, but you can also find local art in Seattle's many galleries.
Buy a piece of art as a Seattle souvenir for your home or as a thoughtful gift for a loved one. Just make sure it's packed well for travel!
Jewelry
Seattle is a great place to buy handcrafted jewelry. There are several stores in the city that sell unique and beautiful items.
If you're looking for something special to remember your trip by, be sure to check out the local jewelry stores.
Seattle Mariners jersey
If you want to show your Mariners team spirit when you're not in Seattle, the Mariners Team Store at T-mobile Park is the place to go.
You can buy a jersey to let everyone know who your favorite player is.
Seattle Seahawks memento
If you're a Seattle Seahawks fan, you'll want to buy a souvenir from the Lumen Field Pro Shop.
They've got everything a fan could want, from jerseys to hats to T-shirts.
General Seattle souvenirs
Space Needle statue
Is there any more iconic site in Seattle than the Space Needle? Of course not.
You can remember your trip forever with a Space Needle figurine or mini Space Needle. You can find them all over Seattle, but the SpaceBase gift shop at the Space Needle is a great place to start.
Seattle T-shirt or sweatshirt
If you're looking for a classic Seattle souvenir, consider picking up a T-shirt or sweatshirt at one of the city's many gift shops.
You'll be able to find something to show off that you were in Seattle, no matter where you are in the world.
Seattle Christmas tree ornament
Hubby and I buy Christmas tree ornaments as souvenirs of our trips whenever we can. In fact, our Christmas tree is almost entirely decorated each year with ornaments we've picked up on our travels, including the one I picked up on my most recent visit to Seattle.
Seattle refrigerator magnet
Refrigerator magnets make a great and inexpensive souvenir. You can find them in just about every gift shop or souvenir shop.
Anytime you're in your kitchen, you'll be reminded of your trip to Seattle.
Seattle postcards
If you're not a great photographer, buy some beautiful postcards of Seattle as a way to remember your trip.
Or go old school and mail a postcard to a friend or family member while you're traveling.
Snow globes
If you want to bring a little Seattle with you wherever you go, buy a snow globe. You can find them at just about any gift shop in Seattle, and they make a great memento of your trip.
Final thoughts on Seattle souvenirs
Seattle is a great city to visit, and it's also a great place to pick up some souvenirs. You can find everything from local art to jewelry to smoked salmon (seriously, it's everywhere) at the Pike Place Market.
If you're looking for something special to remember your trip by, be sure to check out glassybaby and other local artisans.
No matter where you are in the world, you'll have your souvenirs to remember your visit to this beautiful city.
More articles about Seattle
Need more help planning your trip to Seattle? Check out our list of the essential travel planning resources. 
Pin this post!
Seattle Souvenirs and Gifts: Ideas From a Seattle Native