1 Day in NYC: Must-do's for First-timers + Interactive Map
Only have one day in New York? Maximize your visit with my itinerary created especially for NYC first-time visitors. I have visited New York City several times. During my last two trips, I was accompanied by people visiting for the first time.
I recommend spending at least four days in NYC. However, even one day can give you a taste of this top travel destination.
Key Things to Know: Top things to do in NYC for a day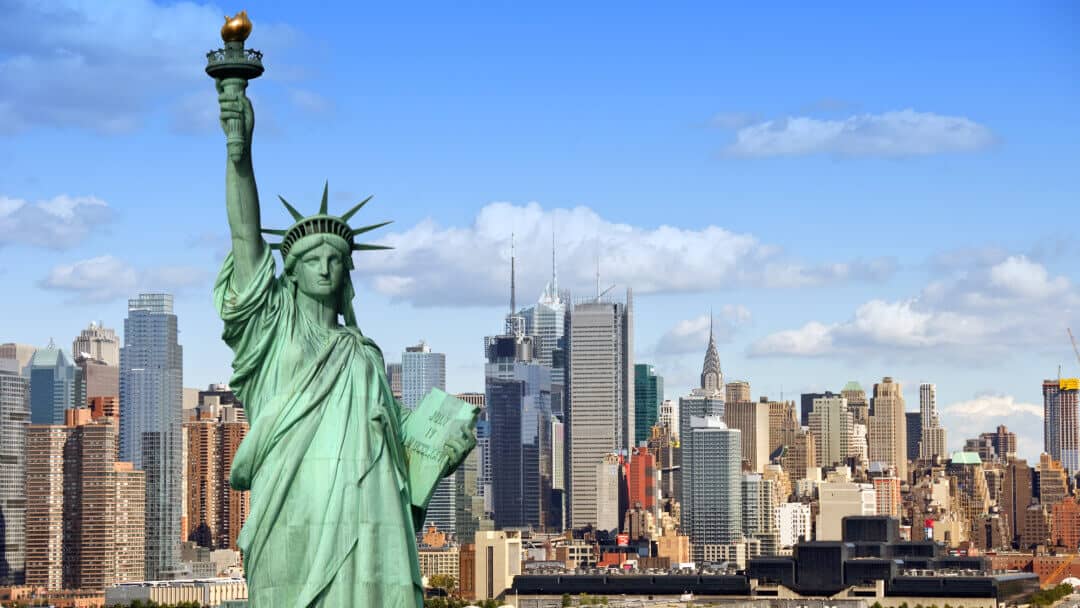 This post includes affiliate links. If you make a purchase through one of these links, I may earn a small commission at no additional cost to you. As an Amazon Associate, I earn from qualifying purchases. See disclaimer.
One day in New York itinerary
9/11 Memorial (and Museum)
9/11 Memorial | Closest subway stops: WTC–Cortland St (1) and Cortland Street (R, W)
Start your day by spending your morning in Lower Manhattan. 
In my opinion, your one-day in NYC itinerary should absolutely include the 9/11 Memorial. It's one of my favorite free things to do in New York City.   
The terrorist attack on Sept. 11, 2001, which destroyed the Twin Towers, forever changed the city and the United States. In fact, it's one of the most moving and beautiful memorials that I have ever had the privilege of seeing.
The 9/11 Memorial typically is open to the public all day every day. 
Optional: The 9/11 Memorial Museum is at the same location. Though I haven't had the privilege of seeing it, I've heard great things. There is a charge for admission to the museum.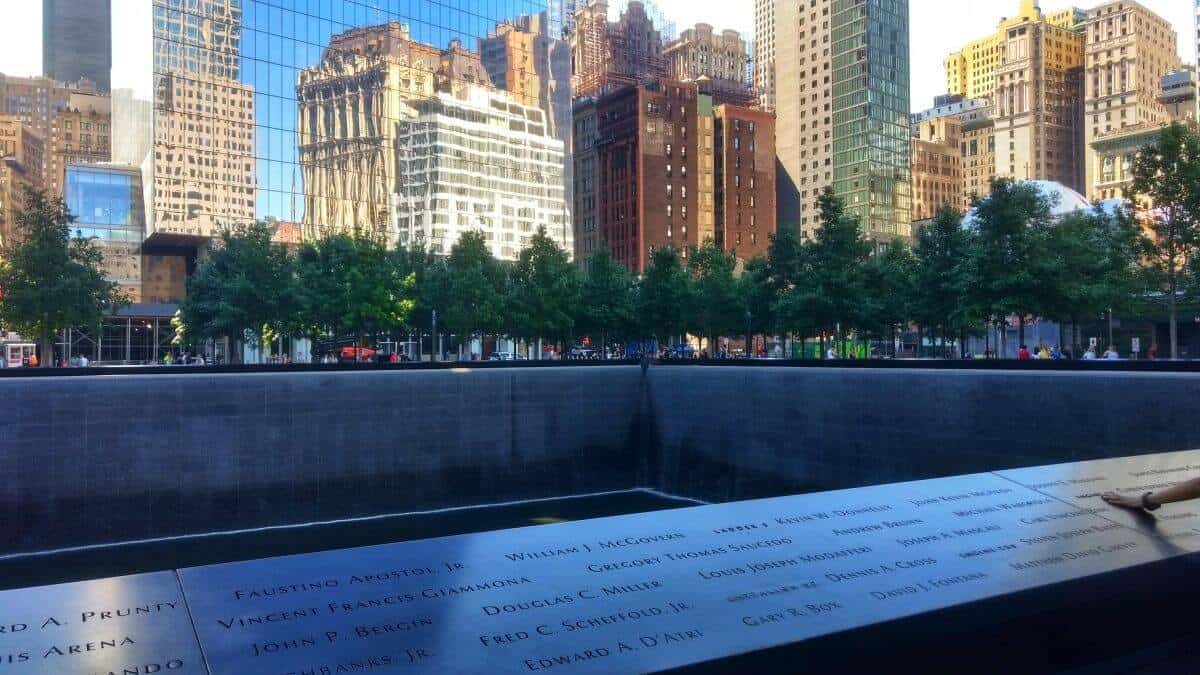 Statue of Liberty
Ferry from Manhattan departs from Battery Park | Subway stops: South Ferry Station (1), Whitehall Street (R), Bowling Green (4, 5) 
Your one-day New York City itinerary must include the Statue of Liberty, my absolute favorite place in the city
Buy your tickets ahead of time online, especially if you want to climb up to the crown. When available, those tickets can sell out weeks or even months in advance.    
Even if you don't want to go up onto the pedestal or the crown of the Statue of Liberty, you can purchase a ticket to enjoy the cruise over to Liberty Island (with great views of both Lady Liberty and Lower Manhattan). You can visit the new museum and walk around the monument's exterior.
 If you only have a day in New York I recommend skipping a visit to Ellis Island even though it's included in your ticket. 
More things to do on a day trip to New York City
PRO TIP: If you have flexible travel dates you need to check out Going (formerly Scott's Cheap Flights). You get amazing flight deals sent straight to your inbox with instructions on how to book directly with the airlines. Check out Going here. Going is my favorite way to find great travel deals. 
Lunch options: where to eat 
By the time you finish your visit to the Statue of Liberty, you'll likely be ready for a bite to eat. The Crown Café offers a wide variety of burgers, salads, and sandwiches. Their menu includes vegetarian options as well as several items that can be made gluten-free upon request.
Battery Park (where you'll disembark from your cruise to Liberty Island) is a great picnic spot. You can grab a cheap lunch from a food truck or assemble a picnic from a nearby market.
If a restaurant is more what you're looking for, wander into the Financial District where you'll find a variety of popular eateries for all budgets.
Empire State Building
20 West 34 Street | Subway stop: 34 St–Herald Square (B, D, F, M, N, Q, R, W), 33 St (M) 
Many believe that visiting the Empire State Building is a must on their trip to New York City.
I will admit right now that in all my NYC trips, I've only ever admired this iconic structure from the ground.  I do not like heights, nor do I generally pay money to stand atop them. But you who are not afraid of heights can go as high as the 102nd floor. The main observation deck is on the 86th floor.   
Time-saving tip: Upgrade your Empire State Building ticket to get skip-the-line access.
As an alternative, save the Empire State Building for after dinner, or even enjoy dinner at the State Grill and Bar.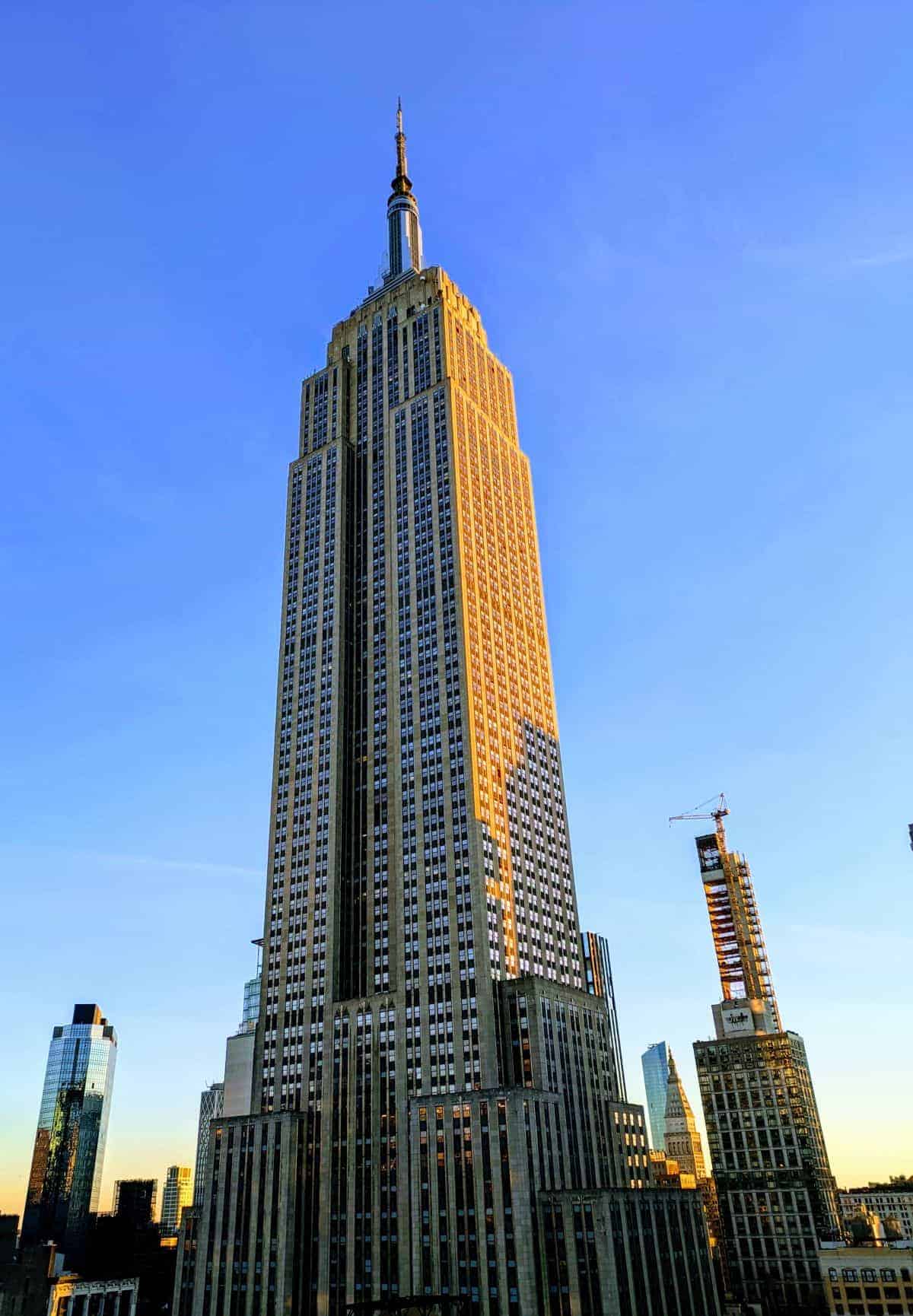 Times Square
Subway stop: Times Square–42 Street (N, Q, R, S, W, 1, 2, 3, 7)
You've seen it in movies and TV shows. Of all the places to visit in New York City, it's hard to think of anything else that's more New York than Times Square. Soak it in, take a few photos, and wander through so you can say you've been there (it's great at night also). Maybe even buy a cheap souvenir T-shirt or stop in at M&M's World.
Times Square is just a 15-minute walk from the Empire State Building.
Rockefeller Center
Between 49th and 51st Streets between Fifth and Sixth Avenues | Subway stop: 47-50 Streets Rockefeller Center (B, D, F, M), 49 Street (N, R, W) 
A 10-minute walk from Times Square will take you to Rockefeller Center. It's a New York City landmark that includes 30 Rockefeller Plaza (NBC Studios), Radio City Music Hall, and more.
In addition to some great shopping and dining, you can take a guided tour of Rockefeller Center, go to the Top of the Rock Observation Deck, skate at the Rink, and more.    
If you're feeling snackish, I recommend stopping at Magnolia Bakery for something yummy.  
Grab your Top of the Rock ticket here.
Central Park
From North 110th Street to Central Park South (59th Street), and from Central Park West (8th Avenue) to 5th Ave | Subway stops: There are several subway stops around the perimeter of the park including 5th Ave/59 Street (N, R, W), 59 Street/Columbus Circle (A, B, C, D, 1), Central Park North (2, 3), and 6 stops on the west side of the park. 
Central Park is so quintessentially New York that you absolutely need to make time in your itinerary to see it even if only spending one day in New York.
Now, keep in mind that this park is huge. I mean it. Central Park covers 1.3 square miles (840 acres) of Manhattan. You could easily spend an entire day just exploring this place. 
To start I'd suggest looking at a map of the park and choosing a few things there you want to see. This might be the Central Park Zoo, the Alice in Wonderland Statue, Belvedere Castle, or the Conservatory Water (where you can rent a model boat to sail on the pond).  
The southeast corner of Central Park is just a 15-minute walk from Rockefeller Center. If you want to walk all the way to the Conservatory Water and the Alice in Wonderland Statue, expect a walk of closer to 30 minutes.
Time-saving Tip: Instead of walking to Central Park from Rockefeller Center, jump in a NYC cab.
Interactive map for your one day in New York City itinerary
Click on the yellow pins on the map below to see more information about each stop on your itinerary.
To see this map in your Google account just tap on the little star next to the map name.
Ways to modify this itinerary
With only one day in NYC, there are an incredible number of ways you could spend your time. Here are a few ways you could modify this one-day itinerary to fit your particular interests. It's important that you get to see the things you want.
Take the subway to Brooklyn then walk across the Brooklyn Bridge, enjoying your view of the Manhattan skyline.
Enjoy a tour of either or both of two of the premier art museums in the world, The Metropolitan Museum of Art and/or the Museum of Modern Art.
Explore Greenwich Village, Soho, and other iconic neighborhoods.
End your day with a Broadway show.
Short half-day itinerary for NYC
Even if you don't have a full day or 24 hours to spend in New York City, you can still see a few of the major highlights. Here are a few options:
Focus on one area such as Lower Manhattan, grabbing a view of Brooklyn Bridge, followed by the Statue of Liberty and Ellis Island, and the 9/11 Memorial & Museum.
Explore the Empire State Building, Times Square, and Rockefeller Center, and then stroll up to Central Park for some more exploring.
Get the best of New York's top art museums at The Met, the Museum of Modern Art, and the Guggenheim.
New York 1-day tours
Want to see the best of New York in a day, but rather leave the planning to someone else? Leave the planning to an expert tour guide.
Pack the very best of NYC into one day with this highly rate expert guided tour. See New York's major landmarks in only 6 hours.
Go beyond Manhattan's major tourist sites with this tour of Brooklyn, the Bronx, Queens, Harlem, and Coney Island.
Where to stay in New York City
If you're thinking about spending more than a day in New York, you might be overwhelmed by the many hotel options.
Here are my recommendations for where to stay in New York City: 
Hyatt Place Midtown South (52 West 36th Street): We loved staying at this hotel. It's just two blocks from the Empire State Building and just around the corner from the 34th Street – Herald Square subway stop. Book Now 
For a more boutique-style accommodation try Archer Hotel New York (45 West 38th Street). Book Now
How to get around New York City
I say this so often, but I will continue to say it over and over: use your feet and the subway.
I'm serious about the subway. You'll get where you want to go cheaper than Uber or taxis and of course much faster than walking especially when traveling from one area of Manhattan to another.  You can find subway maps on the MTA website.
Taxis are a fine option for getting around New York City especially if you are in a time crunch or are going someplace that just doesn't have an easy subway route or a nearby stop.
Final thoughts on one day in New York
There are so many amazing things to do in NYC in a day of course that you can't possibly see as much as you would like, BUT you can see the best of the best if you have 24 hours in the Big Apple.
From historical monuments to stunning views from the best observatories in the world, you almost can't go wrong with how you spend your day here.
What do you think everyone should put on their 1-day NYC itinerary?
More articles about New York
Pin this post!