New York for First-Timers: The Tops Things to Do
It's your first time in NYC, and I am so excited for you. New York is just the best. Here are my top things to do in New York for first-timers.
There is a lot to choose from to do on your trip. Which can be both good and bad. New York City covers over 300 square miles.
Even if you stick to just Manhattan you still have nearly 23 square miles of land, literally crammed full of stuff to see and things to do.
Of course, you can't possibly do it all. Keep reading to get my best tips for visiting New York City for the first time.
Related Post → Planning a Travel Itinerary: The Complete Guide
This post includes affiliate links. If you make a purchase through one of these links, I may earn a small commission at no additional cost to you. As an Amazon Associate I earn from qualifying purchases. See disclaimer.
First time in New York: Where to Stay
When visiting NYC for the first time it's important to choose a great place to stay. Consider booking a hotel convenient to the majority of the sites you want to see, whether within walking distance or near a subway stop.
Accommodation Recommendation: I enjoy staying at the Hyatt Place New York/Midtown-South (52 West 36th Street). The location is OUTSTANDING (in my opinion the best area in New York for a first time visit), the rooms are comfortable, the staff is great, and they have an above average breakfast.
Book Now

My family also recommends Archer Hotel New York (45 West 38th Street)
Book Now
Statue of Liberty/Ellis Island
The Statue of Liberty is absolutely my favorite of all the places to see in New York City. It's a must-do when visiting New York for the first time.
Buy your tickets ahead of time, especially if you want to climb up to the crown. Those tickets can sell out weeks or even months in advance.
Even if you don't want to go up into the pedestal or the crown of the Statue of Liberty, you can purchase a ticket to enjoy the cruise over to Liberty Island (with great views of both Lady Liberty and lower Manhattan) and just walk around the monument exterior.
I would still recommend purchasing this ticket online in advance, as these can also sell out especially during peak tourist times.
Or buy yourself a New York CityPASS and get admission to four other major NYC attractions along with the ferry access to the Statue of Liberty.
Ellis Island admission is included in your ticket, so go ahead and take advantage if you have time.
Cruises from New York depart from Battery Park, which is a nice place for a picnic lunch before or after your trip to Liberty Island.
Times Square
You've seen it in movies and TV shows. Of all the places to visit in New York City, it's hard to think of anything else that says "New York!" as loudly as Times Square
Soak it in, take a few photos, wander through so you can say you've been there.
Maybe even buy a cheap souvenir T-shirt, but do not—I repeat, do not—eat at a major chain restaurant in Times Square. That will just hurt me on so many levels.
Read More → The Perfect One Day in New York Itinerary
Rockefeller Center
A fairly easy walk from Times Square will take you to Rockefeller Center, a New York City landmark that includes 30 Rockefeller Plaza (NBC Studios), Radio City Music Hall and more.
In addition to some great shopping and dining, you can take a guided tour of Rockefeller Center, go to the Top of the Rock Observation Deck, skate at the Rink (reopening in October 2019), and more.
If you're feeling snackish, I recommend stopping at Magnolia Bakery for something yummy.
9/11 Memorial
In my opinion, the 9/11 Memorial is absolutely a must-do on your trip and one of my favorite free things to do in New York City.
The terrorist attacks that destroyed the Twin Towers on the morning of Sept. 11, 2001, changed the city forever. It's one of the most moving and beautiful memorials that I have ever had the privilege of seeing.
The Memorial is open to the public every day.
9/11 Memorial
180 Greenwich Street
www.911memorial.org
The Metropolitan Museum of Art
It's one of the most important museums in the world. Even if you're not a fan of art or museums, consider making the Met a part of your trip
The permanent collection includes works by great artists from the ancient to the modern, and they frequently mount major special exhibitions in a space so stunning it's worth the price of admission just to explore the building.
The Metropolitan Museum of Art
1000 Fifth Avenue
New York, NY 10028
metmuseum.org
Central Park
Central Park is another of those places that is just so quintessentially New York, you absolutely need to make time in your itinerary to see it.
Now, keep in mind that this park is huge. I mean it. Central Park covers 1.3 square miles (840 acres) of Manhattan. You could easily spend an entire day just exploring this place.
To start I'd suggest looking at a map of the park and choosing a few things there you want to see such as the Zoo, the Alice in Wonderland Statue, Belvedere Castle or the Conservatory Water (where you can rent a model boat to sail on the pond).
Ride the Subway
If you go to New York City and don't ride the subway does your trip even count?
I don't think so. You really need to do it, and honestly it is an easy and cheap way to get around the city while you're there.
If you're going to be there for a week-long visit, I'd recommend getting a 7-day unlimited ride MetroCard. It's $33 (plus a $1 charge for the refillable card) and you can ride as much as you want for seven days.
Individual subway rides cost $2.75 each, so check your itinerary to see if the unlimited ride card could save you money.
You can find subway maps on the MTA website.
Get a slice of 99 cent pizza
No, I'm not joking about this one. They're all over Manhattan and have clever names like "Fresh Pizza 99 Cents" and "One Dollar Pizza."
If you need cheap eats in New York City, just grab a slice of pizza for 99 cents…or pay a little more for a second slice and a can of soda.
PRO TIP: If you have flexible travel dates you need to check out Going (formerly Scott's Cheap Flights). You get amazing flight deals sent straight to your inbox with instructions on how to book directly with the airlines. Check out Going here. Going is my favorite way to find great travel deals. 
Brooklyn Bridge
Make sure to add seeing the beautiful Brooklyn Bridge to your list of things to do when visiting New York City. For a breathtaking view of the skyline, start on the Brooklyn side and walk towards lower Manhattan.
The entire pedestrian walkway is 1.1 miles, but you don't have to walk the whole length. If you're short on time, I recommend going out to the first tower from the Manhattan side for some good photo ops.
If you're afraid of heights, be advised that the gaps between the wooden slats on the walkway offer occasional views of traffic below.
Please pay attention while crossing the bridge. Bikers use this bridge as well, and some of them ride quite fast. If you're walking, stay in the pedestrian lane.
Empire State Building
Some would argue that the Empire State Building should be at the top of everyone's list when they visit New York City.
I have a fear of heights and I don't very often spend money to put myself in high places. To be honest, in all my trips to NYC, I've only ever looked up at the Empire State Building from the ground.
If you want to go up the Empire State Building, you might want to get this skip-the-line ticket. If you purchase the Express Ticket option, you can skip all the lines. Cancel up to 24 hours before for free.
High Line
The High Line is more than just a public park and greenspace in lower Manhattan. It was created on old abandoned railway tracks.
The High Line opened in 2009 and is nearly 1.5 miles long, running from Gansevoort Street to West 34th. There are points of access at many places along the High Line (including elevator access), and restrooms are located at Gansevoort St., 16th St., and 30th St.
This is the kind of place you really have to see to believe.
Though I haven't yet seen as much of the High Line as I would like (time didn't allow it), walking the entire length of this unique park is definitely on my New York City bucket list.
Grand Central Terminal
If you have the time, I recommend stopping by Grand Central Terminal.
I love this building. It's one of my favorite buildings in New York and has been a city landmark since it opened in 1913.
Grand Central is still a functioning station with 4, 5, 6, 7, and S subway and Metro-North Railroad train service.
In addition to being a stunning building it also includes over 60 shops and restaurants, making it a great place to stop for lunch or a snack on your tour around Midtown.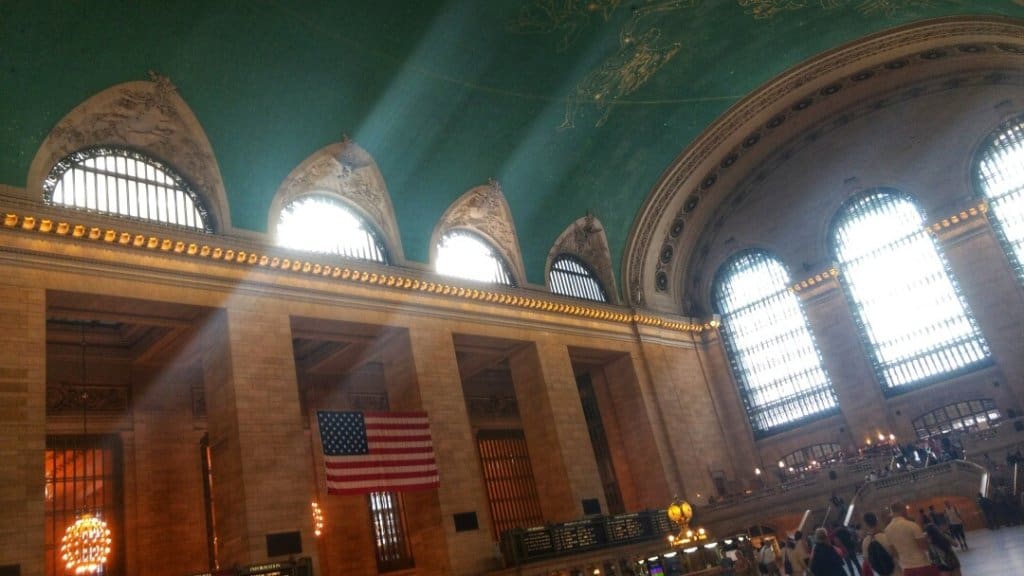 Museum of Modern Art
The Museum of Modern Art should be on every art lover's travel bucket list. Located at 11 West 53rd street in Midtown Manhattan, MoMA is one of the largest museums in the world devoted to the preservation and display of modern and contemporary art.
Your ticket includes admission to all galleries and special exhibits, and in my opinion it is entirely worth the price.
You'll see important works of art like Pablo Picasso's Les Demoiselles d'Avignon; Jackson Pollock's One: Number 31, 1950; Salvador Dali's The Persistence of Memory; a large Monet Water Lilies triptych; and Andrew Wyeth's Christina's World.
And don't miss your chance to see the museum's top draw, Vincent Van Gogh's The Starry Night.
Some more of the best things to do in NYC
Bryant Park
My favorite cheap dinner in New York City is to grab a couple of kati rolls at the Kati Roll Company on West 39th then walk to Bryant Park for some great people watching.
You could also grab some picnic fixings at the Whole Foods across the street from the park.
If people watching sounds dull, you can participate in free activities or play some of the free board games there.
The last time we were in the city my sister joined in the free group bingo at Bryant Park, just one of the many free activities they offer there.
Washington Square Park
Don't miss Washington Square Park in Greenwich Village with its famous white marble arch. Named for George Washington, the area was officially made a public park in 1827.
Washington Square Park is a great place to rest your weary feet for a bit and do some people watching.
You'll likely find a lot of NYU students hanging out and/or studying here, as many of the university's campus buildings ring the park.
Chelsea Market
After your people watching at Washington Square Park, head over the Chelsea Market for lunch or dinner.
It's about a 20-minute walk or you can take the subway (A, C, or E).
Chelsea Market has to be one of the top indoor foodie destinations in the U.S. if not the world. It draws literally millions of food fans every year. You're sure to find something (or many things!) here to make a great meal…and dessert.
Staten Island Ferry
The Staten Island Ferry is a free ferry that runs between the southern tip of Manhattan and Staten Island.
It's one of the best ways to see New York City for free, and it offers great views of the Statue of Liberty, Ellis Island, and the Financial District.
The ferry runs 24 hours a day, 7 days a week. Ferries depart Whitehall Terminal in Manhattan every 15 to 30 minutes (depending on the time of day).
Metropolitan Opera
I have yet to get to New York on a trip when I can go to the Metropolitan Opera. It's been on my bucket list for years, and one day I will go.
If you have any interest in the performing arts (I mean, even just at tiny bit) and you can go to the Met, then by all means go to the Met.
The Metropolitan Opera is THE premiere opera company in the world (not just hyperbole). EVERYONE wants to sing there. Go.
Baseball
I love baseball, but I cannot in good conscience recommend that you go see the Yankees play. (Go, Mariners!)
It's physically causing me pain to write this, but if you are a fan of baseball you probably should at least scratch Yankee Stadium off your bucket list (or whatever…I guess…if you have to).
I've been there and done that so next up is Citi Field to see the Mets play.
Broadway show
It's like the Met, but not opera. In other words, EVERYONE wants to perform on Broadway so if you have the means to catch a show do it.
Beware of ticket resellers though and proceed with caution.
How to get around New York City
There are two best ways to get around New York City: use your feet and the subway.
I'm serious about the subway. You'll get where you want to go cheaper than Uber or taxis and of course much faster than walking (for the most part).
In my opinion, using the subway in NYC should be a part of your trip experience.
You'll quickly get the hang of it. Yes, sometimes it smells bad and sometimes the trains aren't running properly, but you really should try it.
Taxis are a fine option for getting around New York City especially if you are going someplace that just doesn't have an easy subway route or a nearby stop.
Final thoughts on visiting New York City for the first time
Whatever you choose to do during your time in New York City, I know you'll have a wonderful time. It's truly a great city.
So what are you waiting for? Get started planning your first trip to the Big Apple and be sure to check out all of the amazing things New York City has to offer. You won't regret it!
Have you been to New York City before? What do think a first-timer in NYC should add to their itinerary?
More articles to help you plan a trip to New York City
Pin this post!
What to see in New York for first-timers