25 Beautiful Washington Getaways for Couples
Find the perfect romantic Washington State getaway
Are you and your spouse looking for the perfect romantic getaway? Look no further than Washington State. Keep reading to discover the perfect Washington getaways for couples.
With its lush forests, majestic mountains, stunning coastline, and vibrant cities, Washington State offers an abundance of romantic destinations and activities to enjoy with your special someone.
From quaint towns to national parks or strolling through Pike Place Market in Seattle, there's something for every couple here.
Check out our list of beautiful Washington getaways for couples. It's sure to help you plan the perfect romantic escape.
Plan your perfect Washington couple's getaway with this free printable travel planner.
This post includes affiliate links. If you make a purchase through one of these links, I may earn a small commission at no additional cost to you. As an Amazon Associate, I earn from qualifying purchases. See disclaimer.
Friday Harbor, San Juan Island
Staying in the charming seaside town of Friday Harbor on the San Juan Islands is an experience that feels like stepping into one of those Hallmark movie small towns.
This island offers sweeping views of the water and provides plenty of romantic opportunities for couples to explore.
From whale watching and kayaking to biking or hiking, there are plenty of activities for you two to share. And Friday Harbor is one of the top whale-watching destinations in the United States, so I'd put that on the top of your "to-do" list for this getaway.
Friday Harbor House offers rooms with stunning views of the Harbor as well as on-site dining.
Lopez Island
Spending a weekend on Lopez Island is the perfect way for couples to enjoy a slightly adventurous yet thoroughly romantic getaway.
With its picturesque landscape, Lopez Island is known as a great island destination for biking. It offers a variety of biking trails that will take visitors to breathtaking vistas and stunning views of the water and then the mountains in the distance (including Mount Baker).
Lopez Village is your perfect destination for a day of exploration, offering quaint cafes and restaurants, a bookstore, captivating galleries, a historical museum, a library, and unique shops.
Edenwild Boutique Inn is a top-rated inn on Lopez Island. Guests love the location and the warm, friendly atmosphere.
Orcas Island
With its lush evergreen forests, beaches, and stunning views of the surrounding islands, Orcas Island offers plenty of activities for couples to enjoy such as kayaking, hiking, whale-watching, biking, camping, and more.
Whether you're looking to relax or explore, Orcas Island is the perfect destination.
Visit Moran State Park, enjoy a driving tour around the horseshoe-shaped island, head to the summit of Mount Constitution, or check out the artists' co-op in Olga.
Rosario Resort & Spa is a perfect place for a getaway on Orcas. This historic resort is located in Eastsound, each room has a balcony with a sea view.
Doe Bay Resort and Retreat offers unique accommodations (like yurts and domes!). They also have a cafe that offers "seed-to-table" cuisine.
Otter's Pond B&B is just 3 minutes from Moran State Park and offers chef-prepared breakfast daily.
La Conner
Charming La Conner in Washington's Skagit Valley (home of the famous Skagit Valley Tulip Festival) is a lovely getaway for couples in Washington State.
Enjoy all that this town has to offer, like visiting the waterfront at Conner Waterfront Park, kayaking out to Goat Island, exploring the charming stores in the town center, and savoring a delicious meal from one of La Conner's local restaurants.
And be sure not to overlook the Pacific Northwest Quilt & Fiber Arts Museum while you are there. It's home to breathtaking work that has been created by some astoundingly talented artists.
Visitors to La Conner highly recommend the Heron Inn and Day Spa for its beautiful rooms and good food.
Anacortes
From admiring the stunning views from Cap Sante Park to visiting historic downtown Anacortes there's something for everyone here. Couples can also enjoy hiking, kayaking, or taking a whale-watching cruise.
Learn more about Anacortes' history by visiting the Anacortes Museum and/or the Maritime Heritage Center, drive to the top of Mount Erie, charter a fishing excursion, and more.
Anacortes Ship Harbor Inn offers water views from all rooms and is about a 15-minute walk from the ferry.
Majestic Inn & Spa is just a few miles from the ferry terminal and Deception Pass. Dining is available onsite and rooms offer partial bay views.
Port Angeles
Port Angeles makes a great weekend trip for couples in Washington State. For some of the most popular experiences, visit nearby Olympic National Park, observe whales on a guided tour, and explore downtown's array of shops and eateries.
In my opinion, a trip to Port Angeles is incomplete without visiting Dungeness Spit. This 5-mile-long picturesque spit provides travelers with opportunities such as fishing, hiking, and bird watching; not to mention the lovely scenery.
If you're looking for a place to stay on the harbor, check out the Red Lion Hotel Port Angeles Harbor. It's centrally located and offers great views.
Blaine
For an unforgettable romantic getaway, couples should consider visiting Semiahmoo Resort in Blaine, Washington.
Located on the scenic Drayton Harbor, Semiahmoo offers a range of activities for couples to enjoy such as biking on the Semiahmoo Spit, salt-water kayaking, and stand-up paddle boarding.
Couples can enjoy a romantic dinner at the hotel's on-site restaurant or take a stroll on the boardwalk. Try the resort's spa, enjoy a bonfire, get out on the golf course at the Semiahmoo Golf & Country Club, soak in the hot tub, and so much more.
Semiahmoo is a much-beloved place for a getaway among those in my family.
Seattle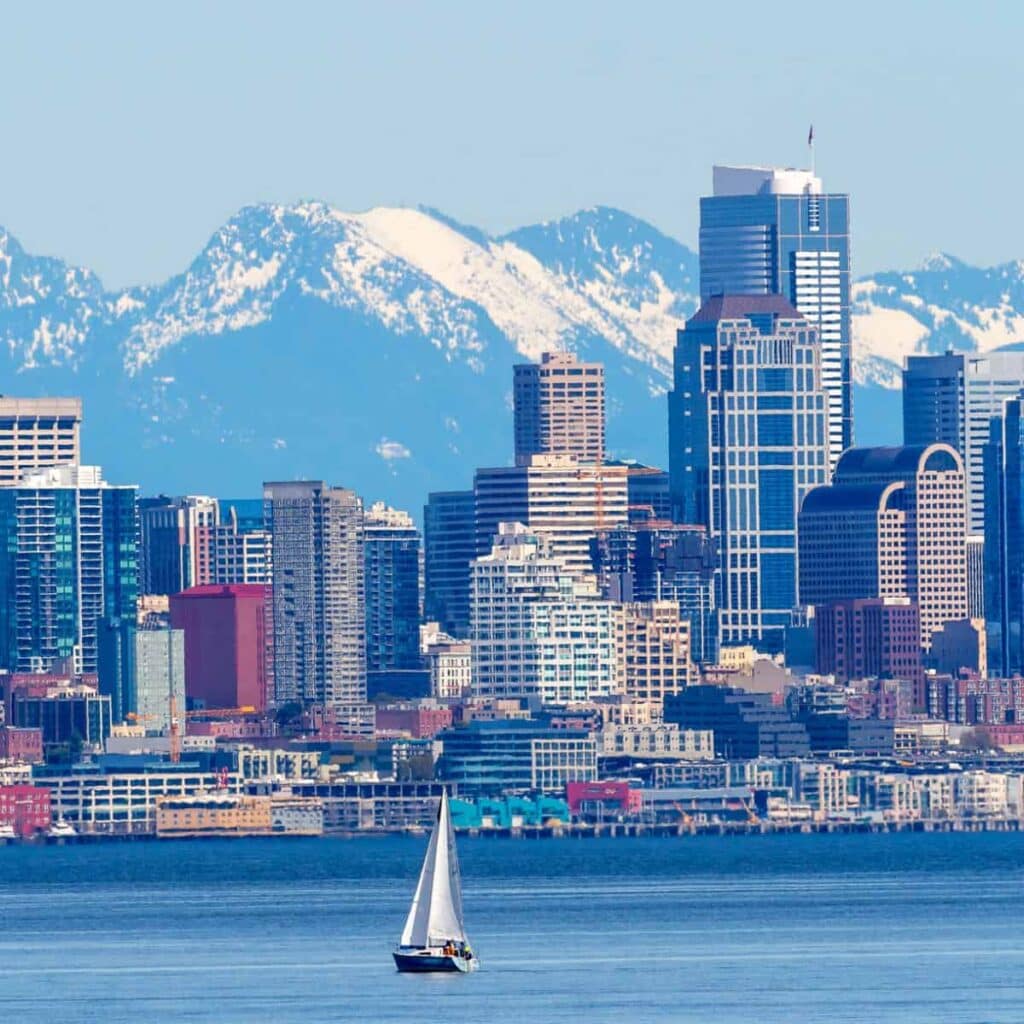 You'd better believe I'd choose Seattle as a great Washington State getaway for couples. Seattle is a bustling, vibrant city with a plethora of activities perfect for couples. It's also my hometown, so I'm a little biased.
From taking in stunning views of the Puget Sound and the Olympic Mountains to enjoying freshly caught seafood at Pike Place Market, there's something for everyone.
Enjoy amazing artwork at the Seattle Art Museum or attend a concert at Benaroya Hall. Couples can also explore Seattle's unique neighborhoods, take a day trip from Seattle to nearby islands or national parks, and explore the city's many unique shops and world-class restaurants.
Whether you want a quiet weekend away in the city or a thrilling adventure, Seattle is a great place for a romantic getaway.
Mayflower Park Hotel—Stay in the heart of downtown Seattle within walking distance of Pike Place Market. 
Hotel Ändra offers unique boutique accommodations within convenient walking distance of the Seattle waterfront. 
Ace Hotel—located in the popular Belltown neighborhood, Ace Hotel offers affordable accommodations just more than a 10-minute walk from Pike Place Market and the Space Needle.
Spokane, Washington, is a lovely city with a lot to offer visitors.
From picturesque neighborhoods to its beautiful natural surroundings, Spokane should definitely be on your list of potential romantic Washington State getaways. They even claim that their fall colors rival those of New England!
When you visit Spokane, a walk along Riverfront Park is essential. You also might want to explore at least some of the Centennial Trail which begins in Riverside State Park, Washington's largest state park.
The Davenport Grand hotel is a few blocks from Riverfront Park and is conveniently located within a short walking distance of shops and restaurants.
Columbia River Gorge
The Columbia River Gorge is a beautiful part of the Northwest United States. Lush forests, beautiful waterfalls, and awe-inspiring views will take your breath away.
Boasting numerous hiking and biking trails, this is a perfect weekend destination for outdoor enthusiasts. Popular spots in the Columbia River Gorge include Pool of the Winds in Beacon Rock State Park.
If you're looking for a place to stay in the Columbia River Gorge, Skamania Lodge is a great option. This lodge located in Stevenson, Washington, offers views of both the river and gorge.
Lake Chelan
Lake Chelan makes a great Washington State weekend getaway. This 50-mile-long glacier-fed lake is located in the Cascade Mountains in central Washington.
Chelan is a great place to relax and enjoy the natural beauty of Washington State. You'll never be at a loss for something to do like hiking, fishing, boating, or swimming. Explore a variety of restaurants and stores located in town.
There are many options for places to stay in Chelan from camping to resorts. Try the Lakeside Lodge and Suites to enjoy a getaway right on the lake and just a few steps from Lakeside Park.
Mukilteo
Mukilteo, Washington, makes a lovely destination for a weekend getaway for couples. It's a nice town right on the water.
Mukilteo is a great place to relax and enjoy quality time together. And it's not all that far from Seattle if you wanted to check out the "big city" too.
Enjoy a stroll along the beach, take a ferry ride over to Whidbey Island, visit Mukilteo Lighthouse Park, visit Boeing's Future of Flight, and sip a cup of coffee at the Red Cup Cafe, among so many other delightful things to do.
Silver Cloud Inn Mukilteo Waterfront is this town's only waterfront hotel. It is very near the Mukilteo-Clinton ferry and offers views of the water.
Whidbey Island
Escape the hustle and bustle of city life by taking a ferry ride for a getaway to Whidbey Island. On this wonderful Pacific Northwest island, you'll find several activities that are sure to leave lasting memories.
Whidbey is well known for its arts community. Explore the Whidbey Art Trail to discover and appreciate the various galleries, art studios, and sculpture parks that fill the island.
Whidbey is the largest island in Washington State, so you would have a few choices for towns in which to stay. If you want to be situated in the middle of it all, Coupeville is a great choice for you. If, however, your preference lies with larger towns you might choose Oak Harbor or Langley (near the ferry).
Guests love the Saratoga Inn in Langley and the Captain Whidbey Inn in Coupeville.
Ocean Shores
Ocean Shores is a great option for a beach-y weekend getaway in Washington State.
With its miles of pristine beaches and delicious eateries, Ocean Shores is a great getaway destination for visitors of all ages. Plus, you definitely don't want to miss experiencing kite flying on Ocean Shore's spectacular coastlines. You'll also find 23 miles of freshwater canals perfect for paddling.
Searching for a place to stay in Ocean Shores? The Grey Gull and the Canterbury Inn are highly rated options.
Bainbridge Island
Bainbridge Island may only be a few minutes away from Seattle by ferry, but it provides an entirely different atmosphere.
It makes an easy weekend getaway from Seattle. It's also a popular day trip from Seattle.
While there you can visit the Bainbridge Island Museum of Art or the Bainbridge Island Historical Museum, or stroll through Bloedel Reserve's 150 acres of gardens, and more.
There are some great places to stay on Bainbridge Island. The Eagle Harbor Inn is a small boutique hotel near the water. Or try The Marshall Suites if you're looking for a place with a little more space.
Snoqualmie Falls
To experience one of the best romantic getaways in Washington State, try making the short drive to the stunning 268-foot Snoqualmie Falls on the Snoqualmie River.
About 1.5 million people visit the Falls every year and enjoy the view. A two-acre park, gift shop, and an upper and lower observation deck await you at the falls. The decks are available daily to provide breathtaking views of the cascading waters.
For a weekend of beauty and tranquility, Salish Lodge & Spa is a top choice. The resort opened its doors in 1916 and has since become one of Washington State's top getaway spots. Perched upon the banks of Snoqualmie Falls, this lodge offers its guest rooms with captivating views.
Port Townsend
Known for its charming Victorian architecture, Port Townsend makes a great weekend getaway on the Olympic Peninsula in Washington State.
Whether you are in search of a thrilling outdoor journey or simply want to reconnect with nature, this spot is an ideal opportunity for activities such as hiking, biking, and kayaking.
Port Townsend offers a variety of options for a weekend getaway including bed & breakfasts, hotels, and vacation rentals. The Ravenscroft Inn is highly rated by guests for its service, amenities, and breakfast.
North Cascades National Park
If you are looking for the perfect hiking weekend escape to Washington State, then a trip to North Cascades National Park should be at the top of your list. With miles of trails and stunning scenery, hiking in this park is best enjoyed between mid-June through September when it experiences its driest weather.
The North Cascades draw in seasoned backpackers and mountaineers, but they are also home to some good day hikes. At least five or six trails can be completed within two hours (or less!).
There are also many great places to stay near North Cascades National Park, such as the Ross Lake Resort. They only have a few units. You'll want to get on the waitlist to have a chance to grab a reservation.
Or check out North Cascades Lodge at Stehekin (keep in mind that there are no roads into Stehekin).
Olympic National Park
On Washington State's Olympic Peninsula lies a breathtaking national park that offers an array of incredible sights from lush rainforest to towering mountains and sparkling beaches.
From fishing, kayaking, and camping to hiking, exploring waterfalls, and admiring the Roosevelt elk that inhabit Olympic National Park, there's truly something for everyone.
Prepare to be astonished by the Hoh Rain Forest, an emerald green paradise and one of the largest temperate rainforests in the entire United States.
I love the hike to Marymere Falls. This easy/moderate hike is just under 2 miles long roundtrip and will weave you through old-growth forest towards a breathtaking 90-foot waterfall.
Lake Quinault Lodge offers fireplace and lakeside rooms, an on-site dining room, and more.
Mount Rainier National Park
Mount Rainier National Park safeguards the towering 14,000+ foot Mount Rainier. According to the National Park Service, Mount Rainier "is the most glaciated peak in the contiguous U.S.A., spawning five major rivers."
The majority of Mount Rainier National Park has been designated by Congress as wilderness, but the five developed areas include three visitor centers, a museum, and more.
There are two inns within Mt. Rainier National Park: Paradise Inn and National Park Inn.
Leavenworth
If you're looking for a Washington State weekend getaway that feels like you've traveled to Europe without leaving the United States, then Leavenworth is the place for you. It's certainly one of the most popular spots in the state.
Nestled in the Cascade Mountains, this gem of a town is overflowing with all kinds of attractions, from delicious restaurants to unique shops and even a nutcracker museum! Or unleash your adventurous side and explore the Wenatchee River by raft.
There are many great places to stay in Leavenworth, but one of the best is the Bavarian Lodge. The Bavarian Lodge is located in the heart of Leavenworth.
Mount Baker
Mount Baker is one of the most famous peaks in the Cascade Mountains and the highest peak in the North Cascades. It's a popular destination for skiers, snowboarders, and mountain climbers.
Although there are no lodgings within the Mount Baker ski area, there are a variety of places to stay in the foothills.
Popular options include Mt. Baker Lodging, Glacier Guest Suites, and Winter Creek B&B.
Pullman
Pullman, Washington, is a small city in southeastern Washington State in the Palouse region of the Northwest. Pullman is a fun choice for a weekend getaway if you're looking for a small-town feel with some lovely natural surroundings.
Get a taste of the local arts scene by taking in a regional theatre performance or checking out what's happening on the campus of Washington State University.
Explore the area on foot or bike using the Bill Chipman Palouse Trail that links Pullman to Boise, Idaho. Or check out the Palouse Scenic Byway by car.
Hotel McCoy Pullman is in the heart of town and offers free bikes so you can check out that trail.
Long Beach
Long Beach, Washington, is the perfect destination for couples' weekend getaways. This stunning stretch of coastline offers plenty of opportunities to relax and reconnect with your partner.
From romantic walks along the 28 miles of beach to exploring iconic lighthouses, there's something for everyone here. Join the many others who will be flying kites, walk the boardwalk, go horseback riding, or try a whale-watching excursion.
WorldMark Long Beach is just a few minutes' walk from the beach and offers apartment accommodations.
The Breakers offers a private beach area as well as an indoor pool.  
Walla Walla
Walla Walla, Washington, is a great destination for a getaway. Located in the southeastern corner of the state, it offers stunning views of the Blue Mountains and plenty of outdoor activities.
Take some time to explore the history of the area through the Fort Walla Walla Museum and the Whitman Mansion. Enjoy local art through the Whitman College Sculpture Walk.
Eritage Resort offers suites and waterfront bungalows amid the beautiful surrounding rolling fields.
Final thoughts on romantic getaways in Washington State
Washington State is full of the most romantic getaways, from the Bavarian Lodge in Leavenworth to Long Beach and from Semiahmoo in Blaine and on to Walla Walla.
No matter where you go, whether a luxury hotel or rustic cabin, you are sure to find stunning scenery and plenty of activities to enjoy together.
With its stunning views, abundance of activities, and many opportunities to relax and reconnect with your partner, Washington is truly a magical place that should be experienced by all.
What's your favorite romantic getaway in Washington State? Let me know in the comments.
More articles to help you plan your Washington State getaway
Pin this post!
Washington Getaways for Couples