Perfect Vacation Ideas for Couples
Looking for some amazing vacation ideas for couples? Well, stick around because I've rounded up all my best and favorite posts to help you plan an awesome couple's vacation. Check out these vacation ideas for couples today and start planning your perfect trip.
European destinations for couples
Europe is FULL of amazing vacation destination ideas for couples. Check out my top recommendations below, including itineraries, travel tips, things to do and more.
Italy: my top vacation ideas for couples
Italy is my top pick for a romantic couple's vacation. Find all my best Italy tips and recommendations below.
Florence one-week itinerary—Florence, Italy, is full romance and wonder. It's a great place to spend an entire week. You can even use it as a jumping off point for day trips around Tuscany. Follow this full itinerary for all the best Florence info.
One day in Florence, Italy—rather just spend one day in Florence? No problem. You can do Florence in day with this itinerary and still see all the highlights. You get bonus points if you do both the Accademia and the Uffizi.
Hidden gems in Florence—if you spend more than one day in Florence, you'll have time to get off the beaten track. These are my recommend Florence hidden gems.
Where to eat in Florence, Italy—check out this post for great food options. Vegetarian and gluten-free travelers will find it especially helpful.
Rome in one day—couples will love visiting the Eternal City. See some major sites with this one-day in Rome itinerary or use it as a starting place for a longer visit.
Pisa day trip—Pisa is a good short day trip from Florence or other cities in Tuscany. Follow these tips if you're going there to see the Leaning Tower and the other sites at the Field of Miracles.
Pin this post!
Paris
How to spend a week in Paris—my full itinerary for a 7-night stay in the City of Lights. Includes dining recommendations and general Paris travel tips.
1 day in Paris—perfect for a quick stop in Paris before you explore more of France. See all of the major highlights of Paris in one very full day.
Relaxing things to do in Paris—find out all the best ways and places to relax in Paris during your trip. Perfect for those who prefer slow travel or anxious travelers.
Free attractions in Paris—discover the best things to do in Paris that won't bust your budget.
Paris hidden gems—Need some inspiration for your Paris itinerary that includes more than the usual sites? Get off the beaten path in Paris with this post.
U.S. vacation destination ideas for couples
You don't have to travel outside the United States to find great vacation destination ideas for a couple's trip.
I've rounded up my favorite itineraries and tips for my favorite trips in the U.S.
New York City
Four-day itinerary for New York—this itinerary for a four-day trip to New York City is perfect for first-timers. Includes my top picks for where to stay.
One-day NYC itinerary—you can see the best of the best of NYC even if you only have one day to spend there. Check out my one-day itinerary for New York.
Free things to do in NYC—want to save money during your NYC trip? These are the very best free things to do in New York City.
Virginia
Tucked away in in the southeast corner of Virginia is the Historic Triangle: Williamsburg, Jamestown and Yorktown. Three towns that played significant roles in early American history, all within a few miles of each other.
Colonial Williamsburg—check out this post for great tips on how to make the most of your itinerary for Colonial Williamsburg and the surrounding areas. Includes my recommendations for where to stay and where to eat.
Yorktown—visit the site of the last major battle of the American Revolution.
Jamestown—visit the site of the first permanent English settlement in the New World.
Savannah, Georgia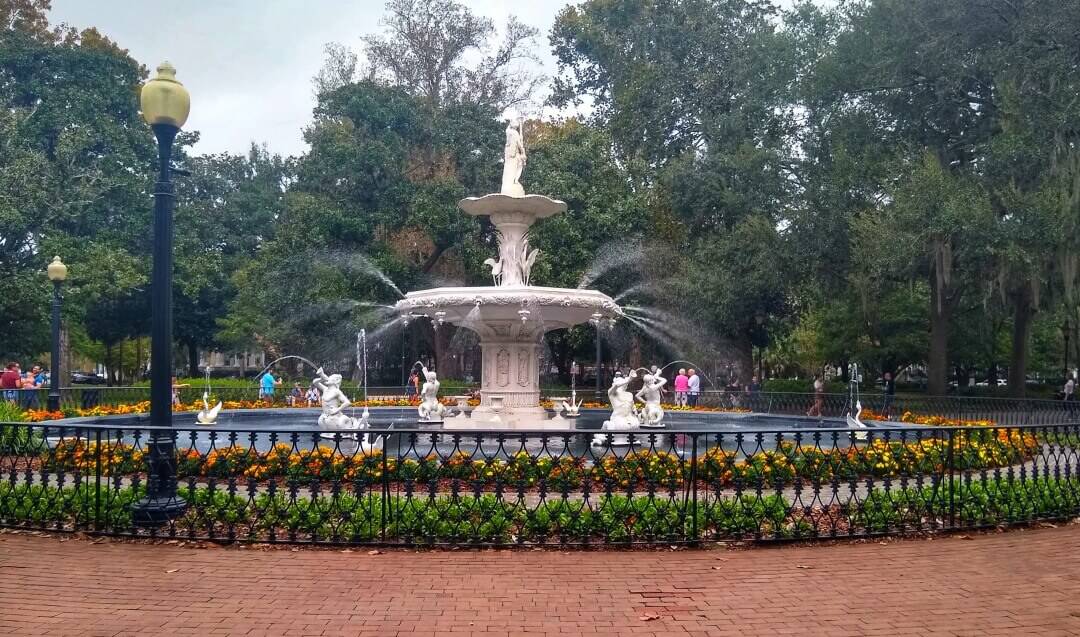 Weekend in Savannah itinerary—spend a perfect weekend in historic Savannah, Georgia, with this itinerary. The post includes our pick for where to stay and great dining recommendations.
Savannah one-day itinerary—can't spend a full weekend in Savannah? You can still see the city's highlights with this one-day itinerary.
Asheville, North Carolina
Nestled in the Blue Ridge Mountains in Asheville, North Carolina, you'll find our favorite couple's destination: Biltmore Estate.
Weekend at Biltmore Estate—the perfect itinerary for your romantic weekend at Biltmore
Inn on Biltmore Estate review—Our choice for an overnight stay at Biltmore is the Inn on Biltmore Estate. Read this review to find out if it's the best choice for your visit. Includes other options
One-day itinerary for Biltmore Estate—only have one day to spend at the Estate? No problem. This one-day itinerary will help you see all the highlights.
Where to eat at Biltmore Estate—our top picks for Biltmore restaurants
More Biltmore Estate tips—all my best tips to make the most out of your visit to Biltmore Estate
More Southern destinations
Romantic getaways in the South—find even more great getaway destinations here. Includes great picks for luxury, moderate and affordable hotel stays as well.
Travel tips for couples planning a vacation
Travel planning resources—everything you need to plan your couples vacation from start to finish. Includes all of my recommended resources from travel guides to where to find cheap flights, from accommodations to rental cars, and more.
How to save money on airfare—all of the best tools to score a great deal on plane tickets anytime you travel…and most of them are free.
How to create a travel budget—a complete guide to building a travel budget that works for you and how you like to travel.
Planning a travel Itinerary—my step-by-step guide to planning your trip itinerary so you don't get overwhelmed or forget anything you want to see or do.
Staycation ideas for couples
Romantic staycation ideas for couples—make your own home into an amazing vacation destination with these tips and ideas
Create a resort at home—make your at-home staycation feel like a resort stay with these tips and ideas
Hotel staycation ideas—if you don't want to stay home you can also staycation at a local hotel
Final thoughts on couples vacation ideas
You deserve a chance to get away on an amazing vacation. No matter what destination you choose—whether it's one of my suggestions in the U.S. or Europe—or even if you choose to try a staycation at home, it's a great idea to set aside some dedicated time with your partner.
What's your favorite vacation spot for couples? Let me know in the comments below.
More posts related to couples vacation ideas
Pin this post!